Brexit: EU must include financial services or risk no deal, warns Philip Hammond
'The only deal that can ever get done is one that is fair to both parties. And a deal that included goods but didn't include services could never be fair,' the Chancellor said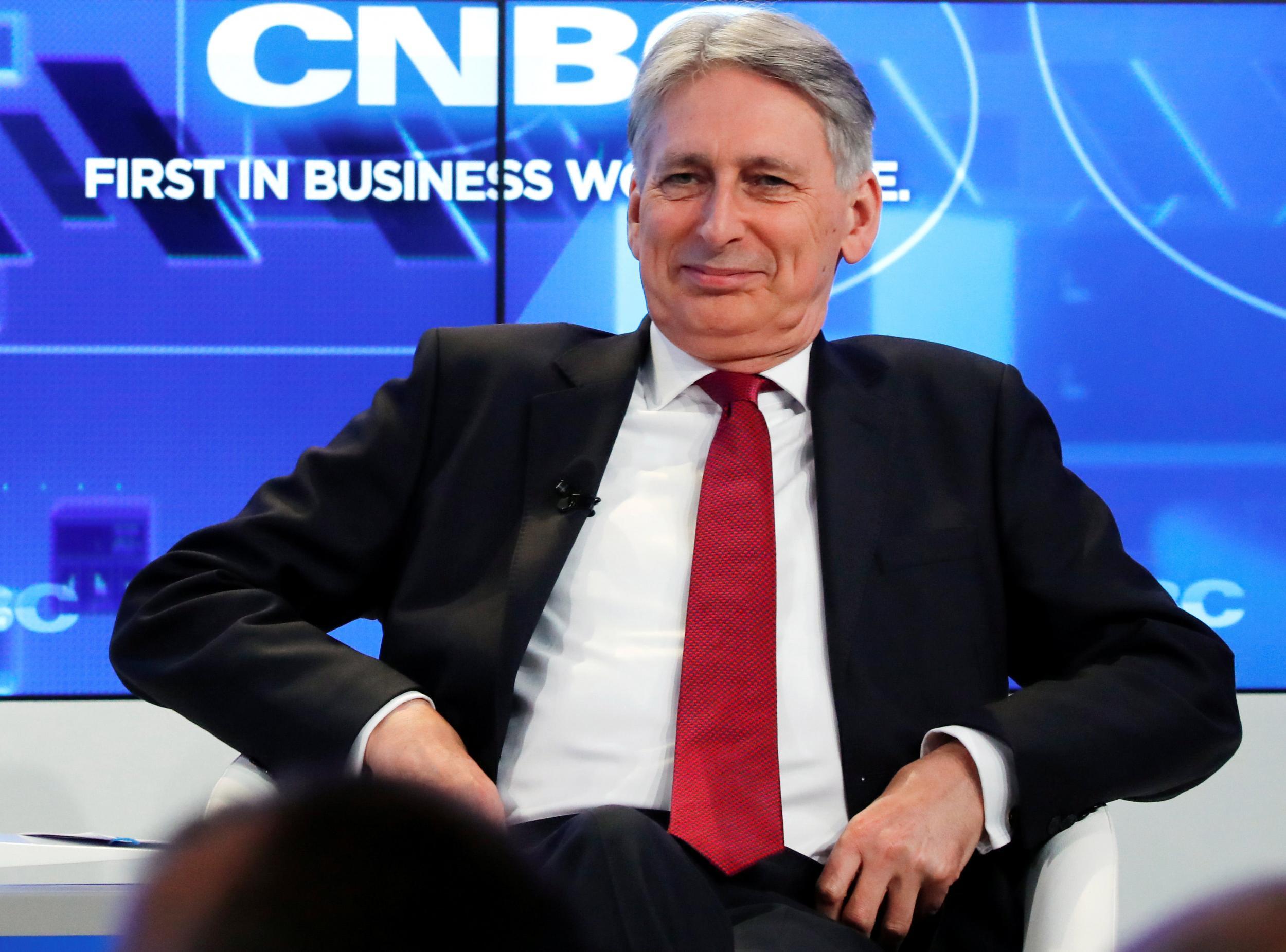 Philip Hammond has insisted the UK will refuse to sign a Brexit trade deal with the European Union unless financial services are included in it.
Speaking at the World Economic Forum in Davos, the Chancellor said that a deal that did not include financial services, which account for roughly 7 per cent of the UK economy and support one million jobs, would not be "fair".
"The only deal that can ever get done is one that is fair to both parties. And a deal that included goods but didn't include services could never be fair, could never be attractive to the UK," he said, at a CNBC event.
The City of London has given up on hopes of retaining the full single market "passport" after the UK exits the hoped-for two-year transition period due to begin in March 2019, but many in the Square Mile are pressing for a regulatory "equivalence" or "mutual recognition" deal, which would allow more of the current range of cross-border financial business to continue.
It is unclear whether the EU side would regard this as Brexit "cherry picking" by the UK.
"Those who casually suggest financial services won't be part of a deal are not looking at the numbers," Mr Hammond said, pointing out that the UK runs a £100bn trade in goods deficit with the EU, which is partially offset by a £40bn services surplus.
Financial services account for around half of the overall EU services surplus.
The Government has come under fire from the City of London for failing to publish a Brexit position paper on the financial services, despite promises from ministers to do so.
But Mr Hammond argued that this was merely prudent negotiating tactics.
"While it would suit some people to have all of our analysis laid out for everybody to see to some extent we need to play our cards close to our chest," he said.
"We'll publish what we think we can publish without prejudicing our negotiating room for manoeuvre."
The World Economic Forum at Davos: what is it, who attends, why is it important?
Frankfurt, Paris and Dublin have been pitching for UK-based financial services firms to shift operations to them as part of their Brexit contingency plans.
But the Chancellor argued, again, that it was delusional to imagine that Europe would gain from shutting out the City.
"The risk for Europe is that if it's not London it will be New York or Singapore," he said, pointing out that European firms benefit from the City's services.
"The idea that you can recreate in Frankfurt, or Paris, or Madrid, or Amsterdam, or Dublin, London's financial centre is a fantasy – it isn't going to happen. The loser will not only be the UK but Europe."
A report for TheCityUK lobby group, compiled by the consultancy Oliver Wyman last year, estimated UK finance firms could ultimately shed 35,000 finance jobs if firms here did not achieve financial regulatory equivalence with the EU.
The chief executive of JP Morgan, Jamie Dimon, told the BBC in Davos on Thursday that his bank could ultimately cut its 16,000-strong UK workforce by more than quarter if financial regulations diverged from those on the Continent.
"If we can't find reciprocal recognition of rules – and there are a lot of people who are mad with the Brits for leaving and want their pound of flesh – then it could be bad. It could be more than 4000," he said.
Join our commenting forum
Join thought-provoking conversations, follow other Independent readers and see their replies