Brexit: Bank bosses push for lower taxes and lighter regulation to cushion EU divorce
UK must not to 'assume it's unassailable', in financial services, said John McFarlane, chairman of Barclays
Ben Chapman
Monday 20 March 2017 14:23 Comments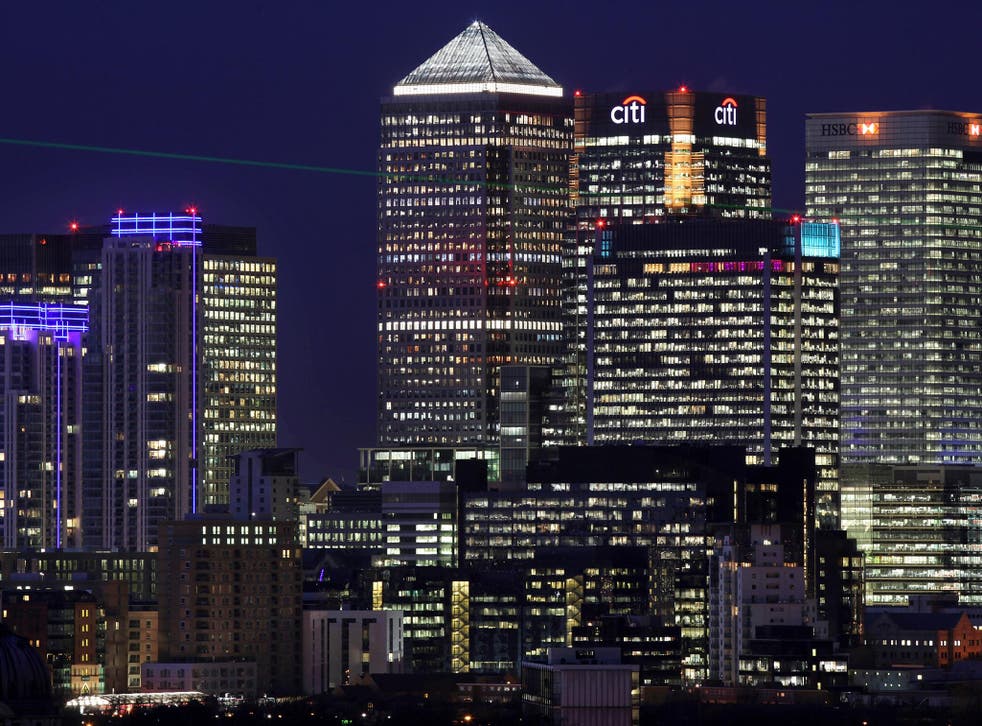 Senior figures in the world of finance have urged the Government to combat the negative impact of Brexit by lowering taxes and relaxing regulations.
Theresa May is set to trigger Article 50 to officially begin the two-year Brexit negotiations next week and the UK's financial sector is seeking assurances that it can remain competitive outside the EU.
"The challenge for the UK is not to assume it's unassailable," said John McFarlane, chairman of Barclays and TheCityUK lobby group, in an interview with the Financial Times. "Advantage needs to be renewed."
"There needs to be a tangible, compelling economic or collateral reason to be here or to do business here, rather than somewhere else, and this needs to be renewed continually," Mr McFarlane told the paper.
Ms May said in January that if EU states push to penalise the UK in trade talks, the UK could reduce taxes in retaliation - a move that may attract businesses but would also draw ire from European politicians.
The model has been dubbed "Sinagapore on steroids" by some commentators as it would set Britain up as a low-tax, offshore business destination for Europe in the way that the Asian city state is in its region.
The UK already has one of the lowest corporation tax rates of any advanced economy but bank chiefs have pointed to industry-specific measures which add to its overall burden.
Speaking to the FT, Anthony Browne, head of the British Bankers' Association, urged the Government, to scrap the bank levy and corporation tax surcharge that are predicted to raise £23.4bn over six years.
"We understand the Government's need to close the fiscal black hole, but if you want to become more attractive as a global financial centre then having a range of bank-specific taxes is not a good way to go about it," he said.
On regulation, he said the industry was "committed to global financial standards, set by the G20 and the Basel Committee".
Should the UK deviate too far from EU rules it risks losing access to the European market through regulatory equivalence.
Brexit Concerns

Show all 26
Finance firms have been drawing up contingency plans for a hard Brexit in recent months. Many are preparing to set up EU bases in cities such as Frankfurt, Paris or Dublin.
Despite uncertainty around Brexit, UK finance bosses are upbeat about the UK's economic prospects in 2017, a survey by Lloyds Bank showed on Monday.
More than half of those surveyed believe that the nation's economy will remain resilient in 2017, and 22 per cent expect it to improve compared to 2016. Three quarters (76 per cent) predicted that UK economic growth will be in line with, or outpace, the average of the G7 group of advanced nations this year.
Just under a fifth of firms said they were considering moving operations out of the UK in light of the Brexit vote. Almost all of those planning to move (91 per cent) said they were looking to relocate no more than a quarter of operations.
Register for free to continue reading
Registration is a free and easy way to support our truly independent journalism
By registering, you will also enjoy limited access to Premium articles, exclusive newsletters, commenting, and virtual events with our leading journalists
Already have an account? sign in
Join our new commenting forum
Join thought-provoking conversations, follow other Independent readers and see their replies