Brexit will make full English breakfast much more expensive, study reveals
The fry-up is perhaps an unlikely casualty of the decision to leave the EU but a hard Brexit could add 12.8% to the cost of the ingredients, through additional import tariffs
Ben Chapman
Monday 10 July 2017 12:18 Comments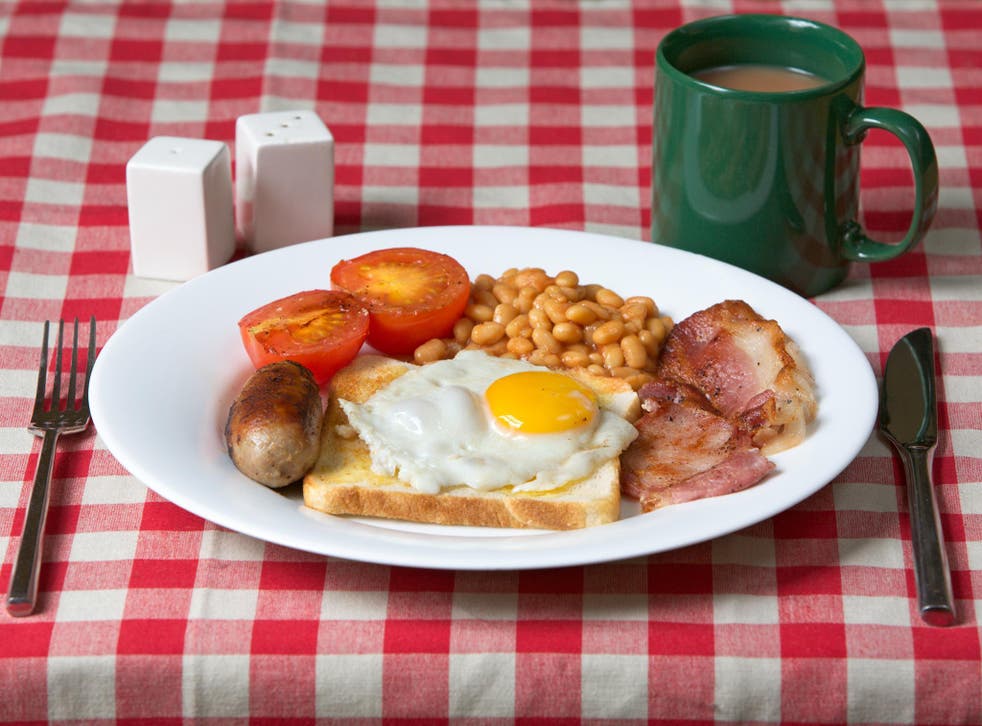 Brexit means breakfast will get more expensive, according to new research.
The full English is perhaps an unlikely casualty of the decision to leave the EU, and was certainly rarely mentioned on the referendum campaign trail, but a hard Brexit could add 12.8 per cent to the cost of a fry-up, according to number crunchers at KPMG.
That's four times the rate of inflation and means a typical family-sized shopping list for the key ingredients like bacon, sausages and brown sauce, would jump to £26.61 from £23.59, thanks to increased tariffs on imports.
The true cost would likely be even higher as this analysis doesn't include further price rises shoppers could face thanks to the weak pound, nor does it include the unknown costs of any non-tariff barriers such as quotas or additional administrative burdens.
KPMG's calculation rests on the assumption that the UK would default to the World Trade Organisation's (WTO) customs rules, if no deal is agreed by the March 2019.
Pure orange juice, from Spain and bottled in Ireland, and olive oil, from Italy and Spain, are among the items set to incur the biggest increase, at 34 per cent and 30 per cent respectively.
Milk, free range eggs and sliced white bread were all sourced from the UK in the analysis, however the other items were intentionally imported for demonstrative purposes.
"If the UK leaves the EU without a trade deal or transitional agreement, we can expect both higher prices and a huge spike in red tape at the borders," said Bob Jones, a director at KPMG.
Paul Martin, KPMG's UK head of retail, said British consumers have become accustomed to seasonal produce all year round and have "binged on a diet of discounts for some time". These are now likely to come to an end as supermarkets face increasingly squeezed margins thanks to rising prices he said.
How Brexit affected Britain's favourite foods from Weetabix to Marmite

Show all 8
To illustrate the impact of defaulting to WTO rules, KPMG UK analysed the cost of mid-range ingredients of a fry-up from a leading UK supermarket, and applied the current EU external customs tariffs to each, whilst also taking into account the grocer's mark-up.
The report comes as consumers are already facing rising prices while average real wages fall.
Inflation jumped unexpectedly to 2.9 per cent in May, its highest level in nearly four years, as the slump in the pound in the wake of last June's Brexit vote continues to feed through into price increases, the Office for National Statistics said last month.
This has begun to impact consumer spending which shrank 0.3 per cent in the year to June, topping off the worst quarterly contraction since the third quarter of 2013, according to Visa's Consumer Spending Index. Household expenditure was down on the previous year for the second month running.
Register for free to continue reading
Registration is a free and easy way to support our truly independent journalism
By registering, you will also enjoy limited access to Premium articles, exclusive newsletters, commenting, and virtual events with our leading journalists
Already have an account? sign in
Join our new commenting forum
Join thought-provoking conversations, follow other Independent readers and see their replies