Brexit Britain at risk from food shortages, rising prices and lower animal welfare standards, hears Lords committee
Long-term decline in Britain's self-sufficiency has left the food system in a 'fragile' state, said Professor Tim Lang of the Centre for Food Policy at City University said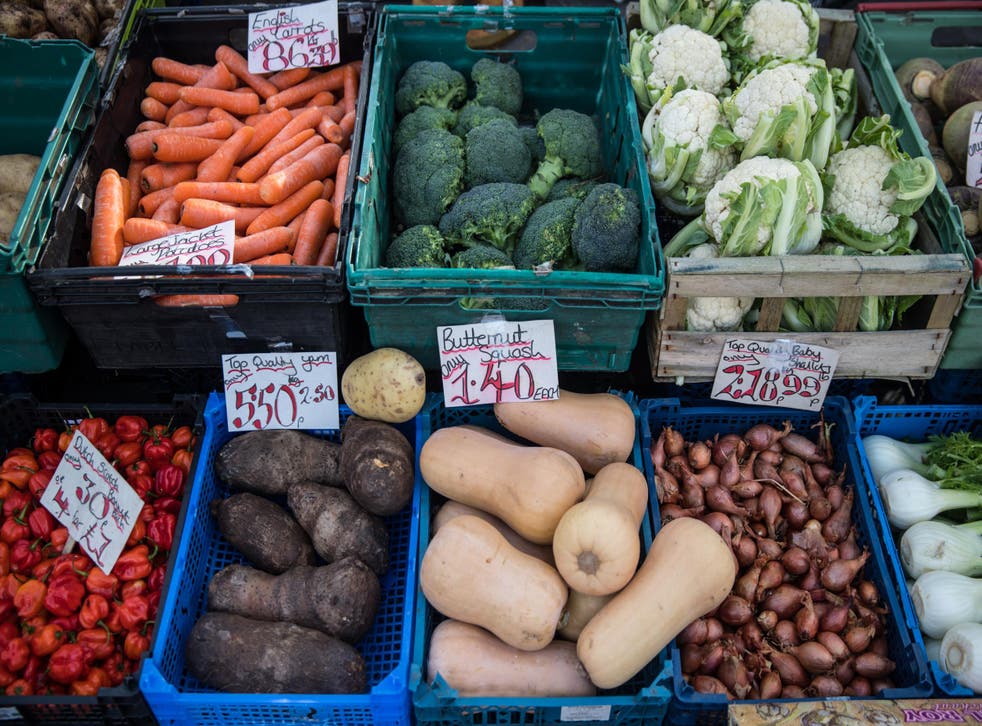 Brexit risks increasing food prices, lowering safety and welfare standards, causing food shortages and worsening a public health crisis in the UK, members of a House of Lords committee heard on Wednesday.
The country already has a "catastrophic" £22.5bn trade deficit in food, Professor Tim Lang of the Centre for Food Policy at City University said.
A long-term decline in Britain's self-sufficiency has left the food system in a "fragile" state, he told the Lords EU energy and environment sub-committee. A third of the food Britons eat currently comes from the EU.
"I find it extraordinary that there has not been a debate about food security," Profesor Lang said.
He warned that UK producers will be under pressure to make food even more cheaply after Brexit, despite environment secretary Michael Gove's promises that British food will be high welfare and high quality.
Ian Wright, head of the UK's food manufacturing lobby, said Brexit will mean higher prices and could reduce choice. Consumers have forgotten that the range and quality of produce they enjoy today was not available before the country joined the common market, he said.
"Brexit is the single biggest threat to that situation that we have seen in our lifetimes," Mr Wright said, adding that he didn't want to see a return to the "dark days" of the 1950s, when food was rationed.
Andrew Opie, director of food policy at the British Retail Consortium, said items such as beef, cheddar, tomatoes and broccoli could increase in price by between 5 and 32 per cent as a result of increased tariff barriers alone. Non-tariff barriers such as border checks and paperwork, as well as currency movements could mean more increases.
The range is so wide because it is impossible to know how producers will react to increased barriers to trade, he said. Some food currently destined for the EU market may be kept at home if barriers are high, increasing the UK supply and so potentially acting to hold down prices, he added.
Professor Tim Benton of Chatham House warned of wider health impacts.
He said: "We have a public health crisis associated with poor diets and with rising food prices there is a real issue that people cannot afford to eat nutritiously - that's already the case and it's likely to get worse if food prices rapidly go up."
He said that food from further afield is typically less regulated, subject to lower environmental standards, of lower quality and has a bigger impact on workers in producer countries than food from the EU.
Sue Davies, strategic policy director of consumer group, Which?, said people expect that high standards of food safety and quality will continue to be upheld after Brexit, with concerns focusing more around prices.
People also expect that products commonly imported from the EU, such as dairy, can simply be imported from elsewhere. This is not the case as many foods are specific to a particular region, she said.
National Farmers Union director general, Terry Jones, called for a "well-regulated industry with short supply chains rather than adopting an 'all-comers' approach". This could safeguard standards and prevent food fraud, he said.
Mr Jones said he feared a situation where voices within the UK government push to unilaterally liberalise trade in order to lower shop prices which would be "the worst of both worlds".
Join our new commenting forum
Join thought-provoking conversations, follow other Independent readers and see their replies