6 charts that explain why George Osborne is about to make austerity even worse
Osborne's chance of cutting the deficit by 2020 is looking increasingly unlikely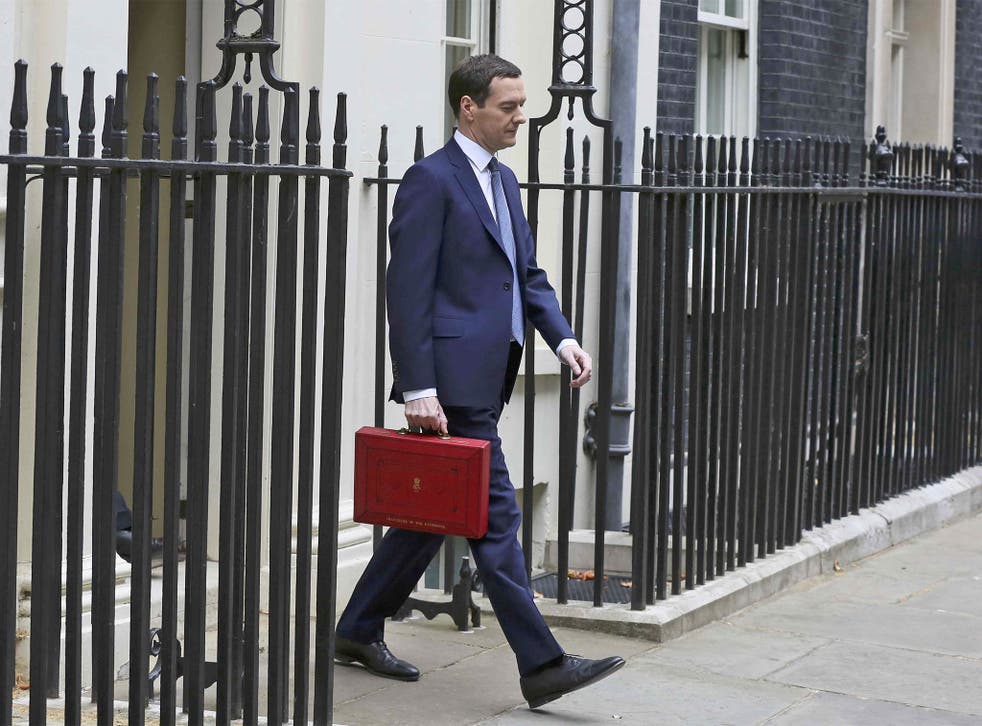 George Osborne is expected to make a further £4 billion in spending cuts to try and meet his fiscal promise of cutting the deficit by 2020.
The Chancellor has already employed his favourite weather metaphors to say that cuts made so far are not enough.
"Our economy is strong, but the storm clouds are gathering again," he is expected to say. "Our response to this new challenge is clear. A Budget where we act now so we don't pay later. In this Budget we choose the long term. We choose to put the next generation first."
So, with the economy growing, albeit slower than anticipated, why does Osborne think further cuts are needed?
UK GDP was expected to grow around 2.4 per cent in 2016 and 2.5 per cent in 2017. Now it's looking more like 2.2 per cent or less each year.
Osborne might try to blame slowing growth in China or a shaky stock market in 2016 for these changes, but not all analysts are convinced.
"Downward revisions to growth seem likely.
"Chancellor Osborne will blame financial market wobbles and China's slowdown, but the main problems are closer to home," economists at Fathom Consulting have said.
Osborne has a track record of cutting spending rather than raising taxes
Osborne might run into trouble as politicians push back against further taxes and public spending cuts that would be needed to achieve a budget surplus.
Osborne is going to have to get even tougher to meet his budget target
Borrowing in the first ten months of 2015-16 was higher than projected. There's now a 45 per cent chance that Osborne will miss his target of a Budget surplus by 2020.
But Osborne has shown no signs of scrapping this committment. He has said meeting the target will be a test of the country's economic strength.
Osborne said: "If our country doesn't bring the deficit down, the deficit could bring our country down again. And that's why, for the economic security of every family in Britain, we must hold our nerve. And quite frankly, if we're not into a surplus after 10 full years of economic growth, when will we ever be?"
But history shows that budget surpluses are not the norm
Osborne's self-imposed mandate comes as the European Central Bank pumps cheap money into the banking system to encourage countries to borrow more to end austerity.
Danielle Haralambous, an analyst at the Economist Intelligence Unit, said further fiscal consolidation, or tax rises and spending cuts, could help the Chancellor stick to his target of a budget surplus by the end of the forecast period, consistent with the new fiscal rule approved by parliament last October.
"However, our view is that public and political pressure to ease the fiscal consolidation process will mount, making a tight fiscal stance difficult to maintain in the medium-term," Haralambous said.
Here's a reminder of where the budget cuts have come from so far:
Capital spending and public services have been hit hardest, while other categories like welfare contain ringfenced expenses, such as the NHS.
Local governments have had to bear the brunt of Osborne's cuts
Some departments have had their budgets cut more than others as Osborne looks to cut Government spending.
The departments for culture, business and the environment have seen their budgets slashed by at least a quarter, while local governments have lost a fifth of their funding.
English State schools to become academies by 2022
That means further cuts will push some departments closer to breaking point. There are also logistical problems in changing spending plans that have already been agreed.
"These cuts will be contentious as they will take more demand out of the economy at a time when the economic backdrop is already very challenging," said Andrew Godwin and Martin Beck of Oxford Economics.
"Further cuts would also present logistical problems: November's Comprehensive Spending Review put in place departmental budgets for the next four fiscal years, so these would need to be reopened," they added.
Register for free to continue reading
Registration is a free and easy way to support our truly independent journalism
By registering, you will also enjoy limited access to Premium articles, exclusive newsletters, commenting, and virtual events with our leading journalists
Already have an account? sign in
Register for free to continue reading
Registration is a free and easy way to support our truly independent journalism
By registering, you will also enjoy limited access to Premium articles, exclusive newsletters, commenting, and virtual events with our leading journalists
Already have an account? sign in
Join our new commenting forum
Join thought-provoking conversations, follow other Independent readers and see their replies