Marks & Spencer burkini collection sells out
Several regions of France decided to ban the burkini as it was deemed to be 'incompatible' with French values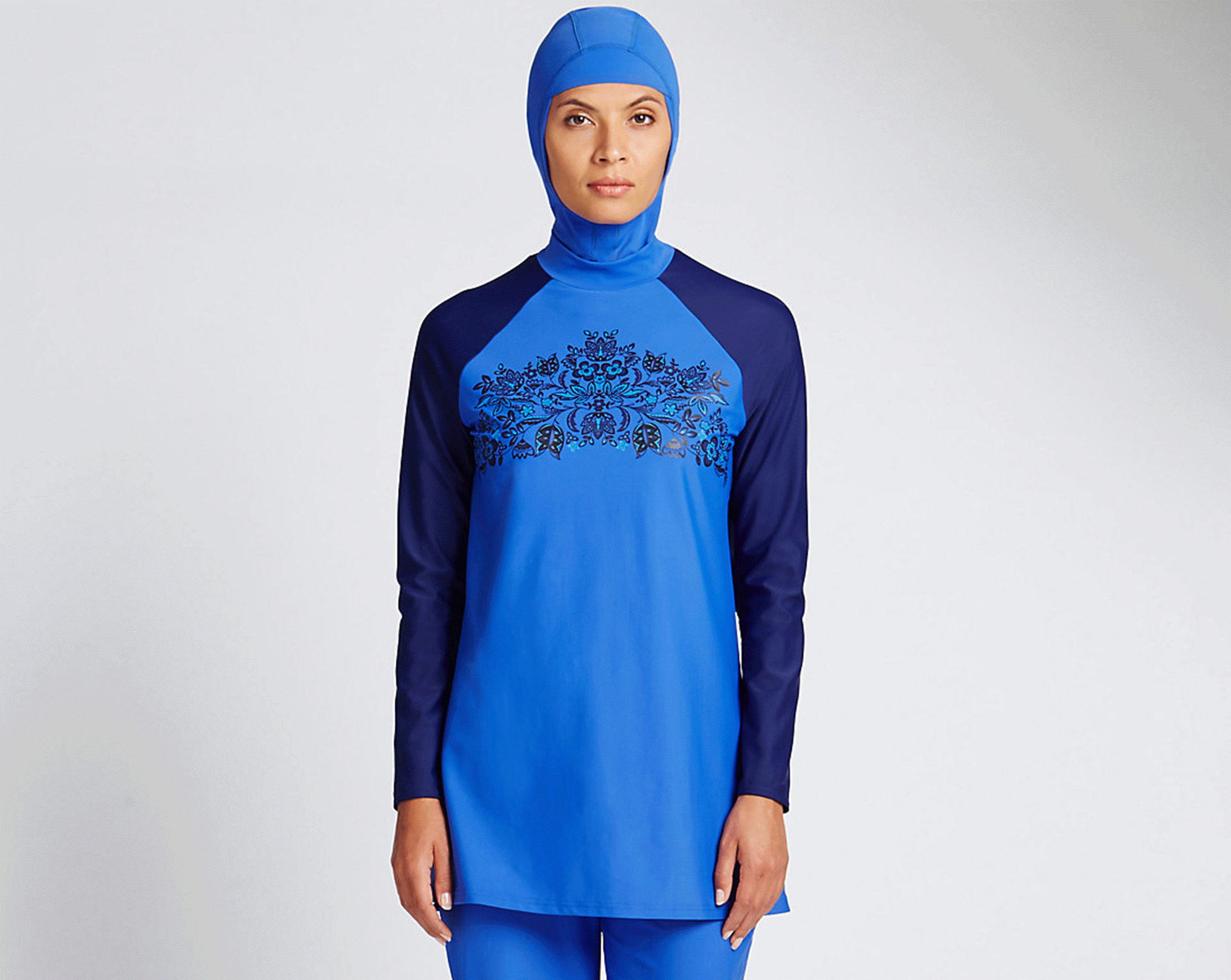 It was launched with big fanfare in March, and now Marks & Spencer has confirmed its burkini swimwear collection has sold out.
Despite attracting criticism from fashion mogul Pierre Bergé and Laurence Rossignol, France's women's rights minister, the design appears to have proved popular with British customers.
Marks & Spencer has told The Independent the collection, part of its summer and spring 2016 collection, is out of stock.
The retailer has sold the outfits for the past three years in its stores in Dubai and Libya, before lauching them in its flagship Marble Arch store last year and online for the first time this year.
"M&S provides a wide range of quality swimwear offering our customers lots of choice. We have sold this item for a number of years and it is popular with our customers internationally," a spokesperson said,
The garment covers the whole body with the exception of the face, hands and feet. It was initially intended to appeal to Muslim women but may have also proven popular with non-Muslim customers worried about the damage that exposure of the sun.
It was brought to public attention in the UK when TV chef Nigella Lawson wore the head-to-toe three-piece garment while holidaying in Australia in 2011. She explained the outfit allowed her to not reapply sunscreen after swimming.
The burkini has sparked widespread debate in France this summer. In July, several towns decided to ban the garment, deeming it to be "incompatible" with French values. At least four women have been fined for defying the new rule and at least six others have been stopped and asked to leave the beach.
Manuel Valls, the French Prime Minister, said the garment "enslaved women".
Yet the ban has only boosted sales, particularly from non-Muslin customers, according to Ahiida Zanetti, the Australian-Lebanese designer who created her first burkini more than 10 years ago. Speaking to indy100, Ms Zanetti said that some 40 per cent of her clientele are not actually Muslim.
"The burkini swimsuit was never a type of swimsuit to symbolise a Muslim woman. I took away the traditional veil which did symbolise a Muslim woman, and replaced it with a hood type of top to blend in and integrate within Australian culture and lifestyle. It was also meant to be worn by all women no matter what race, religion, shape, colour and for whatever reason," the designer said.
"Women have the choice to choose what they want to wear or not and I don't think anyone should take this away from them," she added.
Rachid Nekkaz, a real-estate entrepreneur of Algerian descent, has offered to pay for people charged under the new French law and has already covered the cost of three women who chose to defy it.
Fashion weeks around the world

Show all 6
M&S is in line with other fashion designers catering to the growing Muslim market. In the UK, department store House of Fraser started selling bukinis last year along with lightweight Islamic headscarves, or hijabs, designed by company Shorso to be worn during exercise. Uniqlo launched a line of hijab headscarves and tunics in the UK for the first time in March.
On the high street, Zara and Mango have offered special collection during Ramadan while H&M featured Mariah Idrissi, its first ever hijab wearing model, in an ad campaign last year.
And this January Dolce & Gabbana released its first hijab and abaya collection, decorated with the brand's signature floral prints and embroideries.
Register for free to continue reading
Registration is a free and easy way to support our truly independent journalism
By registering, you will also enjoy limited access to Premium articles, exclusive newsletters, commenting, and virtual events with our leading journalists
Already have an account? sign in
Register for free to continue reading
Registration is a free and easy way to support our truly independent journalism
By registering, you will also enjoy limited access to Premium articles, exclusive newsletters, commenting, and virtual events with our leading journalists
Already have an account? sign in
Join our new commenting forum
Join thought-provoking conversations, follow other Independent readers and see their replies