As it happened
ended
1570722940
Economy shrinks in August as manufacturing sector slumps - as it happened
Follow live updates as markets await latest official GDP data
Ben Chapman
Thursday 10 October 2019 08:24 Comments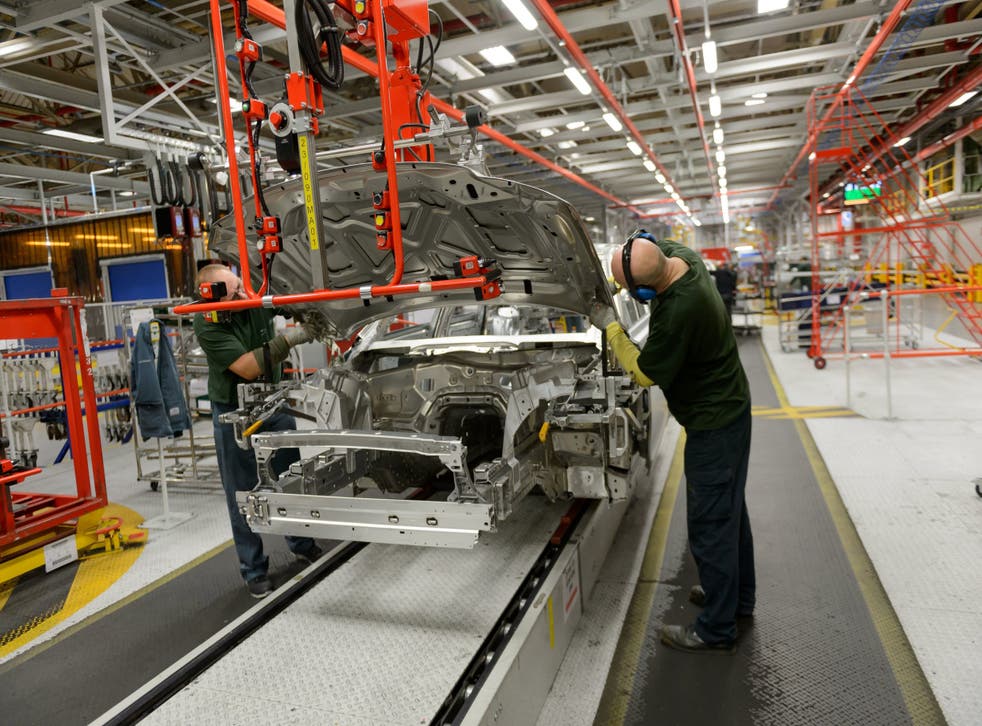 Britain's GDP fell 0.1 per cent in August from the previous month – the first drop since April – after an upwardly revised 0.4 per cent rise in July, official data showed. The figures put the economy on track for a modest expansion in the third quarter, after a surprise contraction in the second quarter.
Meanwhile, homeowners are increasingly shunning the property market because of heightened uncertainty about Britain's future, research has found.
The number of new homes coming to the market slumped to a three-year low in September while buyer demand also fell, a poll by the Royal Institute of Chartered Surveyors found.
The live blog has ended.
1570694417
Welcome to The Independent's live coverage of business and economics events in the UK and beyond. 
GDP data for August is due at expected at 9:30 which economists predicting it will show the economy flatlined. 
There was new evidence this morning that Brexit is dragging on the housing market. The number of new of new homes coming to the market slumped to a three-year low in September while buyer demand also fell, a poll by the Royal Institute of Chartered Surveyors found.
ben.chapman
10 October 2019 09:00
1570694499
Poverty and disease rife on farms supplying big supermarkets, Oxfam says
Low pay and harsh working conditions are common on farms and plantations that supply global supermarkets including Aldi, Lidl, Morrisons, Sainsbury's and Tesco, according to new research by Oxfam.
Interviews with 510 workers on 50 tea plantations in Assam in India revealed that half of those questioned receive ration cards meant for people below the poverty line, because their pay is too low. 
Although Indian tea estates are legally obliged to provide decent housing and working conditions, Oxfam found that toilets were dilapidated or non-existent and most workers do not have access to safe drinking water, meaning that cholera and typhoid are common. 
Meanwhile, women regularly clock up 13 hours of "back-breaking" work a day, the organisation said. 
ben.chapman
10 October 2019 09:01
1570695137
US and China ramp up rhetoric ahead of trade deal talks
The White House has been ratcheting up its rhetoric towards China as the two countries enter a thirteenth round trade talks today.
US Secretary of Commerce Wilbur Ross has slammed China's trade practices 
"China has refused to change its behavior," he said. "In fact, its global trade practices have only gotten worse.
The FT is reporting that the latest prong of attack being considered by Washington is an executive order that would increase inspections on parcels from China to detect any contraband.
Peter Navarro, the White House trade advisor, said yesterday that a "disturbingly high" proportion of goods sent to the US from China contained deadly drugs like fentanyl or counterfeit goods. 
For it's part, China has accused the US of harassing Chinese scholars, students, entrepreneurs and scientists by delaying, denying and revoking visas.
ben.chapman
10 October 2019 09:12
1570695512
Housing market hit by 'endless wrangling around Brexit'
(Press Association) The flow of homes coming on to the market is at its weakest level in three years as "endless wrangling about Brexit" continues, according to surveyors.
An overall net balance of 37 per cent of surveyors reported the supply of homes being put up for sale decreasing rather than increasing in
September - the weakest reading since June 2016 - the Royal Institution of Chartered Surveyors (Rics) said.
Average stock levels on estate agents' books therefore remain near record lows, its UK housing market survey found.
The number of new inquiries from buyers and agreed sales is also falling back.
ben.chapman
10 October 2019 09:18
1570696268
Wrightbus faces 'decision day'
The UK's last bus maker, Wright Bus faces a decision on its fate this morning. The builder of "Boris Buses" went into administration last month with the loss of 1,200 jobs but a potential sale could rescue at least part of the business.
North Antrim MP Ian Paisley and trade union officials said the deadline for a deal to be agreed is 10am.
Jo Bamford, son of JCB chairman Lord Bamford, is thought to be the only potential bidder.
Controversy surrounds Wrightbus's collapse, with particular anger focusing on millions of pounds of donations to the church while the company was in financial trouble.
Mr Paisley told BBC Radio Ulster: "There's no second chances here - you can't do this again on Friday or Saturday - this is the decision day.
"Either it's the continuation of the building of the best buses produced in the world, or it's the end of bus building in Ballymena.
ben.chapman
10 October 2019 09:31
1570696508
BREAKING: UK economy shrinks 0.1% in August
Over the latest three-month period the economy grew 0.3 per cent.
ben.chapman
10 October 2019 09:35
1570697065
Want to reduce your carbon footprint? Invest in a windfarm
Stuck for something to put on your wedding list? Need a novel idea for a Christmas present? Why not buy someone – or yourself – a wind turbine? Now you can, thanks to Sarah Merrick, founder and CEO of Ripple Energy, which has won the prize for Startup of the Year 2019, awarded by equity crowdfunding platform Seedrs.
Merrick, 41, has always worked in energy. She studied economics at UEA and got a job on graduating with the trade association for electricity producers. "I had no idea my job even existed," she says. The electricity producers included nuclear and gas, but a feeling for the way the wind was blowing led her to put the emphasis on renewables.
ben.chapman
10 October 2019 09:44
1570697731
The services sector - which accounts for most of the economy - grew over the last three months but manufacturing unexpectedly contracted by 0.7 per cent.
ben.chapman
10 October 2019 09:55
1570698030
The ONS on those GDP numbers:
The main contributor to gross domestic product (GDP) growth in the three months to August 2019 was the services sector, which grew by 0.4%. This was driven by widespread strength across the services industries in June and July, following a period of largely flat growth in the previous three months.

Meanwhile, the production sector fell by 0.4% in the same period, while construction output grew by 0.1%.
ben.chapman
10 October 2019 10:00
1570698163
Manufacturing the biggest drag on economy
ben.chapman
10 October 2019 10:02
Register for free to continue reading
Registration is a free and easy way to support our truly independent journalism
By registering, you will also enjoy limited access to Premium articles, exclusive newsletters, commenting, and virtual events with our leading journalists
Already have an account? sign in
Join our new commenting forum
Join thought-provoking conversations, follow other Independent readers and see their replies