Chinese stock market has lost £1.5 trillion in the last three weeks
That's 10 times the size of Greece's annual GDP
Zachary Davies Boren
Friday 03 July 2015 15:53 Comments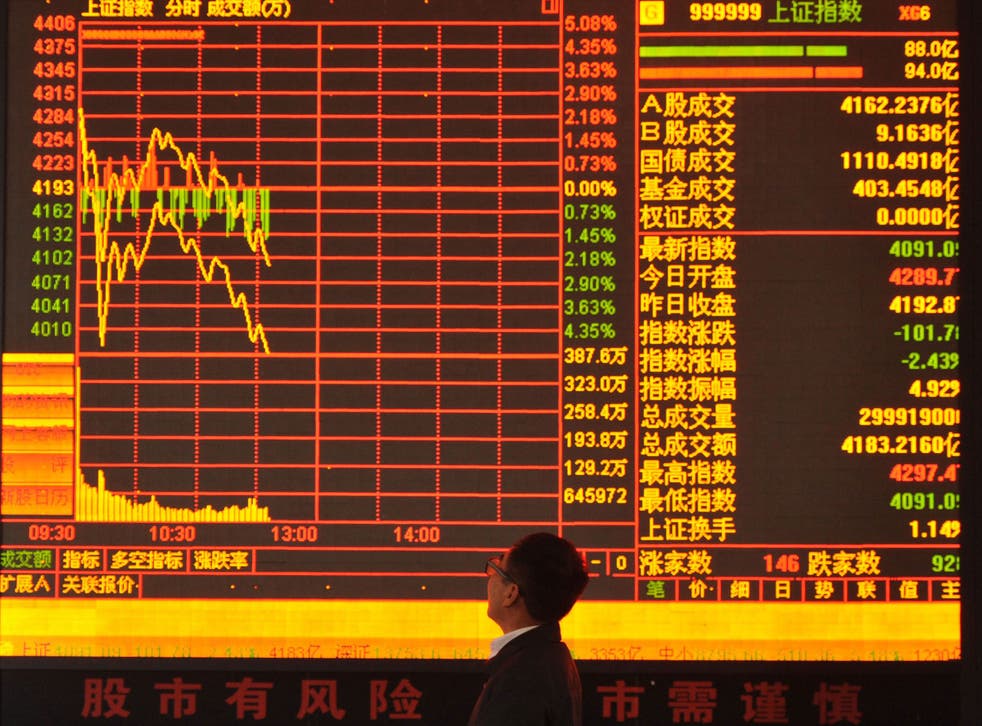 The Chinese stock market has endured a torrid three weeks in which it has lost value equivalent to £1.5 trillion — that's 10 times the size of Greece's annual GDP.
The Shanghai Composite, an index of all stocks traded on the Chinese stock exchange, has fallen 30 per cent since its peak on June 12 following a record-breaking eight-month growth period. It's been the market's worst three weeks since 1992.
In its third straight 'Black Friday,' the market crashed by 3.25 per cent, falling below 4,000 for the first time since April.
The fall has been so precipitous that China's financial regulator has said it will investigate suspected market manipulation.
The China Securities Regulatory Commission (CSRC) will look into abnormal market movements from stock market and futures exchanges — including allegations that some overseas investors are driving prices down by short-selling Chinese stocks.
According to Reuters, the China Financial Futures Exchange (CFFEX) has already suspended 19 accounts from short-selling for a month.
But it looks more likely that Chinese stocks had simply been overvalued, having inflated 150 per cent in just one year.
Last week Morgan Stanley said it expects Shanghai's benchmark index to fall by a further 2-30 per cent over the next year, with one senior analyst claiming this to be end of a cycle of growth.
To its credit, the state-run Global Times newspaper wrote in a recent editorial that manipulation by foreign investors was not to blame: "Foreign capital has only a small part of the Chinese stock market.
"Large-scale short selling by foreign investors in the Chinese stock market has not appeared and is an unlikely scenario."
In response to the drop in the Shanghai Composite, the government has cut the cost of borrowing and eased margin lending rules, encouraging brokerages to lend money.
Register for free to continue reading
Registration is a free and easy way to support our truly independent journalism
By registering, you will also enjoy limited access to Premium articles, exclusive newsletters, commenting, and virtual events with our leading journalists
Already have an account? sign in
Join our new commenting forum
Join thought-provoking conversations, follow other Independent readers and see their replies