Sainsbury's shares fall to 11-year low after a dismal Christmas sales slide
Chief executive Mike Coupe admitted that this season has been tougher than any in his career
Simon Neville
Wednesday 07 January 2015 10:59 Comments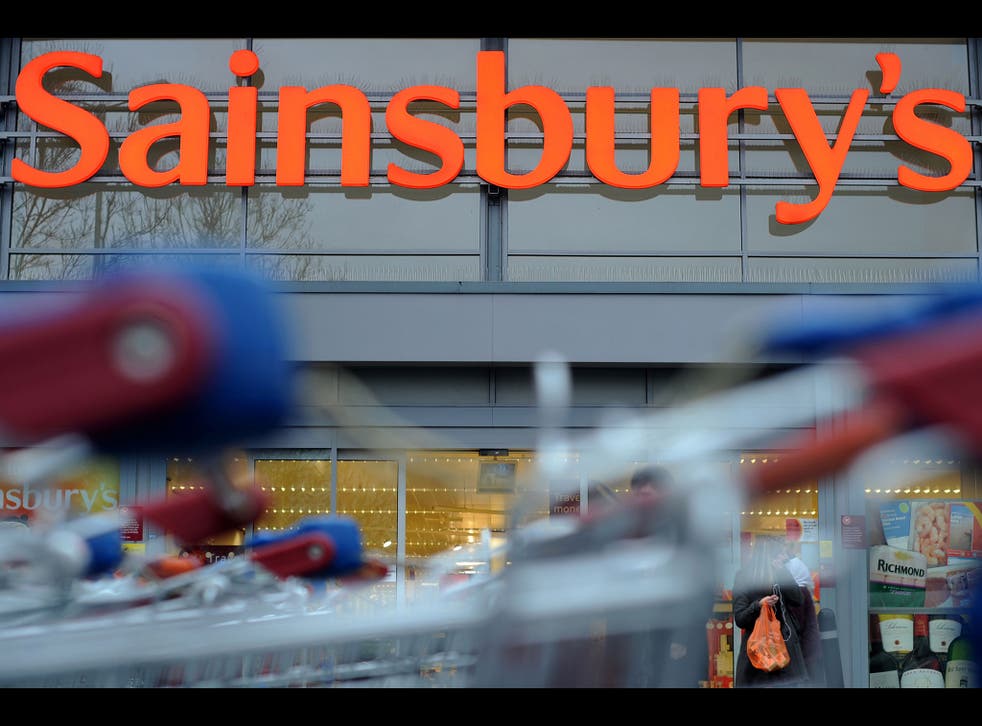 Sainsbury's shares have sunk to an 11-year low, as the scale of change in the supermarket landscape was laid bare following a reasonable but ultimately disappointing Christmas.
The UK's third largest supermarket group revealed sales had fallen over the festive period for the first time in a decade and Mike Coupe, its chief executive, admitted that this season has been tougher than any in his career.
He denied suggestions that Sainsbury's future is now in Tesco's hands, as all eyes turn today to its larger rival, which is unveiling its new boss Dave Lewis's rescue plan.
Sainsbury's revealed a 1.7 per cent drop in sales in the 14 weeks to 3 January, which beat analysts' expectations of a 3 per cent fall but failed to halt a slide in the shares.
Mr Coupe explained: "I've been in the industry 30 years and this is the toughest Christmas I've seen in my time at Sainsbury's and in the industry." He added that convenience store sales had risen 16 per cent and online sales rose 6 per cent; however, he refused to put a figure on the sharp fall in its traditional larger store estate.
There was some optimism that the rate at which the discounters Aldi and Lidl are growing will continue to slow down over the year, and Mr Coupe reckons that the £150m hit that Sainsbury's is taking to profits in order to cut prices will help the grocer secure its future.
"It's undoubtedly a fiercely competitive market," he said. "There is no doubt industry margins have fallen."
Analysts suggested that despite Sainsbury's making logical changes to the business, Tesco could steal back many customers who switched in the past decade.
Dave McCarthy, a retail analyst at HSBC, explained: "Sainsbury's guidance is for a fall in profits and dividends… Although this is a realistic scenario, it does not make for an attractive investment proposition. But the investment case is made worse by the prospect of Tesco getting more aggressive and competitively effective.
"We believe that Sainsbury's future largely lies in Tesco's hands. For much of the last decade, Tesco played its hand badly and allowed Sainsbury to recover. But a change in management and strategy at Tesco is likely to change that, in our view."
Mr Coupe countered: "I've spent my career competing with Tesco and I don't agree that our fate, our destiny, is in other people's hands."
He added that the Christmas period saw 57 million mince pies sold, 550,000 turkeys – up 8 per cent year on year – and a record £8m spent in convenience stores on Christmas Eve alone.
The shares closed down 5p at 229.6p, at levels not seen since April 2003.
Last night Tesco gave the first indication of its plans by revealing price cuts on 380 branded products, including Tetley tea and Hovis bread, averaging 25 per cent, while also promising to apply the lower prices in both its large and convenience stores.
Register for free to continue reading
Registration is a free and easy way to support our truly independent journalism
By registering, you will also enjoy limited access to Premium articles, exclusive newsletters, commenting, and virtual events with our leading journalists
Already have an account? sign in
Register for free to continue reading
Registration is a free and easy way to support our truly independent journalism
By registering, you will also enjoy limited access to Premium articles, exclusive newsletters, commenting, and virtual events with our leading journalists
Already have an account? sign in
Join our new commenting forum
Join thought-provoking conversations, follow other Independent readers and see their replies