Sky: Comcast makes takeover bid to rival Rupert Murdoch's 21st Century Fox
Deal would value Sky at just over £22bn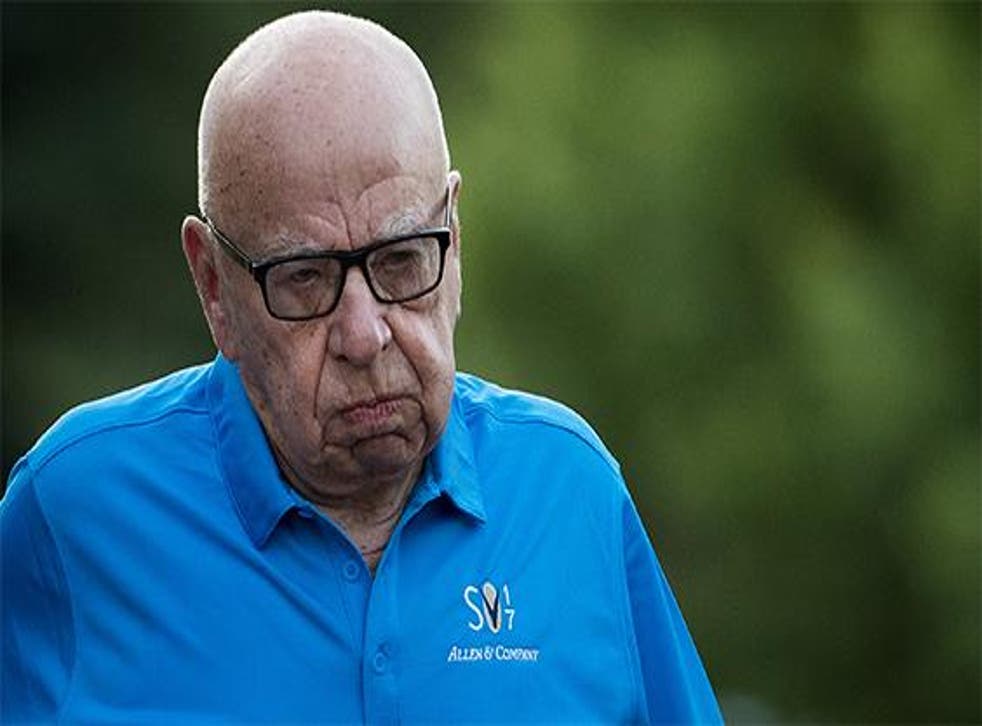 US cable giant Comcast has launched a bid for broadcaster Sky, potentially sparking a fierce takeover battle with Rupert Murdoch's 21st Century Fox.
The owner of NBC on Tuesday morning tabled an offer valuing Sky shares at £12.50 each, giving the company a total value of £22.1bn – a 16 per cent increase on the existing offer from Fox. Sky shares surged more that 20 per cent on the news.
Comcast said that a combination would bring "attractive financial benefits" for its shareholders and praised Sky for its scale and market dominance. It has around 23 million customers globally and occupies a leading positions in the UK, Italy and Germany.
"We think that Sky would be very valuable to us as we look to expand our presence internationally," Comcast chairman and chief executive Brian Roberts said in a statement, describing Sky as an "outstanding company".
"We would like to own the whole of Sky and we will be looking to acquire over 50 per cent of the Sky shares. We are confident that we will be able to receive the necessary regulatory approvals. If successful, the acquisition will enhance our free cash flow per share in the first year," he added.
Despite uncertainty that Brexit might introduce, Mr Roberts said that he expects the UK to "remain a great place to do business".
"We already have a strong presence in London and Comcast intends to use Sky as a platform for our growth in Europe," he said.
Comcast, which also owns Universal Pictures, DreamWorks Animation and channels such as MSNBC, CNBC and The Weather Channel, is one of the world's largest broadcasting companies. It already has around 1,300 employees in the UK and over the past three years it has invested more than $1bn (£700m) in film and TV productions in the UK through its NBCUniversal business, which has a head office in London. The group is also a major provider of internet services, through its Xfinity brand, and a major phone service provider in the US.
In 2014, it agreed to a $45.2bn takeover of Time Warner Cable, but that deal was abandoned after US regulators raised a host of anti-trust concerns.
Last year it pursued a deal to snap up Fox's assets, but it dropped that offer in December paving the way for Walt Disney's $52bn attempt to secure most of the Fox's film, television and international assets.
According to data analytics group Dealogic, if the deal goes ahead, it would be the sixth biggest UK targeted M&A deal on record.
In December 2016, Fox agreed to buy the 61 per cent of Sky that it does not already own but that takeover has been held up by a slew of regulatory concerns.
Last month the Competition and Markets Authority said that it had provisionally found that such a takeover would not be in the public interest and that a combined entity would have "too much influence over public opinion and the political agenda".
At the time the CMA said that it would welcome responses to the decision from "interested parties", before its report is finalised and handed to Culture Secretary, Matt Hancock, by 1 May for a final decision.
Some Sky shareholders had also started to voice concerns that the Murdoch offer might undervalue the company.
Comcast on Tuesday said that if its offer is successful, it would maintain Sky's headquarters in the UK. The deal, it said, would likely increase its international revenues from 9 per cent to around 25 per cent of overall company revenue and it also said that it does not expect a tie-up to introduce any media plurality concerns in the UK – a statement echoed by some analysts.
Neil Wilson, a senior market analyst at ETX Capital, said that media plurality concerns "probably wouldn't apply" simply because Comcast "is not really a player here".
Joshua Mahony, market analyst at online trading firm IG agreed.
"Comcast's limited footprint in the UK gives an improved chance of pushing a deal across the line," he said.
Nonetheless, Tom Watson, Labour's Shadow Culture Secretary, said that all bids "including this new one from Comcast must be very carefully scrutinised".
"Comcast must demonstrate its commitment to plurality by guaranteeing a properly funded Sky News for at least a decade as a key condition of the sale."
Securing at least 50 per cent of Sky will also likely be complicated by Fox already owning 39 per cent of the company.
"Fox will have to sharpen their pencils now," said Neil Campling of financial services company Mirabaud Securities.
"There is no way we can see that Fox will walk away given how advanced the regulatory clearance process is. This bid marks a floor not an end to this particular saga," he said. "Let the battle commence."
Register for free to continue reading
Registration is a free and easy way to support our truly independent journalism
By registering, you will also enjoy limited access to Premium articles, exclusive newsletters, commenting, and virtual events with our leading journalists
Already have an account? sign in
Register for free to continue reading
Registration is a free and easy way to support our truly independent journalism
By registering, you will also enjoy limited access to Premium articles, exclusive newsletters, commenting, and virtual events with our leading journalists
Already have an account? sign in
Join our new commenting forum
Join thought-provoking conversations, follow other Independent readers and see their replies