Costa profits fall as it is hit by the rising cost of coffee imports
Britain's largest coffee chain also pointed to higher staff costs and business rates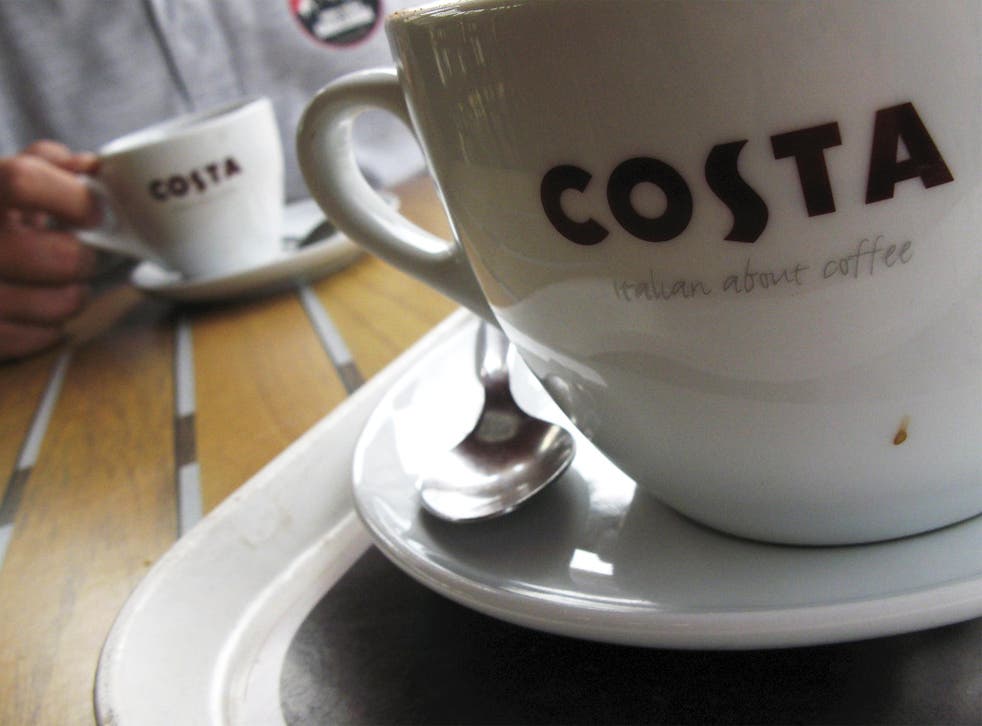 Profits at coffee chain Costa slumped 10 per cent during the first half of the company's financial year, bruised by a dramatic tumble in the value of the pound ramping up the cost of importing coffee beans.
Britain's largest coffee chain also cited higher staff costs and business rates as reasons for its profit slipping to £59m.
Costa owner Whitbread still saw first-half underlying pre-tax profits rise by 6.7 per cent, helped by growth in its Premier Inn business. Whitbread opened more Premier Inn hotel rooms and Costa outlets in the period.
Whitbread chief executive Alison Brittain told the BBC that Costa does not plan to increase its coffee prices as costs rise.
Costa's like-for-like sales, although helped by the launch of its breakfast and lunch ranges, saw growth slowing to 0.6 per cent.
Neil Wilson, senior analyst at finance broker ETX Capital, said that Premier Inn's steady expansion accounted for most of Whitbread's profits while Costa's like-for-like sales were a dampener.
He added, however, that "there is a bright spot for Costa as international sales are picking up, which might keep any talk of a breakup quiet for the time being".
Costa's international segment saw sales grow by 15.4 per cent and Mr Wilson said that he expects this to accelerate as China presents increasing potential for the brand.
At Premier Inn, revenue per available room rose by 1.8 per cent and total hotel revenue grew by 6.4 per cent.
Over the period, Whitbread opened 2,000 new Premier Inn rooms and 108 more Costa stores.
Register for free to continue reading
Registration is a free and easy way to support our truly independent journalism
By registering, you will also enjoy limited access to Premium articles, exclusive newsletters, commenting, and virtual events with our leading journalists
Already have an account? sign in
Register for free to continue reading
Registration is a free and easy way to support our truly independent journalism
By registering, you will also enjoy limited access to Premium articles, exclusive newsletters, commenting, and virtual events with our leading journalists
Already have an account? sign in
Join our new commenting forum
Join thought-provoking conversations, follow other Independent readers and see their replies