Deliveroo drivers demand union recognition and minimum wage after Uber workers' rights ruling
If half of drivers in the area sign up, the company will be forced to recognise the union; it will be the first collective bargaining agreement in the 'gig economy'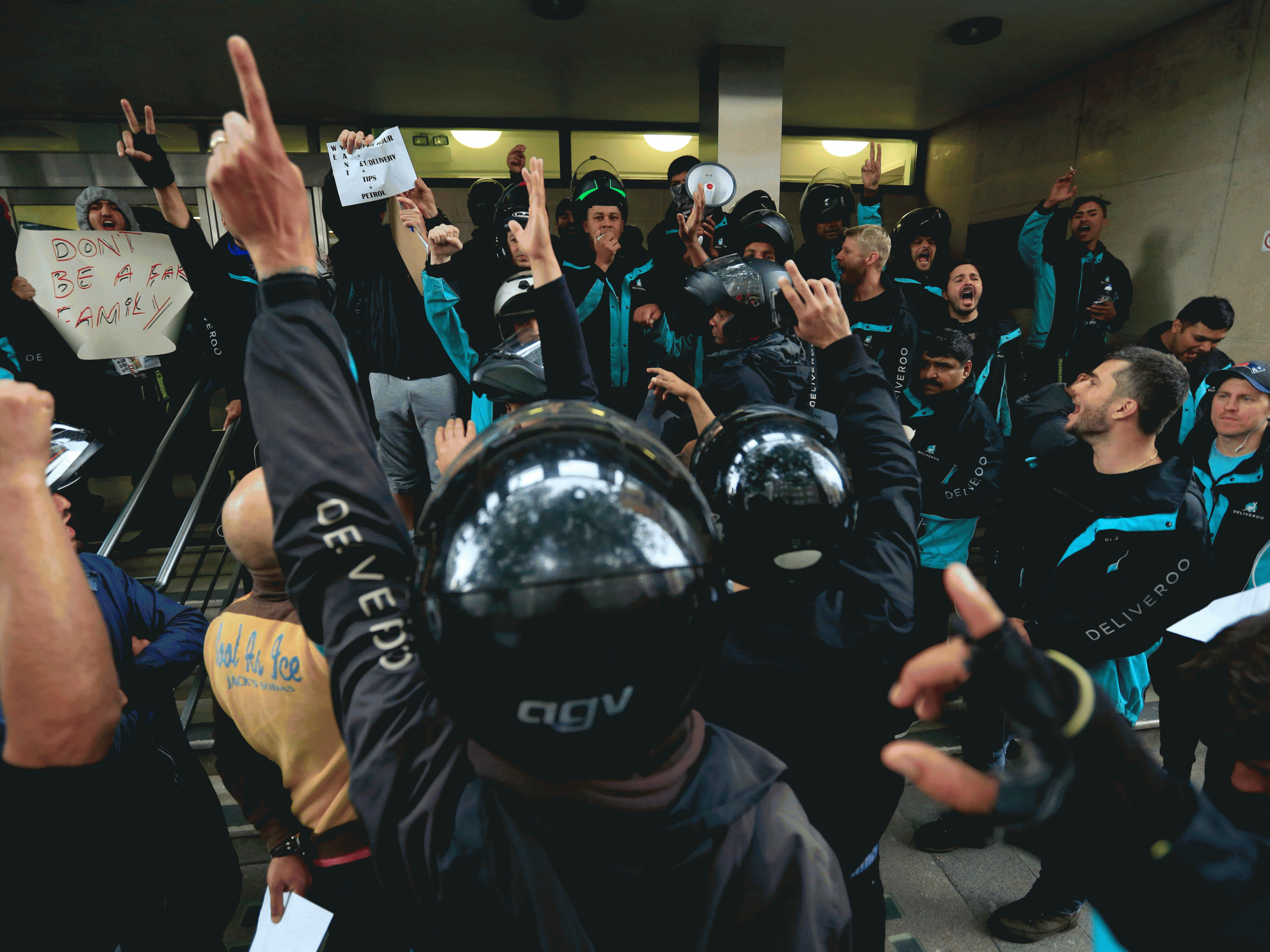 Deliveroo couriers have demanded union recognition and employment rights and are set to take legal action if the company rejects their request.
The news comes after a landmark ruling in October stated Uber drivers are employees, not self-employed as the company had claimed. The judgment could entitle thousands of "gig economy" workers to holiday pay and a guaranteed minimum wage.
The Independent Workers Union of Great Britain (IWGB) has demanded recognition from Deliveroo so that the union can bargain for pay and conditions on workers' behalf. The deal will initially cover Camden in north London and will be rolled out nationwide if successful.
If half of drivers in the area sign up, Deliveroo will be forced to recognise the union. It will be the first collective bargaining agreement in the "gig economy", setting a precedent for others to demand further rights.
Deliveroo has 10 business days to respond, after which an application will be submitted to the Central Arbitration Committee (CAC) asking it to force Deliveroo into collective bargaining.
IWGB general secretary Jason Moyer-Lee said: "Of course, for the CAC to entertain our request they will need to decide that Deliveroo drivers are 'workers' and not the 'independent contractors' you have bogusly deemed them to be," Moyer-Lee said.
"Deliveroo drivers work for Deliveroo and as such they should be entitled to paid holiday, minimum wage, trade union rights, and all the other rights associated with worker status."
Experts said the case could be hugely significant. Aaron Hayward, employment specialist at DJM Solicitors said it was "no surprise" the drivers were taking action after the Uber case."The explosion of the gig economy means many thousands of workers across the UK are now engaged in temporary, casual work that doesn't entitle them to paid holiday, minimum wage and other rights, because they are officially classified as 'contractors'," he said.
If the drivers are successful, Deliveroo will be the "first app-based employer to recognise a union in the UK. First they must succeed in convincing a tribunal that drivers should be reclassified as employees as opposed to contractors as collective bargaining laws only apply to employees.
"This is an employment case that employers, workers and lawyers alike will be watching with interest. As we move more towards a 'gig economy' based on short-term, software-driven casual work, this issue isn't going to away anytime soon."
Deliveroo delivers food from thousands of restaurants which do not have their own delivery service such as Pizza Express, Byron and Gourmet Burger Kitchen.
Drivers receive £3.75 per delivery under a new pilot scheme, but some have allege they wait up to an hour for a delivery, meaning their take-home pay is less than minimum wage. This is legal if the workers are self-employed, but many say it amounts to exploitation.
Biggest business scandals in pictures
Show all 20
After MPs waded into the dispute in August, Deliveroo offered concessions, including the chance to opt out of the pilot scheme and stick to current terms of £7 per hour and £1 per delivery.
It said it would also guarantee at least £7.50 an hour and petrol for those who continue to participate, following protests by hundreds of riders in London.
A Deliveroo spokeswoman said: "As Deliveroo continues to grow, we are committed to providing great opportunities for UK riders, with the flexible work riders value, and a payment model which is fair, rewarding and better matches riders' time with our customers' orders.
"We have been in close and regular contact with our riders throughout the trial and as you would expect we will be writing directly to our riders to inform them of the next steps as the trial comes to an end.
"The feedback so far has been overwhelmingly positive and we welcome the opportunity to further engage with riders, policymakers and the unions as the sharing economy in Britain continues to grow."
The IWGB is holding a meeting for campaign supporters in King's Cross at 7pm on Tuesday.
Join our commenting forum
Join thought-provoking conversations, follow other Independent readers and see their replies