Donald Trump's tax threats wipe €4.5bn off Germany's top car companies stocks
Mr Trump criticised German carmakers for failing to produce more cars on US soil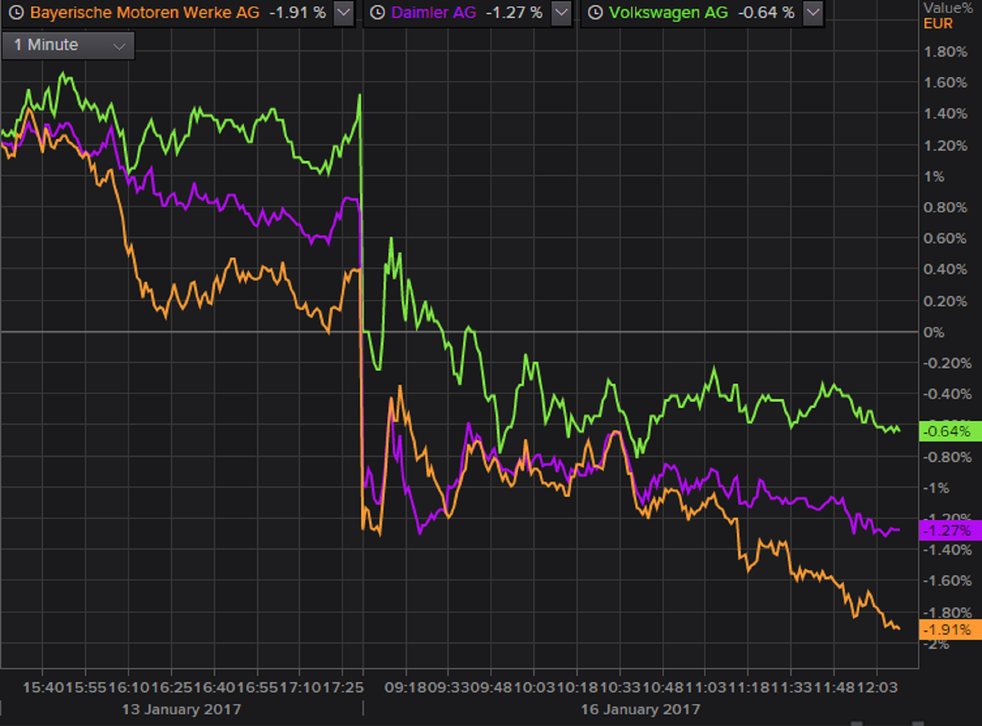 More than €4.5bn (£3.95bn) was wiped off the market value of Germany's flagship car companies on Monday, after US President-elect Donald Trump warned he would impose a border tax of 35 per cent on vehicles imported from abroad to the US market.
In an interview with newspaper Bild, published on Monday, Mr Trump criticised German carmakers for failing to produce more cars on US soil.
If you want to build cars in the world, then I wish you all the best. You can build cars for the United States, but for every car that comes to the USA you will pay 35 per cent tax," Mr Trump said, according to Reuters.
"I would tell BMW that if you are building a factory in Mexico and plan to sell cars to the USA, without a 35 per cent tax, then you can forget that," Trump said, adding that carmakers will instead have to build plants in the US.
Shares in carmakers BMW, Daimler and Volkswagen fell on Monday morning following Mr Trump's comments. Shares in BMW, Volkswagen, Daimler and the broader pan-European auto industry index were all trading around 2 per cent lower in morning trade and all closed more than 1 per cent lower on the day.
"It is surprising that Trump singles out the carmaker that exports more vehicles from the United States than any other manufacturer," analysts at Evercore ISI wrote in a note.
All three companies have invested heavily in factories in Mexico, with an eye to exporting smaller vehicles to the US market.
German senior officials rejected the President-elect's remarks.
Sigmar Gabriel, Germany's deputy chancellor and minister for economic affairs, told Bild that a tax on German import would lead to a "bad awakening" among US car manufacturer since they were reliant on transatlantic supply chain. "The American car industry will be worse, weaker and more expensive," he said.
President Donald Trump life in pictures

Show all 16
Matthias Wissmann, the president of the German Association of the Automotive Industry, wrote in a statement that "in the long term, the United States would be shooting itself in the foot by imposing tariffs or other trade barriers".
Mr Trump has in the past taken aim at car manufacturers who have moved manufacturing jobs abroad, including General Motors and Toyota.
BMW, one of the world's largest luxury carmakers, last week, reaffirmed its commitment to opening a new plant in Mexico, despite the threat of "big border tax" on companies by Mr Trump.
Join our new commenting forum
Join thought-provoking conversations, follow other Independent readers and see their replies