Duke of York to meet Azeri despot Ilham Aliyev for 12th time
Exclusive: 'Air Miles Andy' off to Azerbaijan for talks with leader of oppressive regime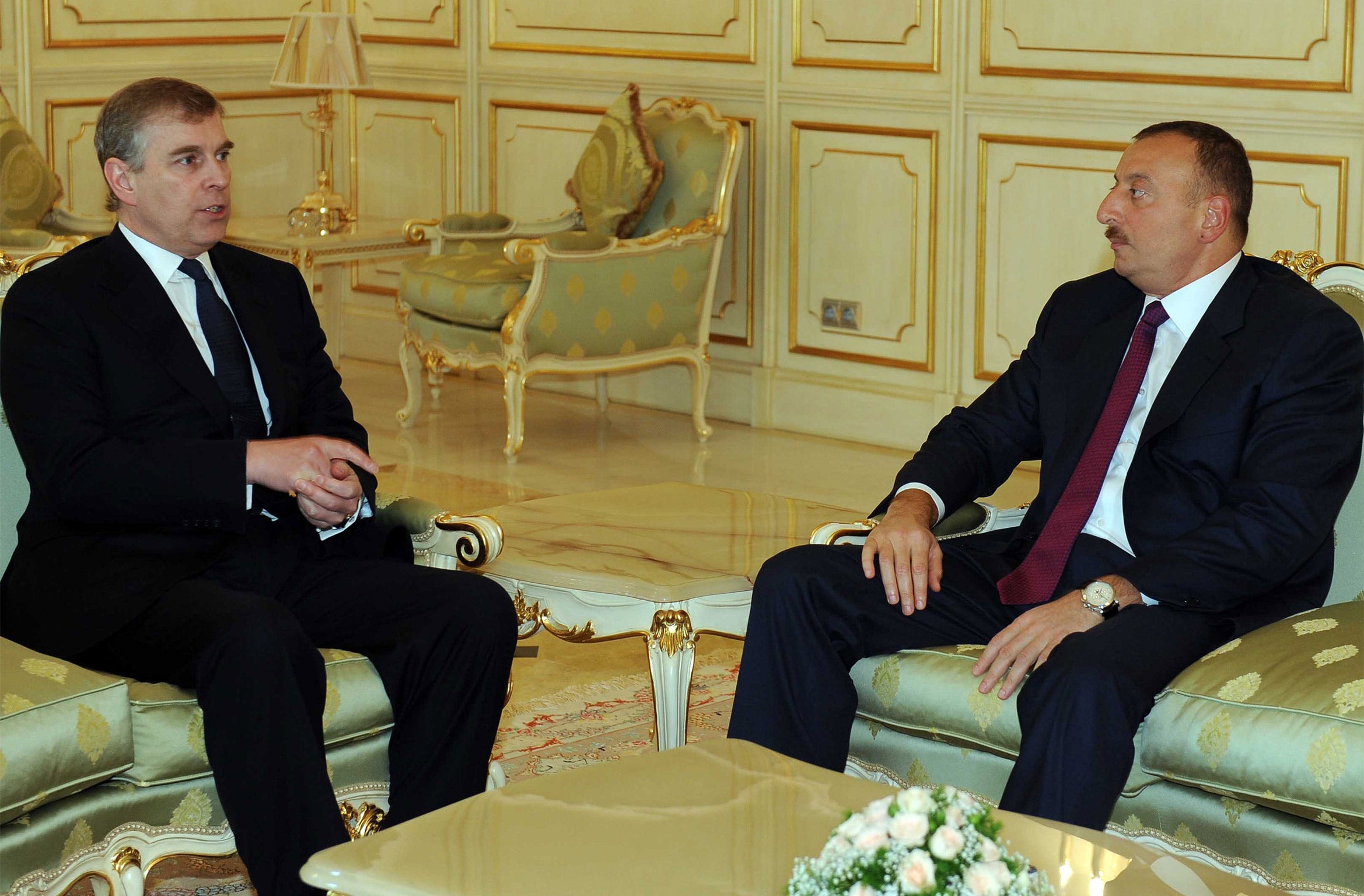 Prince Andrew is flying out today for face-to-face talks with the billionaire leader of Azerbaijan, The Independent can reveal – raising fresh concerns about the royal's willingness to associate with oppressive regimes.
The Duke of York will hold a private meeting with President Ilham Aliyev during a four-day stay in Baku, despite a growing international outcry about the treatment of human rights activists in the oil- and gas-rich former Soviet state.
It was not clear last night in what capacity the Prince is visiting Azerbaijan, given that he was forced to step down as the UK's trade envoy in 2011 when his friendship with Mr Aliyev and other controversial leaders attracted criticism.
Buckingham Palace said it did not comment on the "private travel" of the Royal Family. The private travel of British royals is not funded by the taxpayer, but it is not known who is covering the cost of the prince's trip. The Queen's second son has previously earned the nickname "Air Miles Andy" for his penchant for luxury travel.
News of the trip has drawn condemnation from pressure groups due to the current allegations of attacks on opponents of the regime. Mr Aliyev inherited the presidency from his father Geidar Aliyev in 2003. His regime has been accused of torturing political opponents and rigging elections.
The Court Circular, which does not include private visits like this week's, shows Prince Andrew has met the Azeri President 11 times on official business in the past decade.
These have included seven trips to Azerbaijan, four meetings at the annual Davos forum in Switzerland and a formal lunch at Buckingham Palace in 2009. He has also held numerous meetings over that period with Britain's ambassadors to the country.
The former Prime Minister Tony Blair has also been criticised for his role working as an adviser to the country, most recently offering his counsel on the laying of a controversial pipeline from Azerbaijan to Southern Italy.
Emma Hughes, a campaigner for the pressure group Platform, which campaigns against social and environmental abuses associated with the energy industry, said: "It's shameful that both Prince Andrew and Tony Blair are so chummy with the Azerbaijani autocrat. There are hundreds of brave people in Azerbaijan fighting for democracy, yet our representatives are more concerned with caviar and gas deals."
She pointed out the current cases of jailed human rights activists Leyla and Arif Yunus, Rasul Jafarov and Itigam Aliyev, whose arrests in the country are all said to have been politically motivated.
Only this week, Amnesty International highlighted how the two main lawyers representing Ms Yunus were removed from her case, while a third faces criminal charges of libel "apparently in retaliation for representing her."
The US State Department's human rights report for Azerbaijan last year noted that there have been "increased restrictions on freedoms of expression, assembly and association, including intimidation, arrest and use of force against journalists and human rights and democracy activists online and offline".
The Foreign and Commonwealth Office referred questions to Buckingham Palace.
Join our commenting forum
Join thought-provoking conversations, follow other Independent readers and see their replies