Currency exchanges see demand spike as Britons 'panic buy' foreign cash during EU referendum
Britons reported lines of people spilling onto the streets outside bureaux de change on Thursday
Hazel Sheffield
Thursday 23 June 2016 18:40 Comments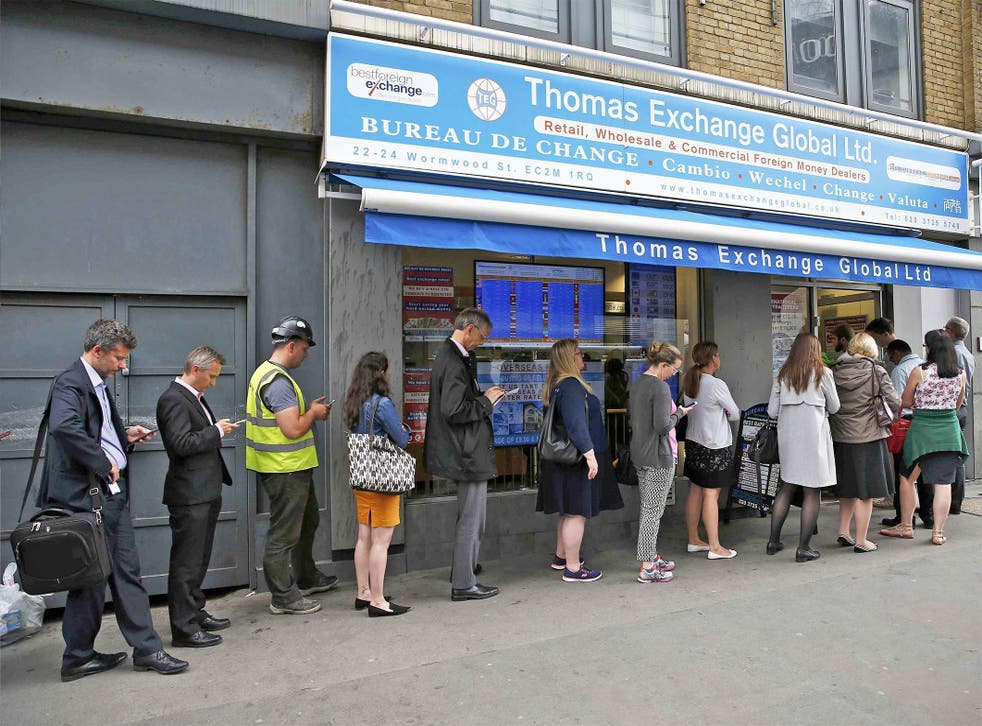 Currency exchange shops have been stocking up on foreign cash to cope with people "panic-buying" ahead of the EU referendum.
Simon Phillips, retail director at No 1 Currency, said demand had rocketed for all foreign currencies, with euros and dollars proving especially popular.
"We've dramatically increased stock levels to cope with the surge in demand during the final hours before the result is announced," Phillips said.
He said No 1 Currency had seen a 70 per cent spike in demand compared to the same time last year and that it came "close to running out" on Wednesday.
"What began as brisk demand from holidaymakers keen to bag a good rate on their currency is increasingly resembling panic buying as people rush to buy now before the result is known," Phillips said.
UKForex, a currency transfer provider, said it had a 100 per cent increase in consumers making transfers from sterling in the 24 hours before polling stations opened, with the majority of transactions from sterling to euros.
"If the UK opts to leave, the pound could fall as much as 20 per cent. Consumers could lose up to £1,398 on a £10,000 transfer, compared to today's rate," William Shepherd, global head of treasury at UKForex, said.
Britons reported lines of people spilling onto the streets outside bureaux de change on Wednesday and Thursday as people rushed to exchange cash over fears that Brexit could result in a drop in the value of the pound.
"Passed three currency exchange shops on The Strand and all full. Queue of handful outside one," tweeted Ian Guider, a business editor.
Kate Webb, a policy researcher at Shelter, tweeted: "Does the currency exchange on Victoria St normally have a queue out the door, or should I join in the euro panic-buying?"
EU Referendum - European cities light up monuments to show support for Remain campaign
Many are rushing to get cash to lock in exchange rates ahead of the vote, which some analysts have said could wipe more than 20 per cent of the value of the pound.
Exchanges are putting measures in place to cope with the rush during the referendum.
Transferwise, a money transfer website, said it would suspend pound transfers on Thursday morning, when polling stations opened, with outgoing transfers halted until 6pm.
Travelex said that service would continue as usual, but that it was suspending its price promise in the UK, which guarantees a refund for customers who find a better price elsewhere.
"We've paused this offer as we're unable to compare rates against competitors because the exchange rates are moving more frequently than usual," Megan Landauro, global PR manager at Travelex, told CNN Money.
Moneycorp will also suspend online transactions after polling stations close on Thursday.
Customers can still lock in the value of their currency at some major exchanges.
Some of the bigger bureaux including Sainsbury's Bank, Post Office and Travelex allow customers to exchange currency at a certain rate for collection between seven and 60 days. Orders can be cancelled, sometimes for a full refund, with 24 hours notice.
Moneysavingexpert.com said that buying ahead of the referendum means customers lock in the current rate, which protects them if the pound falls in value.
But if the value of the pound rises, meaning more euros or dollars for the same amount of sterling, customers also have a get-out clause allowing them to cancel, get a refund and buy again at a better rate.
What's the European Parliament ever done for us?

Show all 5
"We've been swamped with people panicking about what'll happen to their holiday money because of the EU referendum. Certainly the markets don't like uncertainty, so that alone likely means that in the event of an 'out' vote the pound would weaken, meaning people would get less bang for their buck when going abroad," Martin Lewis, founder of MoneySavingExpert.com, said.
"On the other hand if it is an 'in' vote, the pound is likely to rally, which means people who are buying in advance could be losing out."
The pound was trading at $1.4813 on Thursday evening, up 0.73 per cent, or one cent on the day.
The EU referendum debate has so far been characterised by bias, distortion and exaggeration. So until 23 June we we're running a series of question and answer features that explain the most important issues in a detailed, dispassionate way to help inform your decision.
What is Brexit and why are we having an EU referendum?
Will we gain or lose rights by leaving the European Union?
What will happen to immigration if there's Brexit?
Will Brexit make the UK more or less safe?
Will the UK benefit from being released from EU laws?
Will leaving the EU save taxpayers money and mean more money for the NHS?
What will Brexit do to UK trade?
How Brexit will affect British tourism
What will Brexit mean for British tourists booking holidays in the EU?
Will Brexit help or damage the environment?
Will Brexit mean that Europeans have to leave the UK?
Register for free to continue reading
Registration is a free and easy way to support our truly independent journalism
By registering, you will also enjoy limited access to Premium articles, exclusive newsletters, commenting, and virtual events with our leading journalists
Already have an account? sign in
Join our new commenting forum
Join thought-provoking conversations, follow other Independent readers and see their replies