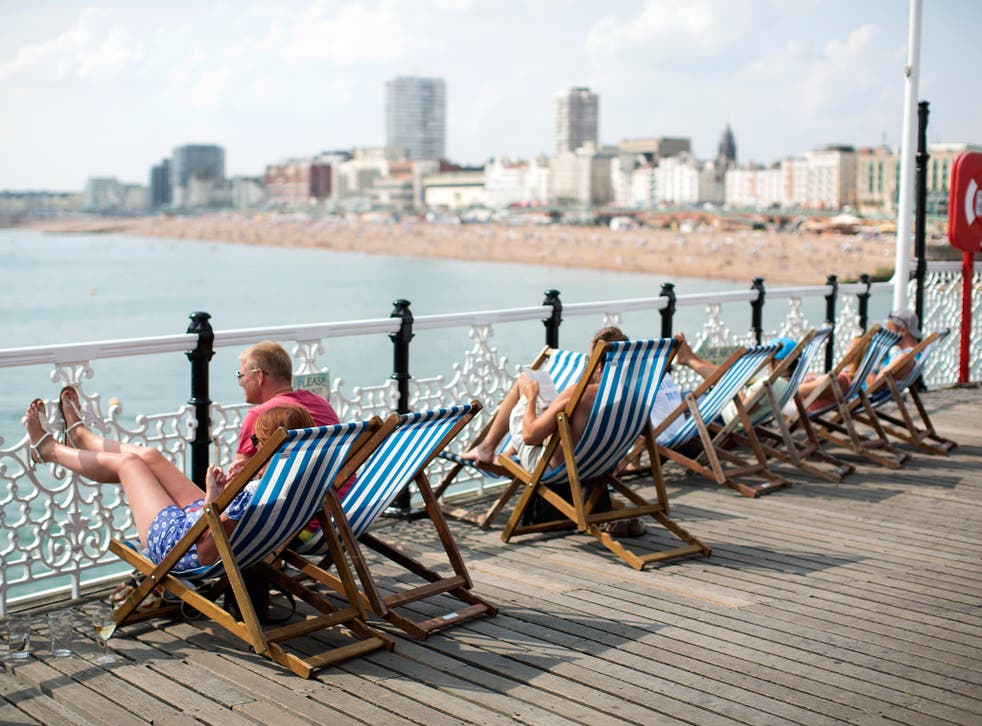 How Brexit will affect British tourism
The big EU questions: With 20 days to go before the vote on British membership of the EU, the debate so far has been characterised by bias, distortion and exaggeration. Until the referendum, we are running a series of question-and-answer features that will try to explain the most important issues in a detailed, dispassionate way
Simon Calder
Travel Correspondent
Wednesday 30 November 2016 13:55 Comments
Overseas holidays are important: that is clear from all that has been claimed and counter-claimed in the EU referendum debate. But far less attention has been paid to the effects of a vote to leave the European Union on the domestic travel industry.
UK tourism accounts for one-eleventh of our GDP and provides more than three million jobs. So arguably the effects of a Brexit on domestic tourism are much more important than what we do on our holidays.
According to the professional services firm Deloitte, 63 per cent of inbound holidaymakers to Britain are from countries of the European Union. Visitors from the EU will top nine million this year.
Read more of the big EU referendum questions here
In terms of annual spend, the most important markets are continental Europe's "big four" (Germany, France, Spain and Italy, together worth around £4.5bn), North America (£3.5bn), Australasia (£1.5bn), Ireland (£900m) and the Netherlands (£750m). But by far the biggest number of visitors (with the highest spend, around £25bn this year) to the UK are the British.
The amount we choose to holiday at home, and the number of overseas visitors coming to the UK, will certainly be affected by a "Leave" vote in the referendum. The exact impact will be decided in six key areas: currency, movement of labour, infrastructure and marketing, red tape, business travel and sentiment.
The Treasury predicts sterling will lose 12 per cent of its value in the event of a Leave vote. Wouldn't that favourable for the British travel industry?
It seems a no-brainer: with weaker sterling, the rest of the world will get more pounds for its euros, dollars, yen, etc, making the UK a cheaper destination to visit. Conversely, going abroad becomes more expensive for the British traveller, who will then holiday in Blackpool or Bournemouth rather than Benidorm or Barbados.
But it's more complicated than that, especially in terms of British holidaymakers' behaviour. Demand for overseas travel is price-inelastic. If people find foreign holidays significantly more expensive, some may opt to stay in the UK. But between the summers of 2008 and 2009, when the cost of going abroad increased by roughly 25 per cent, the number of overseas trips by British holidaymakers reduced by a much smaller proportion.
Travellers who decide they are going abroad anyway, even if it costs more, may be less willing and able to take an additional short break in Britain, such as Butlin's, Center Parcs or a trip to London.
And stay-at-homes won't necessarily devote the time and money they would have spent on an overseas holiday to the British tourism economy: they might, for example, buy clothes, and use the time for some DIY.
So even without taking into account the inflationary pressures associated with weaker sterling, a cut in the value of the pound isn't a unreservedly good news for UK tourism.
What has the EU ever done for us?

Show all 7
Why is "movement of labour" relevant to UK tourism?
It is central to the British tourist industry in two ways.
First, EU citizens who live in Britain have kith and kin. At present more than a quarter of inbound arrivals are classed as VFRs – "visiting friends and relations". Although such visitors spend less on average than "pure" tourists, they still leave behind around £5bn a year in payment for accommodation, travel within the UK, attractions, food and drink, etc, along with the associated tax contribution. If the number of foreigners working in Britain were to fall, then it is reasonable to expect a commensurate decline in tourism.
Second, many of the people working in UK tourism are from the EU, in particular Eastern Europe. If travel and hospitality businesses are unable easily to employ staff from such countries, they will not have such a big pool of talent from which to recruit, and may have to raise wages. While higher pay will be popular among workers in a traditionally low-paid industry, it will push up prices for tourists.
In addition, people from overseas working in the UK (and the VFRs they generate) sustain a significant number of flights to and from Britain. If some air links were to end, the number of tourists coming to the UK is likely to fall (and the choice for British travellers keen to go abroad would also shrink).
Man tries to burn EU flag, can't because of EU law for flammable materials
What do "infrastructure and marketing" for UK tourism have to do with a possible Brexit?
The EU recognises that tourism is an excellent way to create jobs and boost wealth in peripheral, relatively poor regions. The European Regional Development Fund contributes to projects that improve the infrastructure and tourism appeal in locations such as the Highlands and islands of Scotland, Northern Ireland and rural Wales. For example, the new tourist route in northern Scotland, the North Coast 500, was given assistance from Brussels.
In the event of the UK leaving the EU, such projects would end – although, of course, the British Government could continue a similar policy.
You claimed that a Brexit would have little effect on red tape for UK holidaymakers going abroad. Why might it be different for visitors coming to Britain?
The UK is outside the Schengen area of border-free travel that is at the core of the European Union, so we have to show passports on arrival in France, Spain, Portugal, Italy, Greece and so on. The same would apply after a Brexit. But crucially, EU rules allow European citizens to come to Britain with only a national identity card. A post-Brexit UK Government could reimpose the rule that all foreign nationals must have a passport, though the British travel industry would lobby strongly against anything that makes it more difficult for many EU citizens to visit.
The Leave campaign implies that business travel would continue as normal, and could even increase if the UK adopts a more global outlook. Correct?
That is a possible outcome. But if global firms, particularly in financial services, move their EU bases (and international conferences) away from the UK, it would lead to a reduction in inbound business travel - currently representing around a quarter of visitors' spend in the UK.
Deloitte says that almost three-quarters of inbound business travellers are from the EU. If business travel declines, it could have three additional impacts.
First, business trips generate incremental vacation spending, with some visiting executives extending their stay for a holiday, and/or inviting their spouse or partner to join them in the UK.
Next, a lot of the infrastructure that is primarily aimed at business travellers – particularly upmarket hotels – helps to increase the UK's appeal to overseas tourists. If the stock of quality accommodation were to decline, that could have an effect.
In a similar vein, many of the air links to and from Britain are primarily used (and paid for) by business travellers. But those planes also carry millions of tourists in the cheap seats. If business-class cabins start to empty, then airlines may cut flights that become unprofitable, reducing the supply of seats available for inbound holidaymakers.
Conversely, though, such an effect would also reduce the supply of outbound seats for British travellers, which might at the margins persuade some people to stay in the UK.
What has "sentiment" got to do with inbound tourism?
According to a study carried out by the travel-deals publisher Travelzoo, a great deal. The company conducted an online survey of nearly 5,000 Travelzoo members across France, Spain, Germany, the US and Canada, and sponsored independent research of 1,000 consumers in Italy.
One-third of Italians and Spaniards, 30 per cent of Germans and a quarter of French holidaymakers said a Leave vote would make them less inclined to travel to the UK. One in eight Americans and one in 10 Canadians also said they would be less likely to come to a post-Brexit Britain.
Travelzoo's UK managing director, Joel Brandon-Bravo, said: "Our neighbours in Europe clearly don't want the UK to leave the EU, and the impact of this sentiment could translate into a significant drop in bookings to the UK from the largest European countries.
"When combined with a potential loss of more than 10 per cent of visitors from North America, as indicated in our research, it's clear that Brexit could be very bad news for the UK's domestic tourism industry."
How bad?
Were overseas tourists to do what they said they would in the Travelzoo survey, researchers from Bournemouth University reckon it would cost the UK £4.1bn, forfeiting more than a billion a year in tax revenue and shedding 63,000 jobs.
However, the survey also found a widespread expectation among Europeans that Britain would be more expensive. If the UK turned out to be cheaper to visit, as the Treasury forces would indicate, that might reverse their stated intentions. Furthermore, respondents from some nations – notably France – said that leaving the EU could make the UK a safer destination for holidays. If that sentiment also took hold in key North American and Asian markets, it could counteract any decline.
Click here to view UK Tours and Holidays, with Independent Holidays.
Register for free to continue reading
Registration is a free and easy way to support our truly independent journalism
By registering, you will also enjoy limited access to Premium articles, exclusive newsletters, commenting, and virtual events with our leading journalists
Already have an account? sign in
Join our new commenting forum
Join thought-provoking conversations, follow other Independent readers and see their replies