How some investors are gaming Brexit for profit
A look at what global fund managers are doing with regard to UK equities shows just why it's so difficult to predict the economic consequences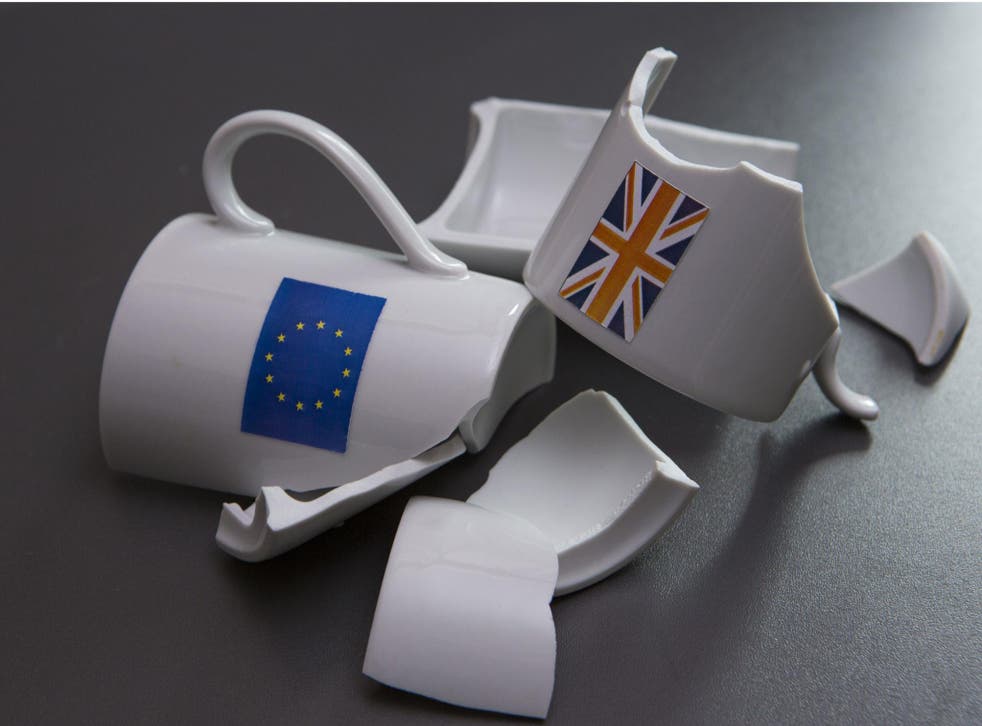 Next week's British referendum on whether to quit the European Union is starting to spook financial markets, with the pound in particular taking fright at the prospect of a win for the secessionists.
But a look at what global fund managers are doing with regard to UK equities shows just why it's so difficult to predict the economic consequences of a British exit.
QuickTake Will Britain Leave the EU?
The June 23 referendum remains a coin toss. Opinion polls, discredited anyway after failing to predict the outcome of last year's election, show Europhobes and Europhiles neck-and-neck. In the gambling world, which is perceived to have done a slightly better job at the last general election, the "remain" campaign has been losing ground to the "leave" brigade in recent weeks:
That's helped drive the pound to its weakest value in two months against the dollar; bets placed on further declines by hedge funds and other market players are at their biggest since June 2013.
A Friday poll by ORB/Independent showing the pro-Brexit camp with a 10-point lead triggered sterling's biggest drop since February and extending its losses this year to more than 4 per cent.
In the world of UK equities, however, things look much calmer. For most of this year, international investors shunned British stocks, holding underweight positions versus the proportion suggested by the benchmarks against which they track their performance, according to data compiled by LuxArbor Institutional Positioning which tracks investor asset allocations.
By May, however, the top-performing quartile of global funds had moved to a neutral position; and by the beginning of this month, they'd been followed by the worst-performing quartile, shifting the average position of investors to being slightly overweight UK companies in their portfolios:
What's the European Parliament ever done for us?

Show all 5
LuxArbor says 59 per cent of global investors are now overweight UK stocks, up from just 20 per cent a month ago.
It's worth noting that the FTSE 100 index of the biggest UK companies is down less than 3 per cent this year, measured in sterling, while the Stoxx Europe 600 is down by more than 10 per cent in euros.
Now, it might be that investors are confident that Brits will vote to stay in the EU. "A `stay' result would reduce uncertainty and bring back business confidence, which would be positive for UK stocks," LuxArbor said in a press release Friday. But it might also be the case that fund managers are also unfazed by the prospect of an exit. Why?
The pound may slump to a 30-year low if the UK decides to leave the EU, according to a Bloomberg survey of economists.
hat in turn would make British assets a bargain for overseas investors.
And comparing Deutsche Bank figures on the pound's trade-weighted value with investment flow data from the Office for National Statistics suggests that a weaker pound tends to accelerate foreign direct investment:
Whether that acceleration would take place if Britain were not in the EU — and before new trading agreements have been concluded — hasn't been tested.
None of this is to say UK equities are immune from Brexit worries.
Under many scenarios, a British exit may result in a drop in foreigners buying UK assets (including houses) and a widening of the already large current account deficit.
21 maps and charts which will challenge perceptions of Europe

Show all 21
Almost 80 of the FTSE 100 members dropped Monday following the news of the 10-point lead for the "leave" camp, but the declines were relatively mild. Fund managers seem to be taking the view that either the bookmakers are right, or that British companies are strong enough to weather the storm.
Either way, they are planning on having a good referendum.
Mark Gilbert is a Bloomberg View columnist and a member of the Bloomberg View editorial board. He has worked at Bloomberg News since 1991, most recently as London bureau chief. He is the author of "Complicit: How Greed and Collusion Made the Credit Crisis Unstoppable."
© 2016 Bloomberg L.P
Join our new commenting forum
Join thought-provoking conversations, follow other Independent readers and see their replies