Eurogroup head pressured to quit after 'sexist, racist' remarks about 'women and drink'
Jeroen Dijsselbloem said Southern European countries were like a man who had spent all his money on 'women and drink' and so can't ask Northern European countries to help them out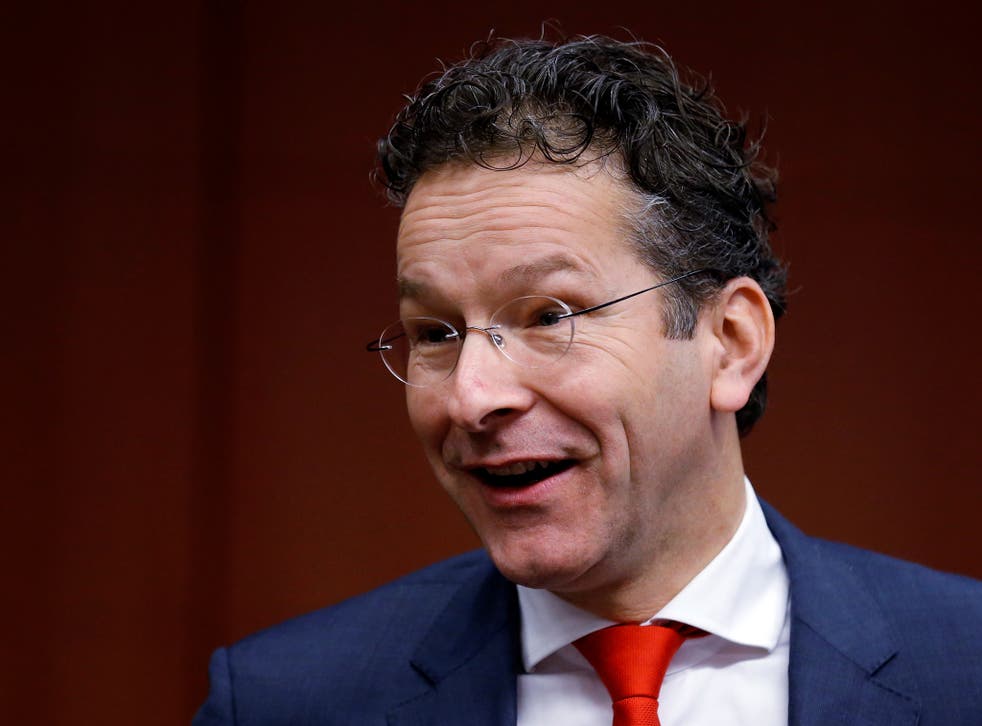 Jeroen Dijsselbloem faced pressure to resign as head of the euro area's finance ministers after comments he made on the obligations of aid-receiving countries were seen as both offensive and widening the north-south divide in Europe.
"I can't spend all my money on women and drink and then at the end ask for your help," Mr Dijsselbloem was cited as saying in an interview with German newspaper Frankfurter Allgemeine Zeitung published on Monday, alluding to the solidarity northern euro countries had shown with southern countries during the region's crisis. "This principle holds at personal, local, national and also at European level."
The remarks from Mr Dijsselbloem, whose position at the head of the European body had already been weakened by the poor showing of his party in the Dutch general elections this month, drew a sharp response from Portugal, Spain and Greece, all countries that received aid during the financial crisis. Portuguese Prime Minister Antonio Costa called the comments "xenophobic, racist and sexist," while the Greek government said they "aren't helfpul."
The row underscores the simmering tensions between core northern European economies and the weaker periphery nations including Greece, Ireland and Portugal that had to implement unpopular reforms and budget cuts in exchange for financial aid from the region.
While Mr Dijsselbloem said he regretted that his remarks had caused offence, he said he had no intention of resigning.
The comments come "from a tough Dutch Calvinistic culture, with Dutch directness," he said in the Hague on Wednesday. "I understand that this is not always well understood and appreciated elsewhere in Europa. That is another lesson I have to learn. The comment on drink and women was about myself. I said that I cannot expect to spend my money in a wrong way and then ask for financial support."
Portugal's Costa said on Wednesday that with views like the ones expressed in the interview, it was unacceptable for Mr Dijsselbloem to continue to head the Eurogroup.
"In a serious Europe, Mr Dijsselbloem would have been dismissed by now," he said. "It's not acceptable that someone who has his behavior, who has a xenophobic, racist and sexist view about a part of the countries of the European Union, can be president of an entity like the Eurogroup."
Spanish Economy Minister Luis de Guindos, who lost his bid to become head of the Eurogroup to Mr Dijsselbloem in 2015, said he was surprised by the Dutch finance minister's comments. While Spain received aid to rescue its banking system in 2012, it has also contributed to each bailout package even as its public finances came under strain, a Spanish official added.
"At a time when Europe seeks its next steps, statements that widen the north-south divide aren't helpful," Greek government spokesman Dimitris Tzanakopoulos told reporters in Athens.
Apology Demanded
Beyond southern Europe, EU Competition Commissioner and former Danish economy minister Margrethe Vestager said in Brussels on Wednesday that Mr Dijsselbloem's comments were "wrong."
Business news: In pictures

Show all 13
Dijsselbloem's European political future is still up in the air after his Labour party was beaten in last week's Dutch elections, declining to nine parliamentary seats and marking its worst loss in a general election. He has said he wants to stay on until his mandate ends in January.
"Europe will only be credible as a common project on the day that Mr Dijsselbloem stops being Eurogroup president and there is a clear apology to all the countries and peoples that were deeply offended by these comments," Portugal's Costa said.
Bloomberg
Join our new commenting forum
Join thought-provoking conversations, follow other Independent readers and see their replies