Eurozone economy: QE 'inevitable' as struggling bloc plunges into deflation
The fall, largely driven by a tumbling oil price, was worse than the 0.1 per cent decline expected by economists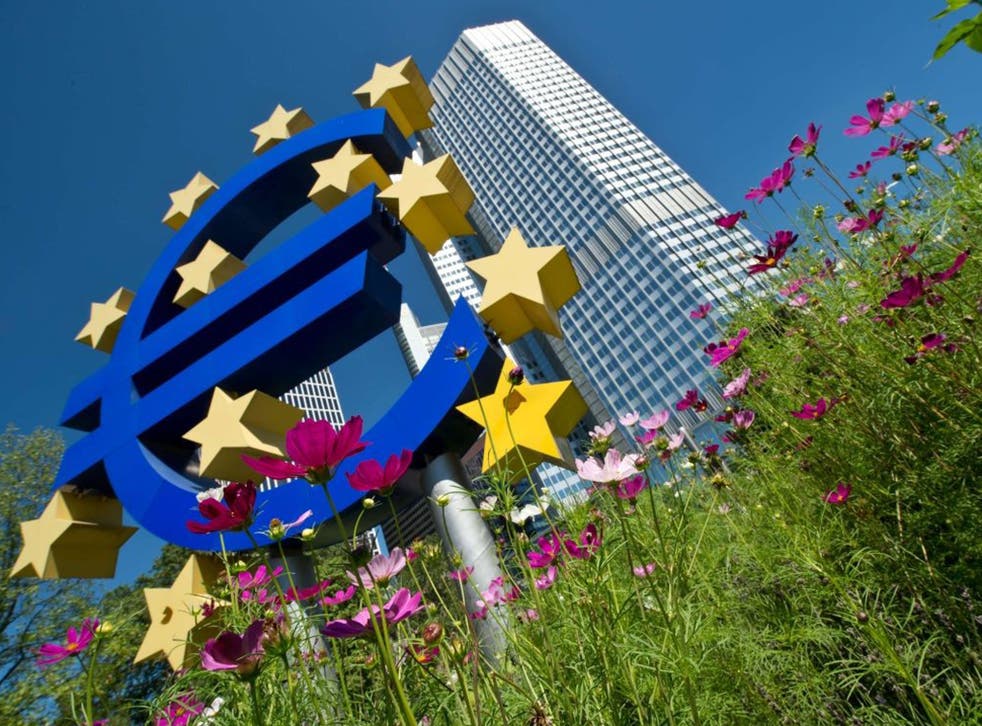 The eurozone slipped into deflation in December, stoking market expectations that the European Central Bank will push the button on its own programme of quantitative easing later this month.
Eurostat's flash estimate of annual consumer price inflation in the eurozone today was minus 0.2 per cent. This was weaker than the markets had expected and prompted analysts to argue that sovereign bond purchases were now overwhelmingly likely to be announced at the ECB's next meeting on 22 January.
"The news will surely set the seal on the ECB's much anticipated introduction of quantitative easing and could serve to silence, or at least mollify, likely Governing Council dissenters," said Nick Beecroft of Saxo Capital Markets.
The ECB president Mario Draghi "must act if he wants to avoid deepening deflation fears in the short term", said Dawn Kendall, senior bond strategist at Investec. The ECB's mandate is to keep inflation at just below 2 per cent and Mr Draghi dropped heavy hints in an interview last week that the bank was gearing up for bond purchases.
The inflation news pushed down the euro further against the dollar, with the single currency slipping to a new nine-year low of $1.1816. The eurozone price index was depressed by collapsing global energy prices, which fell by 6.3 per cent year on year, according to Eurostat. Core inflation, excluding energy food, alcohol and tobacco, rose slightly to 0.8 per cent.
Analysts predicted that further falls in the global oil price were likely to push inflation in the eurozone further into negative territory in the coming months. "Inflation could be expected to remain negative until very late in 2015," Janet Henry of HSBC said.
The price of a barrel of Brent crude was trading at $51, less than half its value in June.
In further disappointing news, unemployment in the eurozone edged up by 34,000 to 18.39 million in November, the fourth increase since July. "The economy is weak and inflation negative. That should be enough [for QE]," said Peter Vanden Houte of ING.
The Dutch press reported earlier this week that the ECB is considering three parameters for a bond purchase programme: one would be a scheme similar to those of the US Federal Reserve and the Bank of England; another would be restricted to high-quality sovereign bonds; the third would mean national central banks were left with the risk of losses on purchases.
Financial markets also priced in a greater risk of Greece exiting the eurozone, with 10-year yields on Athens' debt rising above 10 per cent.
Several eurozone member states are already in deflation; inflation in Germany fell to just 0.1 per cent in December according to official figures released in Berlin this week.
Falling prices: Why are they feared?
If prices are falling and shoppers expect them to keep going down, there is a risk people will delay purchases in the expectation of saving money in the future. This reluctance to spend hurts the wider economy as goods stay on the shelves.
If shops respond by cutting prices further, a deflationary downward spiral can set in. That is why policymakers want to nip deflationary expectations in the bud by keeping prices on the up. Deflation is also perilous for economies where households tend to have significant debts because when prices fall the real (inflation-adjusted) value of the debts rises, discouraging spending and pushing prices down even further.
Join our new commenting forum
Join thought-provoking conversations, follow other Independent readers and see their replies