Male FTSE 100 chief executives earn 77% more than female counterparts, finds new research
The report also draws attention to a considerable gender imbalance among bosses of the largest public companies, with 94 male chief executives last year versus just six females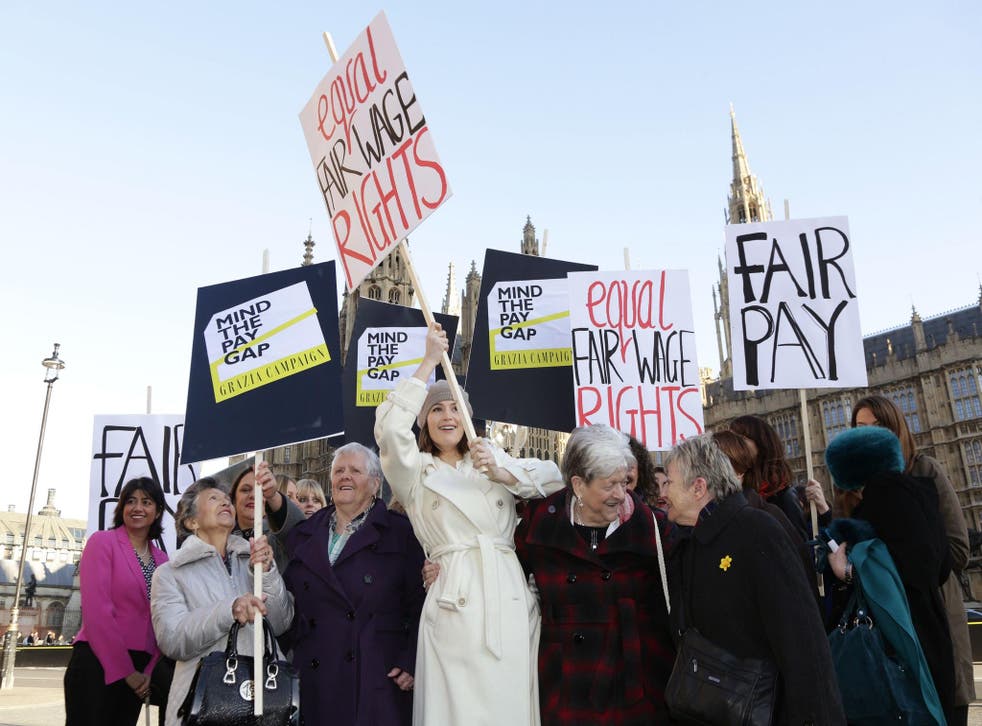 The male chief executives of the UK's biggest publicly listed firms earn on average 77 per cent more than their female counterparts, new research has found, adding fuel to the raging debate about gender inequality in senior pay.
Male FTSE 100 chief executives earned an average of £4.7m in 2016 compared with the £2.6m average for female bosses, according to a report by the High Pay Centre and the Chartered Institute of Personnel and Development.
The report also draws attention to a considerable gender imbalance among bosses of the largest public companies, with 94 male chief executives last year versus just six females.
"As a FTSE 100 CEO it is more likely that your name is David than you being a female," the report notes, pointing out that there are eight bosses with that particular first name.
Last September Emma Walmsley was announced as the new CEO of the pharmaceutical giant GlaxoSmithKline, making her the seventh FTSE 100 female boss, but she did not take up her position until this year and so is not included in the pay report.
The report comes in the wake of revelations of a large disparity between male and female pay among the BBC's stars.
The highest paid female CEO is Alison Cooper of the tobacco giant Imperial Brands, who was awarded £5.5m in 2016, up from £3.6m in 2015.
Liv Garfield of the privatised water company Severn Trent was the next highest female earner, with £2.4m, up from £2m in the previous year.
Carolyn McCall of easyJet, Alison Brittain of Whitbread and Moya Greene of the Royal Mail were all on around £1.5m.
The top 10 highest-paid FTSE 100 CEOs were all male, stretching from Sir Martin Sorrell of the advertising conglomerate WPP with £48m in 2016 to Ben van Beurden of Shell who collected £6.9m.
"Sadly it's no surprise to see these figures, it's part of a consistent pattern across our economy that sees women excluded from the top jobs and paid less when they get them," said Jemima Olchawski, the head of policy at the Fawcett Society.
"While the women on this list are extremely well paid, this huge pay gap is simply unacceptable and is indicative of the wider ways in which women are undervalued in the workplace."
The report noted some advance in the representation of women on remuneration committees, the company sub-boards that decide how much salary to pay their CEOs and what bonus targets to set.
There were 148 of them in 2016, 8 per cent higher than in 2015, which the report said was likely attributable to the high-profile Government-sponsored push to increase the representation of women on top company boards.
But it also noted that most of these women were in non-executive positions and that there were just 30 female executive directors across the FTSE 100 in 2016. Further, 77 of them of have no female executive directors at all.
The report found that the mean average pay of all FTSE 100 directors actually declined in 2016 to £4.5m, by 17 per cent from the £5.4m average in 2016.
But this was, in part, due to some major outlying shifts. Sir Martin Sorrell's £48m compensation package was down from a record £70m the previous year.
And the average FTSE 100 boss was still paid 129 times the salary of the average FTSE 100 employee last year. That compares with an estimated boss-to-worker multiple of 45 times only 20 years ago.
According to the Office for National Statistics, the average gender pay gap for all UK employees in 2016 was 18.1 per cent, down from 26 per cent at the turn of the Millennium.
But women remain severely under-represented in more senior and higher-paying jobs.
Journalists at the Financial Times are threatening to strike over the 13 per cent gender pay gap at the media group, which is the biggest shortfall in a decade.
From this year, any organisation that has 250 or more employees must publish and report specific figures about their gender pay gap.
THE FULL LIST
COMPANY
CEO
Single Figure FYE 2016 CEO (£000)
WPP
Martin Sorrell
£                                                  48,148.00 
CARNIVAL
Arnold Donald
£                                                  22,359.07 
RECKITT BENCKISER GROUP PLC
Rakesh Kapoor
£                                                  14,609.11 
ASTRAZENECA PLC
Pascal Soriot
£                                                  13,389.00 
RELX
Erik Engstrom
£                                                  10,563.00 
BP PLC
Bob Dudley
£                                                    8,399.20 
CRH PLC
Albert Manifold
£                                                    8,045.30 
BRITISH AMERICAN TOBACCO
Nicandro Durante
£                                                    7,630.00 
SHIRE PLC
Flemming Ornskov
£                                                    7,503.90 
ROYAL DUTCH SHELL PLC
Ben Van Beurden
£                                                    6,925.10 
PRUDENTIAL PLC
Mike Wells
£                                                    6,895.00 
GLAXOSMITHKLINE PLC
Andrew Witty
£                                                    6,830.00 
UNILEVER PLC
Paul Polman
£                                                    6,745.38 
PROVIDENT FINANCIAL
Peter Crook
£                                                    6,315.00 
SCHRODERS PLC
Peter Harrison
£                                                    6,293.00 
COMPASS GROUP PLC
Richard Cousins
£                                                    5,822.00 
3i GROUP PLC
Simon Borrows
£                                                    5,821.00 
LONDON STOCK EXCH

 GROUP PLC

Xavier Rolet
£                                                    5,711.00 
HSBC HLDGS PLC
Stuart Gulliver
£                                                    5,675.00 
LLOYDS GROUP
Antonio Horta Osorio
£                                                    5,541.00 
IMP.BRANDS
Alison Cooper
£                                                    5,537.00 
INTERTEK
André Lacroix
£                                                    5,422.00 
BT GROUP PLC
Gavin Patterson
£                                                    5,396.00 
RENTOKIL INITL.
Andy Ransom
£                                                    5,336.00 
LEGAL & GENERAL GROUP PLC
Nigel Wilson
£                                                    5,287.00 
VODAFONE GROUP PLC
Vittorio Colao
£                                                    5,270.00 
NATIONAL GRID PLC
Steve Holliday

 (John Pettigrew took over on 1/4/16)

£                                                    5,151.00 
NEXT PLC
Lord Simon Wolfson
£                                                    4,764.00 
SKY PLC
Jeremy Darroch
£                                                    4,745.20 
TESCO PLC
Dave Lewis
£                                                    4,632.00 
BUNZL PLC
Frank van Zanten

 (from Feb 2016)

£                                                    4,589.80 
HIKMA
Said Darwazah
£                                                    4,584.02 
RANDGOLD RESOURCES LTD
Mark Bristow
£                                                    4,554.58 
MONDI
David Hathorn
£                                                    4,373.28 
AVIVA PLC
Mark Wilson
£                                                    4,352.00 
RSA INSURANCE
Stephen Hester
£                                                    4,325.00 
BARCLAYS PLC
Jes Staley
£                                                    4,233.00 
CENTRICA PLC
Iain Conn
£                                                    4,151.00 
DIAGEO PLC
Ivan Menezes
£                                                    4,083.00 
DIRECT LINE PLC
Paul Geddes
£                                                    4,066.00 
RIO TINTO GROUP (GBP)
Jean-Sébastien Jacques

 (+Sam Walsh ex-CEO still being paid)

£                                                    4,018.43 
ANGLO AMERICAN PLC
Mark Cutifani
£                                                    3,992.00 
TAYLOR WIMPEY PLC
Pete Redfern
£                                                    3,764.00 
BRITISH LAND CO PLC
Chris Grigg
£                                                    3,709.00 
PADDY POWER BETFAIR
Andy Mccue (to 2 Feb)

 + Breon Corcoran

£                                                    3,709.00 
EXPERIAN PLC
Brian Cassin
£                                                    3,592.00 
TUI GROUP
Friedrich Joussen
£                                                    3,526.13 
ROYAL BANK OF SCOTLAND
Ross McEwan
£                                                    3,493.00 
BAE SYSTEMS
Ian King
£                                                    3,463.00 
INTERCONTINENTAL HOTELS
Richard Solomons
£                                                    3,450.00 
ITV
Adam Crozier
£                                                    3,443.00 
STANDARD CHARTERED PLC
Bill Winters
£                                                    3,392.00 
BARRATT HOMES plc
David Thomas
£                                                    3,320.00 
INFORMA
Stephen Carter
£                                                    3,291.48 
DCC
Tommy Breen
£                                                    3,242.54 
ASSOCIATED BRITISH FOODS PLC
George Weston
£                                                    3,133.00 
ASHTEAD GROUP PLC
Geoffrey Drabble
£                                                    3,115.00 
WHITBREAD PLC
Alison Brittain (from Dec 7 )

 and Andy Harrison (pre Dec 7)

£                                                    3,058.00 
SMITHS GROUP PLC
Andy Reynolds Smith
£                                                    2,964.00 
UNITED UTILITIES GROUP PLC
Steve Mogford
£                                                    2,830.00 
SAINSBURY (J) PLC
Mike Coupe
£                                                    2,802.00 
STANDARD LIFE
Keith Skeoch
£                                                    2,746.00 
HAMMERSON
David Atkins
£                                                    2,624.00 
WORLDPAY
Philip Jansen
£                                                    2,604.78 
ST JAMES'S PLACE PLC
David Bellamy
£                                                    2,523.51 
BABCOCK INTERNATIONAL

 GROUP PLC

Peter Rogers
£                                                    2,491.00 
OLD MUTUAL
Bruce Hemphill
£                                                    2,480.00 
INTERNATIONAL CONSOLIDATED AIRLINES GROUP SA
Willie Walsh
£                                                    2,462.00 
SEVERN TRENT PLC
Liv Garfield
£                                                    2,433.20 
SMITH & NEPHEW PLC
Olivier Bohuon
£                                                    2,414.33 
MEDICLINIC
Danie Meintjes
£                                                    2,356.80 
COCA-COLA HBC AG
Dimitris Lois
£                                                    2,355.65 
MORRISON (WM)

SUPERMARKETS PLC

David Potts

 (from 16 March 2015)

£                                                    2,302.00 
CRODA INTL.
Steve Foots
£                                                    2,281.09 
PERSIMMON PLC
Jeff Fairburn
£                                                    2,123.69 
ROLLS-ROYCE HOLDINGS PLC
Warren East
£                                                    2,089.00 
HARGREAVES LANSDOWN PLC
Ian Gorham
£                                                    2,071.00 
LAND SECURITIES GROUP PLC
Robert Noel
£                                                    2,045.00 
MARKS & SPENCER GROUP PLC
Marc Bolland
£                                                    2,039.00 
SMURFIT KAP.
Tom Smurfit
£                                                    1,939.80 
MERLIN
Nick Varney
£                                                    1,925.00 
BURBERRY GROUP PLC
Christopher Bailey
£                                                    1,894.00 
GKN PLC
Nigel Stein
£                                                    1,813.00 
INTU PROPERTIES
David Fischel
£                                                    1,795.00 
WOLSELEY PLC
John Martin

 (Ian Meakins in previous FY)

£                                                    1,755.10 
CONVATEC
Paul Moraviec
£                                                    1,749.00 
KINGFISHER PLC
Veronique Laury
£                                                    1,731.70 
SAGE GROUP PLC
Stephen Kelly
£                                                    1,711.00 
SSE PLC
Alistair Phillips-Davies
£                                                    1,696.00 
ANTOFAGASTA
Iván Arriagada
£                                                    1,646.70 
Royal Mail PLC
Moya Greene
£                                                    1,529.00 
PEARSON PLC
John Fallon
£                                                    1,518.00 
BHP BILLITON PLC
Andrew Mackenzie
£                                                    1,499.33 
EASYJET PLC
Carolyn McCall
£                                                    1,465.00 
JOHNSON MATTHEY PLC
Robert Macleod
£                                                    1,367.00 
MICRO FOCUS
Stephen Murdoch
£                                                    1,097.00 
GLENCORE
Ivan Glasenberg
£                                                    1,096.59 
FRESNILLO
Octavio Alvidrez
£                                                        807.36 
ADMIRAL GROUP PLC
Henry Engelhardt to 13 May 2016

 / David Stevens from 13 May 2016

£                                                        534.73 
SCOTTISH MORT
n/a
n/a 
Join our new commenting forum
Join thought-provoking conversations, follow other Independent readers and see their replies