FTSE 100 suffers worst day since June after Theresa May calls for a snap general election
The index of the country's biggest companies ended the day down 2.5%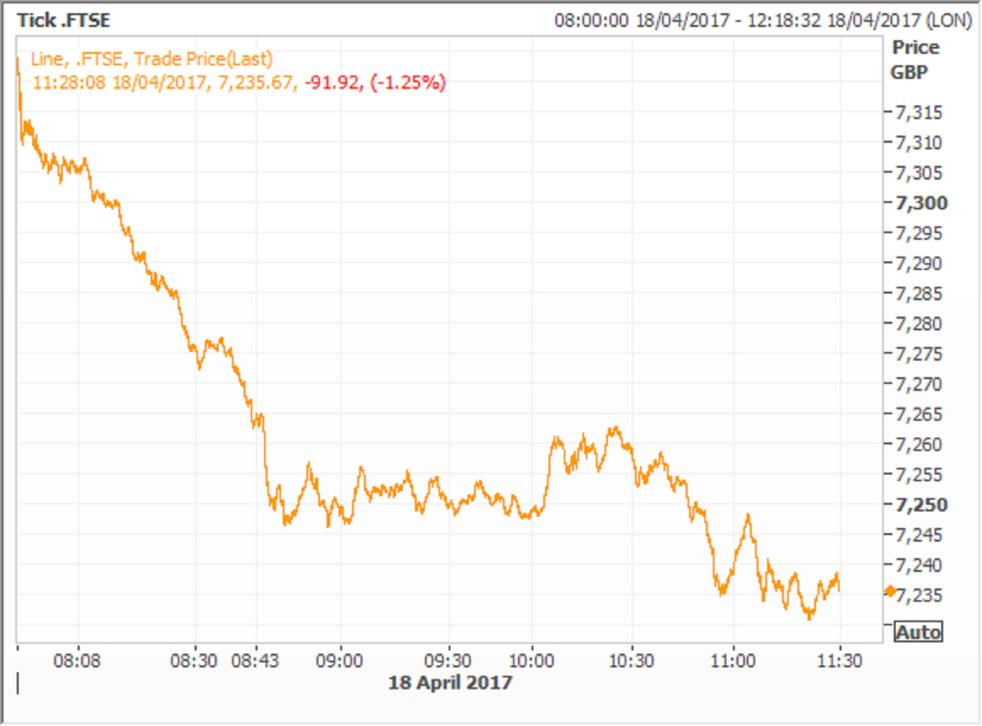 The FTSE 100 ended Tuesday's trading session with a 2.5 per cent fall, marking its biggest single-day decline since 27 June after Britain voted in favour of quitting the European Union.
The index of the country's biggest companies already fell before the Prime Minister announced that she was calling for a snap general election, with commodity firms particularly under pressure.
But losses deepened significantly after the news, as investors braced for a fresh wave of uncertainty.
Steven Andrew, an asset manager at M&G, said that investors were already "trying to digest a full menu of political risk this year, ranging from this week's French elections to fears of potential conflict with North Korea" and that this "is an interesting reminder of the fact that nothing in politics should be taken for granted".
Luke Bartholomew, of Aberdeen Asset Management, said that it would likely take "investors some time to digest the effects of the election in the next few days".
Markets both in the UK and further afield have been sent on a wild roller coaster over the last 18 months, buffeted by the changing face of Europe and Donald Trump's election in the US.
Stocks have generally been considered to be relatively risky financial assets to hold during times of economic or political upheaval, and investors have generally shown a preference for assets like Japan's yen, the Swiss franc, gold and certain government bonds when uncertainty peaks.
The FTSE 100 has also tended to move in the opposite direction to the pound, as a result of the index being made up of many major international exporters who benefit from weak sterling.
On Tuesday, the pound hit its highest level since December against the dollar, which some analysts said was an indication of investors betting on the election strengthening Theresa May's hand as the country commences Brexit negotiations.
Beyond politics, losses in the FTSE 100 on Tuesday also stemmed from a slide in metal and crude oil prices. Chinese iron ore futures fell to a three-month low, dealing a sharp blow to companies like Anglo America, Glencore, Antofagasta, Rio Tinto and BHP Billiton.
Register for free to continue reading
Registration is a free and easy way to support our truly independent journalism
By registering, you will also enjoy limited access to Premium articles, exclusive newsletters, commenting, and virtual events with our leading journalists
Already have an account? sign in
Join our new commenting forum
Join thought-provoking conversations, follow other Independent readers and see their replies