Ghana's textile trade unravels due to cheap Chinese imports
Counterfeit goods are putting jobs at risk. Chris Matthews meets those affected in Tema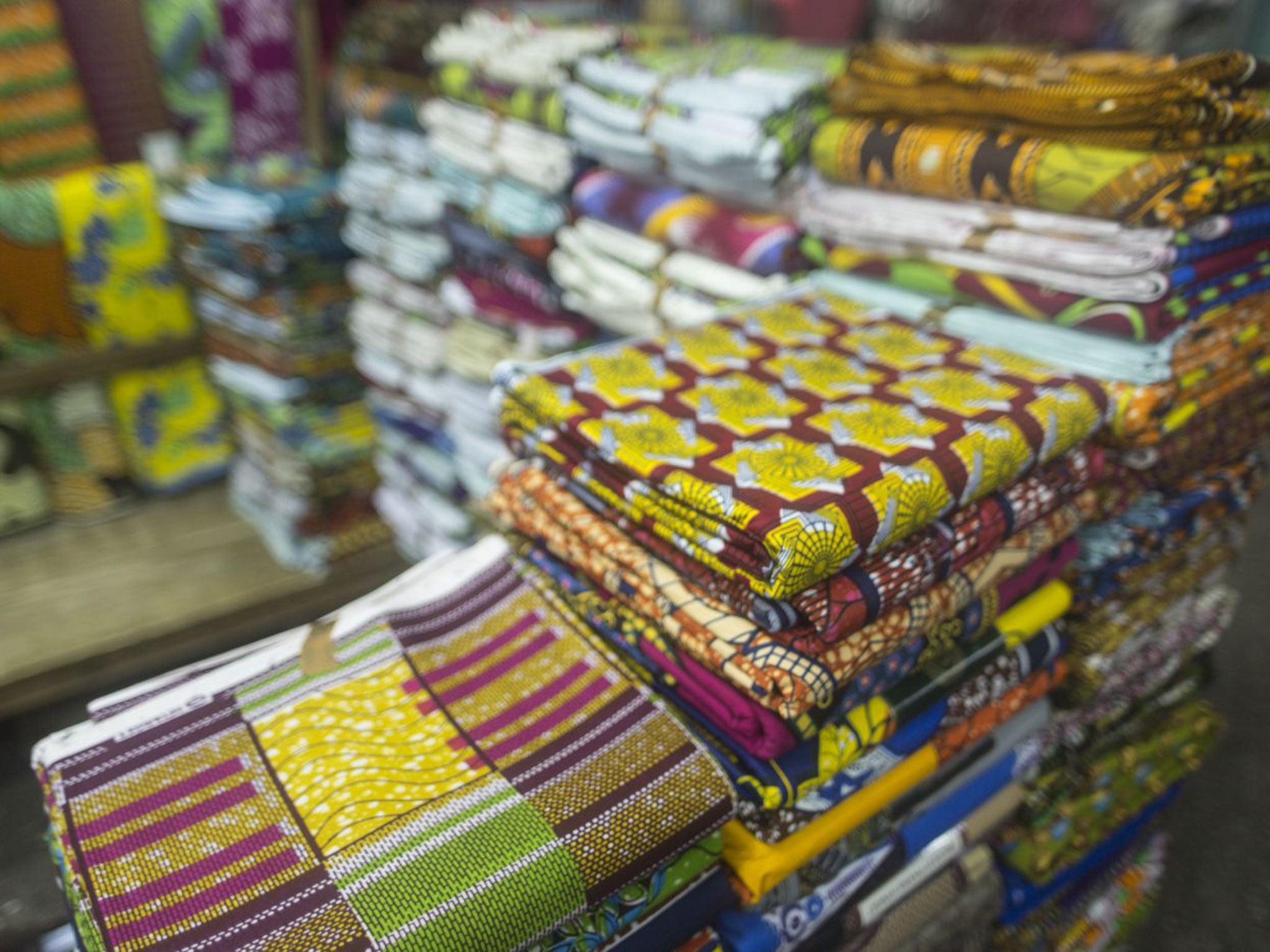 Isaac Eshun watches closely as reams of newly printed fabrics flow down from the giant rollers overhead, vast sheets of cloth with intricate orange and blue designs tumbling from the factory's whirring machines.
The 53-year-old technician has spent almost half his life working at this textile company in Tema, a coastal town around 10 miles from the capital of Accra, yet such a career is increasingly rare in Ghana's once thriving textile industry.
Counterfeit goods, border inefficiencies and rising costs have hit the industry hard, and last month it emerged the government had replaced a local company as the provider of school uniforms for public schools with a Chinese fabric producer.
"I have worked here for 25 years and our product is very fine and people can see the difference when they buy it, but the counterfeiting is a problem," Mr Eshun says. "It is killing us and it is killing the industry."
Ghana's markets have flooded with cheap imports, arriving mainly from China in the last decade and under 3,000 jobs now remain in an industry which employed more than ten times that in the 1980s.
"The productivity of local companies is fast declining because of pirated textiles that come into the country," says Charles Asante-Bempong, a director at the Ghana Employers' Association (GEA). "They are cheaper... [but] their designs are stolen and replicated with a lower quality and it is killing their businesses."
Another issue is that while locally produced cotton is used by firms, many of the dyes, chemicals and machines are imported from abroad at significant prices.
Located in Tema, GTP is one of only four factories still operating. Renowned for its traditional designs and wax printed fabrics, the company has seen production levels drop 30 per cent and its production unit half since 2005. Mr Eshun is among 650 factory staff remaining.
The firm's managing director Kofi Boateng says the impact of cheaper fake goods has been huge. "We started to see that there was a lot of smuggled goods coming from the Far East copying our designs and being smuggled into the country," he explains.
"They don't only copy our designs they copy the trademark and logo and label. Almost every design we make has been copied."
Togo and Ivory Coast are often the entry point for smugglers, with some Ghanaian market traders even travelling to China to collect designs.
"We have very porous borders and only a few of them are manned by security people and it is very easy for these counterfeiters to pass through," Mr Asante-Bempong says. "They are coming in huge quantities, truck fulls sometimes with some coming beneath cars and buses."
Mr Eshun, for whom the textile industry runs in the family, says the government must do more to protect the country's borders. "I enjoy working here. I am able to give my wife and children some clothes at Christmas," he says. "But allowing the counterfeiters... will kill the jobs."
Earlier this year the government suggested plans to launch a task-force on combating all counterfeit goods in the country to supplement the dedicated textile group it launched in 2010. The Ministry of Trade and Industry along with law enforcement, local manufacturers and trade bodies routinely search the country's markets for pirated local prints.
John Okwan, of the Textile, Garment and Leather Employees Union, is part of the group and believes that without the task-force, there would be no textile industry at all.
"We have seized more than 7,000 pieces since we started the task-force. When the traders hear the task-force coming they will run away and leave their wares because they know what they are doing is wrong," Mr Okwan says. "We are not saying they should not bring in cloth and they have the right to do their own designs but the problem is with the pirated ones."
However the government has been criticised for allegedly taking non-pirated goods during raids. A group of textile traders from Accra's Makola Market have taken the ministry to court over the seizures with a decision expected next year.
Tackling counterfeit goods remains a major focus and one local firm believes mobile technology can provide a solution.
The company mPedigree puts unique barcodes on GTP's fabrics and lets customers send a text message to verify the garments are authentic. The technology is being adopted by drug companies and others in the country to combat counterfeiters across the board.
Ghana's godfather of independence, Kwame Nkrumah, heavily backed textiles in the 1960s, with the government having stakes in many firms. Today, the country's four manufacturers are all privately-owned, and many believe support for the industry from the government is on the wane. This was emphasised by the decision of John Mahama's National Democratic Congress party to ditch Accra-based Printex as manufacturer of school uniforms, instead turning to China.
"The president said we should produce things in Ghana and so I don't know who has given that contract to China. It is a big problem now," Mr Okwan says.
Join our commenting forum
Join thought-provoking conversations, follow other Independent readers and see their replies