Gibson: Iconic guitar brand reportedly on the brink of bankruptcy
Company is particularly known for making instruments for artists like BB King, Slash, Santana and Bob Marley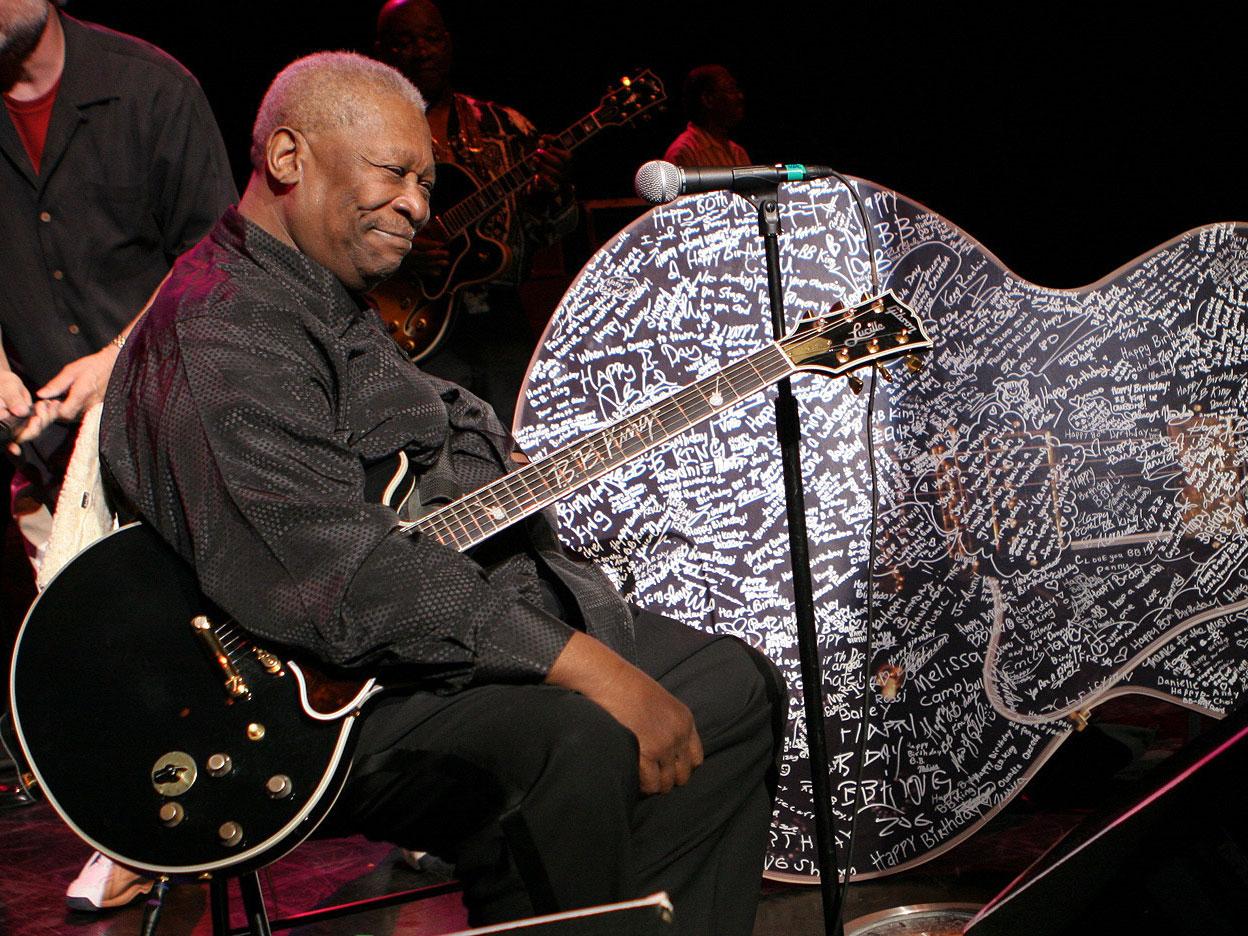 One of the world's favourite guitar manufacturers could be forced to pull the plug because of dire financial problems, as the industry struggles to cope with waning interest in rock music.
Gibson, a favourite of musicians such as BB King, Slash, Santana and Bob Marley, is struggling with debt repayment deadlines and the recent departure of its chief financial officer after less than a year in the job.
According to a recent report in the Nashville Post, Gibson Guitars faces a $375m (£268m) deadline for a debt repayment in less than six months' time. A further $145m worth of bank loans are due to mature immediately, if those notes – which were issued back in 2013 – are not refinanced or repaid by 23 July.
The company's CFO, Bill Lawrence, recently quit after only around six months in the role and the prospect of an orderly refinancing, the paper said, now looks slim.
Last week, Gibson issued a statement saying that it had met all "current obligations" to its bond holders and that it was in the process of arranging a new credit facility to replace the debt that is falling due in the summer. The group said that it was working with investment bank Jefferies to manage that process.
Chairman and chief executive officer Henry Juszkiewicz said in the statement that Gibson is streamlining its focus and trying to concentrate on product segments that are profitable, while moving away from those that "have little upside in the future".
"With the refinancing and the improvement in operating performance from the actions that we are rolling out, we expect the company to be organised for success and growth for years to come," he said.
The company, which is one of the most recognisable and iconic guitar manufacturers in the world, was not immediately available for additional comment when contacted by The Independent.
Manufacturers of guitars, especially electric ones, have endured a tough few years, hit by a dramatic slowdown in demand for the instruments, which has translated into a fall in profits. Gibson rival Fender was reportedly forced to abandon plans to list publicly on the stock market back in 2012. Investors were understood to have deemed the company overvalued.
Gibson's annual revenue, meanwhile, has been inching lower for some years with some analysts blaming the rise of streaming services and the popularity of music genres that are faster growing than rock, like hip hop and electronic dance music.
The Washington Post last year attributed the fall in electric guitar sales to rock music simply getting stale and to there being too few new faces on the scene.
"What we need is guitar heroes," George Gruhn, a Nashville guitar dealer told the paper at the time.
Data published last week shows that rap surpassed rock as the most popular music genre in the US last year.
Analytics firm Nielsen Music found that R&B and hip hop represented 24.5 per cent of all music consumption in the US while rock only accounted for a share of 20.8 per cent.
Eight out of 10 of the most listened to artists of 2017 fell into the R&B/hip hop category, as did seven out of 10 of the top albums.
Gibson was founded in 1894 in Kalamazoo, Michigan, and has been headquartered in Nashville since 1984. A privately held company, it is best known for its Les Paul model, which is widely recognised as an icon for rock music.
Other brands in its stable include Epiphone, Dobro, Valley Arts, Kramer, Steinberger, Tobias, Slingerland, Maestro, Baldwin, Hamilton, Chickering and Wurlitzer.
The company was started by Orville Gibson, a restaurant clerk, and initially concentrated on mandolins but it later broadened its focus to banjos in the 1920s and guitars in the 1930s, as music tastes evolved.
The Nashville Post reported that Gibson recently gave itself some breathing room by selling a former piano warehouse for $6.4m. It's reportedly also in the process of trying to sell another property. But even if those transactions are successful, the proceeds are unlikely to offer much respite in the context of Gibson's sizeable debt pile.
The company is owned by Mr Juszkiewic and Gibson president David Berryman.
Join our commenting forum
Join thought-provoking conversations, follow other Independent readers and see their replies