Goodbye toys and cards. Hello loans and bookies
Britain's chain stores are shutting up shop, and changing the character of the high street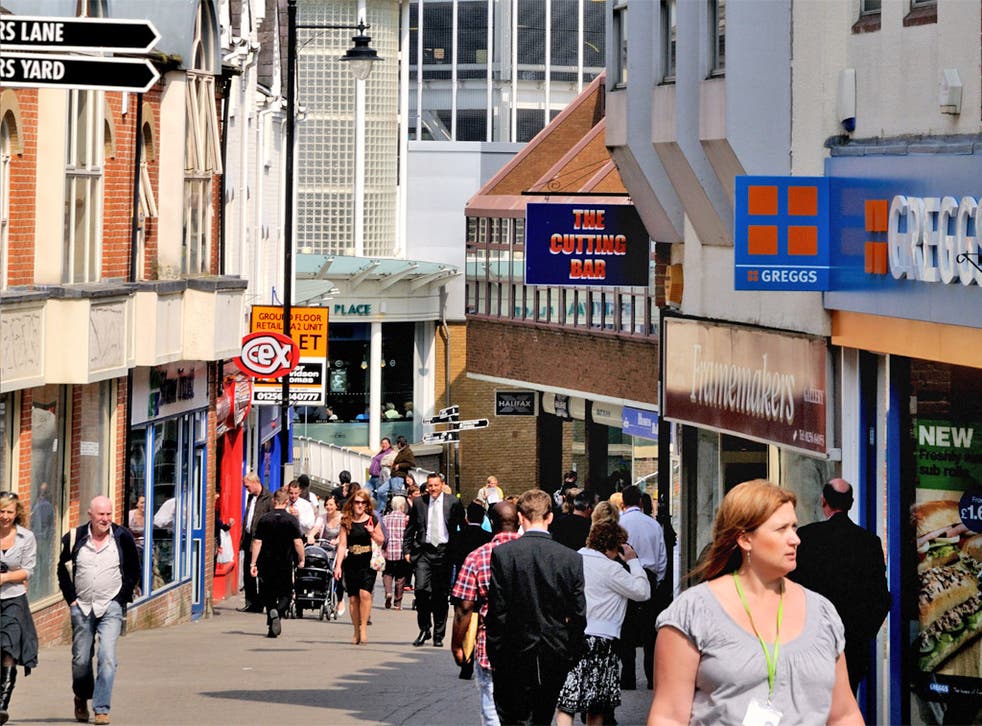 There was a time when you could get everything you needed on your local high street – from groceries and appliances to children's toys and computer games. Nowadays, you are better off staying at home and doing it online.
The British high street has become the domain of the bookmaker and the pawnbroker – at the expense of the gift shop, the specialist store and, shoppers fear, local character.
Four years after the collapse of Woolworths, town centre chain stores are closing at a rate of 20 shops a day, as declining consumer spending and soaring commercial rents combine with the rise of internet shopping to marginalise town centre shopping precincts.
A recent snapshot of 500 UK town centres makes for worrying reading for anyone who prefers a Saturday afternoon shop to hours spent on Amazon. There have been more than 3,600 chain shop closures in the first half of this year, most of them resulting from insolvencies of major brands such as Peacocks, JJB Sports and Clintons.
While more traditional retailers go into decline, 53 new bookmakers, 55 pawnbrokers and 45 payday loan stores opened in the first half of 2012, along with 35 new charity shops, according to the study by PricewaterhouseCoopers and the Local Data Company, which analyses trends in local commerce.
The number of computer game shops has nearly halved, down 44 per cent in the first six months of this year after Game went into administration in March, with the closure of 277 stores. The insolvency of Clinton Cards, with the loss of 350 stores, and of Hawkins Bazaar, who have closed 57 stores, contributed to drops of 32 and 36 per cent in the toy and gift shop sectors. Across Britain, around 15 per cent of shops are lying empty.
Although some may cheer the withdrawal of chain stores as the end of identikit high streets, experts warn that big brands are the "anchors" of high streets, without which such areas lose their social and economic function.
"The departure of so many larger stores is a major issue for many town centres, especially in secondary centres, where they have for many years been their high street's anchors," said Matthew Hopkinson, director of the Local Data Company. "A similar slowing in growth of the independents... has significant consequences beyond just driving vacancy rates up for many of these town centres."
Smaller town centres are suffering the most as high-street giants shut down stores where spending does not justify the rent. In the Hampshire town of Basingstoke, an hour from London, 18 town centre stores closed between January and June.
Inflexible rates on commercial property continue to increase above inflation, squeezing out smaller retailers and forcing bigger companies to downsize. Chocolate sellers Thorntons are slimming down their high-street presence from 360 stores to 180. Argos has also warned of uncertainty in the coming year, with analysts predicting a "significant store closure programme" across its 700 UK outlets.
Snapshot of change: Basingstoke
The Hampshire town is a good example how the high street is changing across the country.
18 retailers, including major computer games and clothing outlets, have abandoned its shoppers this year, while there have been just six openings. These include a discount store and cheque-cashing outlet.
Join our new commenting forum
Join thought-provoking conversations, follow other Independent readers and see their replies