Greece crisis explainer: what reforms are EC, IMF and Athens arguing over?
Greece is supposed to pay back €300 million to the IMF by June 5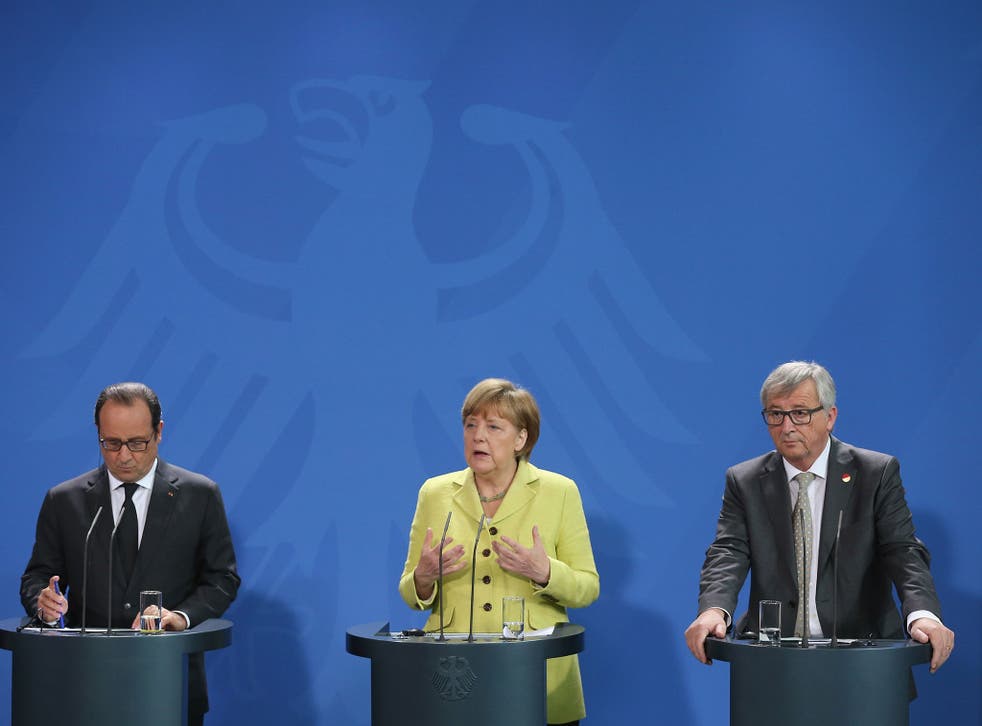 Just when it looked like Greece and Europe might be stuck in stalemate forever over Greece's desperate need for more funding to stave off bankruptcy, there was a whiff of progress.
Not before the EU's top leaders took things into their own hands. On Monday German Chancellor Angela Merkel, French President Francois Hollande, EC President Jean-Claude Juncker, ECB President Mario Draghi and the head of the IMF, Christine Lagarde met in Berlin for a secret meeting to hash out a reform program they could all agree on.
The IMF has taken a tougher line on some reforms than the EC, which has a vested interest in keeping the European Union intact. Agreement reached, they then passed the document to Greek ministers. While it was not an ultimatum, the leaders did say they expected a swift response.
Alexis Tsipras, the Greek prime minister, is due to meet with Jean-Claude Juncker on Wednesday to try and agree the deal.
Greece is supposed to pay back €300 million to the IMF by Friday, but it has hinted it may not be able to do so if a €7.2 billion aid package is not agreed.
So what's on the table?
Pensions
The IMF wants Greece to stop its pension fund from running a deficit, while the EC is more lenient. The demands include ending early retirement and cutting government contributions to try and lessen the financial burden.
One Greek pension official let slip in 2013 that Greece had 133 separate pension funds – a huge number that it hoped to whittle down to fewer than 20. Simplifying the system might help the government see where cuts are possible.
German newspaper Die Welt reported that Greece has shown signs of flexibility on increasing retirement ages and cutting supplementary pensions.
Labour market reforms
Creditors have reportedly tried to force Syriza to reverse its decision to raise the minimum wage.
But the Telegraph reported that Greece's Labour minister Panos Skourletis said the policy would go ahead, calling it a "deep and immovable red line" for the government.
Primary budget surplus
This refers to balancing Greece's accounts, or making sure that the country is not spending more than it is taking in.
Reports on Wednesday suggested the text of an agreement would require a primary surplus of about 1 per cent of gross domestic product this year, lower than the 3 per cent originally required.
There is a danger that the Syriza party could vote to block budget cuts, even if Tsipras was prepared to make concessions.
Civil service
In May, Athens announced plans to rehire some 13,000 civil service workers let go by the previous government in an attempt to cut costs. That government also eliminated annual evaluations for civil servants and promotions based on merit, according to the FT.
Syriza also said it wanted to rehire 15,000 workers at the now-closed state TV broadcaster. This would be reportedly be funded by the auction of television licenses.
Register for free to continue reading
Registration is a free and easy way to support our truly independent journalism
By registering, you will also enjoy limited access to Premium articles, exclusive newsletters, commenting, and virtual events with our leading journalists
Already have an account? sign in
Register for free to continue reading
Registration is a free and easy way to support our truly independent journalism
By registering, you will also enjoy limited access to Premium articles, exclusive newsletters, commenting, and virtual events with our leading journalists
Already have an account? sign in
Join our new commenting forum
Join thought-provoking conversations, follow other Independent readers and see their replies