House of Fraser to shut stores and axe jobs under rescue plan
Chinese company C.banner, which owns Hamleys, take a majority stake in 169-year-old department store chain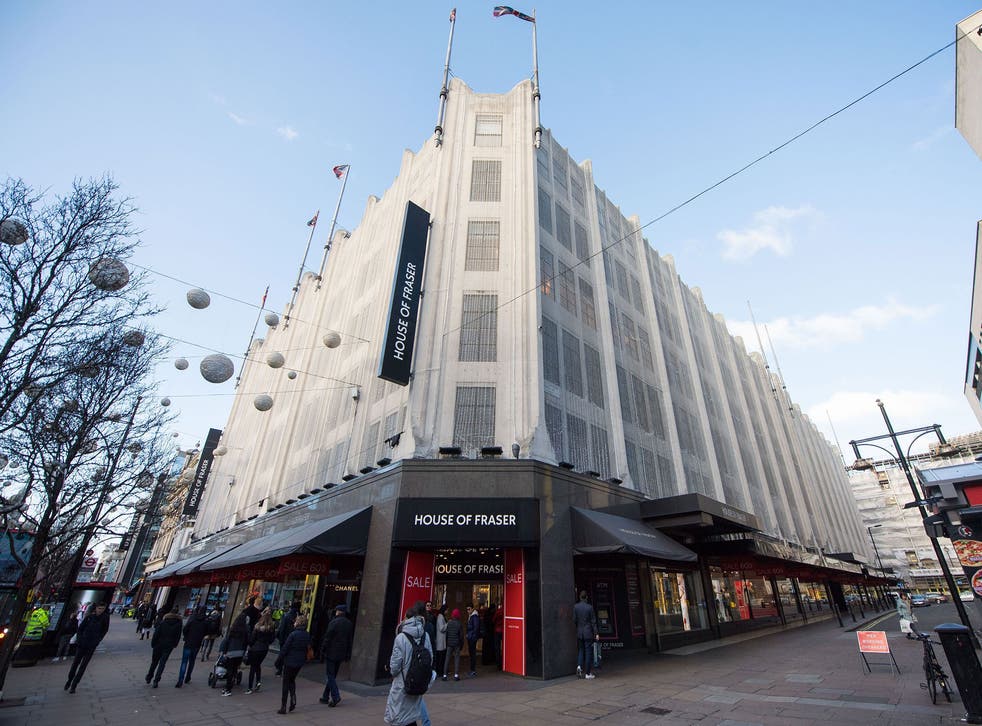 House of Fraser is set to close stores and cut jobs in a bid to stay afloat.
The 169-year-old department store chain confirmed that Chinese company C.banner would take a 51 per cent stake from current owner Nanjing Cenbest, which is also based in China.
The new shareholder, which also owns Hamleys, will invest cash into House of Fraser as part of the transaction while Cenbest will retain a "significant minority interest".
The deal rests on House of Fraser entering a rescue plan known as a Company Voluntary Arrangement (CVA) which will see stores closed and rents slashed on those that remain open.
A CVA must be approved by three-quarters of creditors with a decision on whether to go ahead expected in early June.
House of Fraser did not say how many of its 59 stores will close. The company employs 6,500 staff and a further 11,500 people work for concessions within its stores.
Frank Slevin, chairman of House of Fraser, said C.banner's acquisition was "a step to securing House of Fraser's long-term future".
"C.banner's investment is a vote of confidence in our prospects," he said.
"We know that if we are to deliver a sustainable, long-term business then we need to make difficult decisions about our under-performing legacy stores.
"I am all too aware that this creates uncertainty for my colleagues in the business and so we will be transparent with them throughout the process."
Nanjing Cenbest owns 89 per cent of House of Fraser after a 2014 deal that was hailed as the beginning of a big push into China but only one store has been opened and the department store's fortunes in the UK have waned.
House of Fraser's problems came to a head in January when it was revealed the company had written to landlords asking for reduced rent. That came just days before it revealed disappointing festive sales, capping off a difficult year.
Last month it brought in accounting firm KPMG in a bid accelerate its turnaround programme.
It becomes the latest in a string of retailers to propose a CVA or slide into administration as the sector is battered by a rising minimum wage, increased business rates, weak consumer confidence and continued upheaval from the shift from the high street to online sales.
Carpetright plans to close 81 stores and cut up to 300 jobs as part of its CVA and discount retailer Poundworld is also weighing store closures, while Toys R Us and Maplin will close down completely.
Register for free to continue reading
Registration is a free and easy way to support our truly independent journalism
By registering, you will also enjoy limited access to Premium articles, exclusive newsletters, commenting, and virtual events with our leading journalists
Already have an account? sign in
Register for free to continue reading
Registration is a free and easy way to support our truly independent journalism
By registering, you will also enjoy limited access to Premium articles, exclusive newsletters, commenting, and virtual events with our leading journalists
Already have an account? sign in
Join our new commenting forum
Join thought-provoking conversations, follow other Independent readers and see their replies