John McDonnell offers City of London 'seat at the table' in Labour policy making
Shadow chancellor proposes a 'new start in the relationship between Labour and the finance sector'
Ben Chapman
Thursday 19 April 2018 18:11 Comments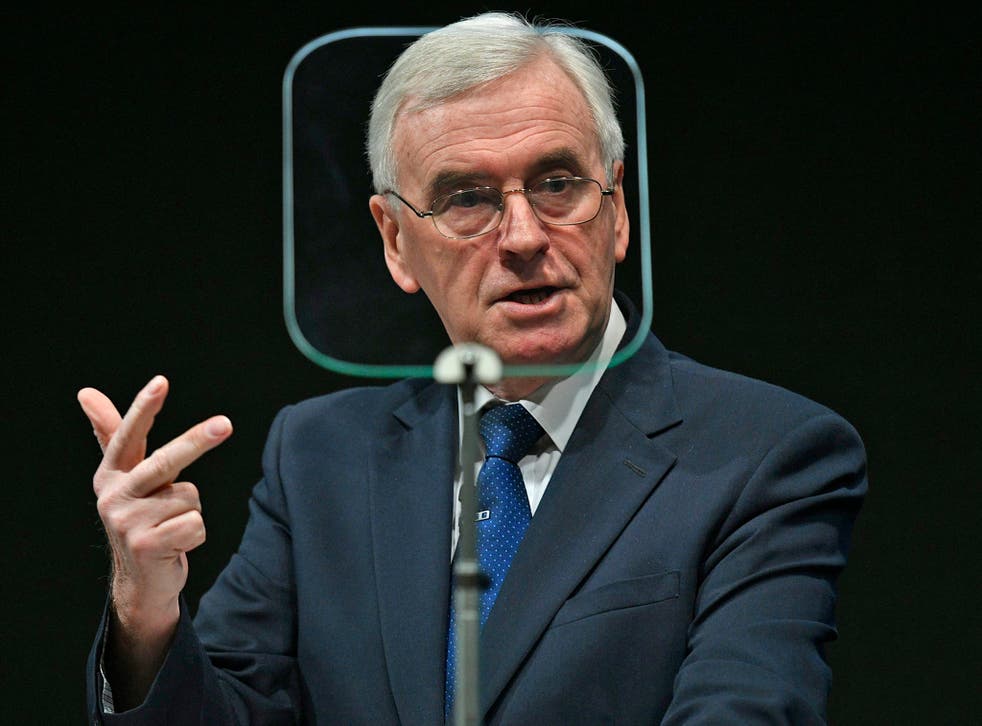 John McDonnell offered City bosses a chance to help shape Labour economic policy as part of his pitch to financiers on Thursday.
The shadow chancellor proposed a "new start in the relationship between Labour and the finance sector", in a speech at Bloomberg's headquarters in London.
Financial services would have a "seat at the policy-making and policy delivery table" under a future Labour government, he said.
The lifelong socialist joked that finance executives might expect to meet "a raving extremist who is about to nationalise their company and send them on a re-education course up north somewhere".
Instead, he offered a more conciliatory tone, saying that he wanted them to "come with us" into government, alongside trade unions and manufacturers.
He promised to be straightforward with the financial sector, adopting an approach characterised as "What you see is what you get", and said the City had a role to play in the "transformative programme" he would seek to introduce if his party won the next election.
However, he still promised "a radical, progressive, intervening government" and said a "hands-off" approach would not deliver the growth the country required.
"We made it clear that Labour in government will intervene to shape the economy, and that willingness to intervene naturally includes the financial sector," Mr McDonnell said.
He also reiterated plans to tax the City more heavily through a "small" levy on financial transactions, which he said would increase stability and deliver much-needed revenue.
Prevailing economic orthodoxy had led to stagnant wages and slow productivity, which were key drivers behind the Brexit vote, Mr McDonnell said.
"I don't expect some people to be overjoyed at having to pay a bit more in income tax or corporation tax or at the introduction of a financial transaction tax," he said.
"But most people recognise with us the need for large-scale investment in both our infrastructure and new technology and also in human capital with investment to raise standards in our education system, training and research and development."
Mr McDonnell added: "What we are offering is a new start in the relationship between Labour and the finance sector.
"A relationship in which we recognise the potential of a transformed British financial system, at the leading edge of technology, fulfilling a clear, socially necessary role."
The shadow chancellor also revealed that Norwich South MP Clive Lewis had joined his team to focus on "environmental economics".
Register for free to continue reading
Registration is a free and easy way to support our truly independent journalism
By registering, you will also enjoy limited access to Premium articles, exclusive newsletters, commenting, and virtual events with our leading journalists
Already have an account? sign in
Join our new commenting forum
Join thought-provoking conversations, follow other Independent readers and see their replies