McDonald's is testing bigger and smaller Big Macs
The Grand Mac and Mac Jr will be available in approximately 130 McDonald's restaurants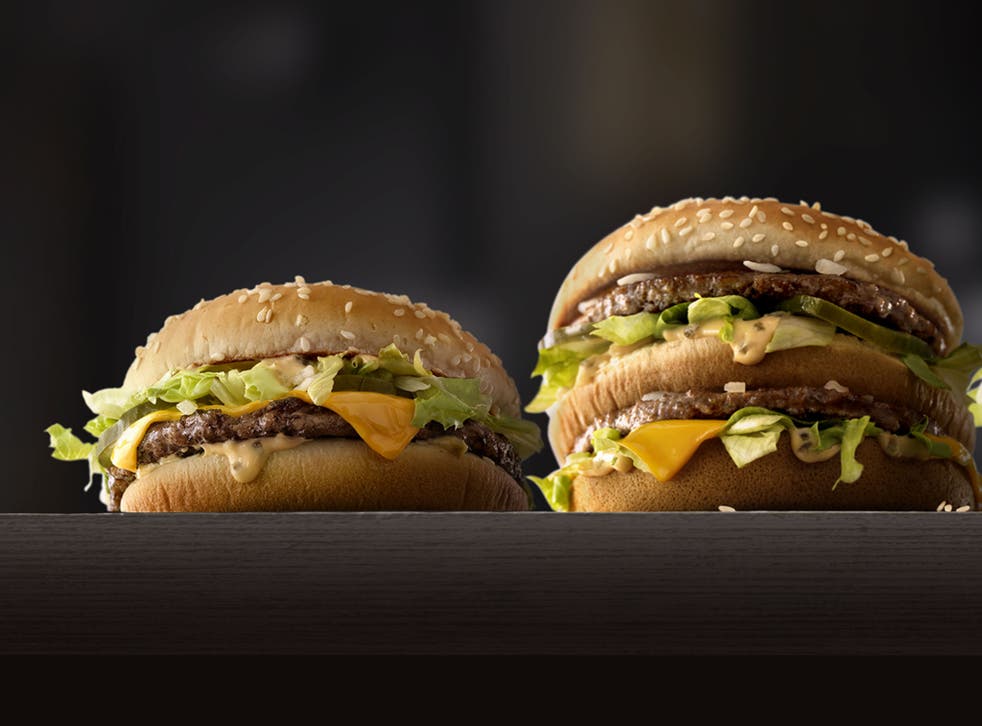 McDonalds is trialling new versions of its most famous burger in the US.
The Grand Mac and Mac Jr will be available in approximately 130 McDonald's restaurants in the Ohio and Dallas areas until June 6, before the fast-food giant decides if they are like enough by customers for a national rollout.
The giant Big Mac, made with a third pound of beef, two slice of cheese, salad and onions on a huge sesame bun aimed at very hungry customers, will sell for $4.89 (£3.40).
The Mac Jr. is a single-layer Big Mac intended to be "easily eaten on the go", according to the company. The little burger will sell for between $2.39 and $2.59 (£1.70-£1.80).
Scott Nickell, president of the McDonald's Centre Ohio Co-op, said customers have requested different ways to enjoy their Big Macs.
"The Big Mac is a McDonald's icon and a great-tasting sandwich. We listened to our customers who told us they wanted different ways to enjoy the one-of-a-kind Big Mac taste. We've seen success in this market with regional innovations, including Chicken McGriddles, and we are proud to test this newest menu item that provides our customers with choices that fit their needs," Nickell said.
Chef Chad Schafer, senior director of culinary innovation for McDonald's USA, said the Grand Mac and Mac Jr. are in homage to the original Big Mac.
Our goal is always to prepare the best-tasting burgers to meet our customers' expectations," Schafer said.
McDonald's Next

Show all 8
McDonalds UK has confirmed that there is no plan for the Grand Mac and the Mac Jr to appear on British menus.
McDonald's franchises have featured many different menu items and store designs over the last year in an effort to turn around the company's fortunes after two straight years of declines.
A branch in St Joseph Missouri will be the first franchise to test all-you-can-eat fries when it opens this summer, the company said on Monday. Other branches started offering healthy options like couscous and quinoa for health-conscious customers.
McDonald's all-day breakfast, launched earlier this year, proved a hit helping sales jump 5.7 per cent at US restaurants.
Join our new commenting forum
Join thought-provoking conversations, follow other Independent readers and see their replies