McDonalds to ban plastic straws in all of its restaurants in UK and Ireland
Both the UK government and the EU are considering restrictions on single-use plastic products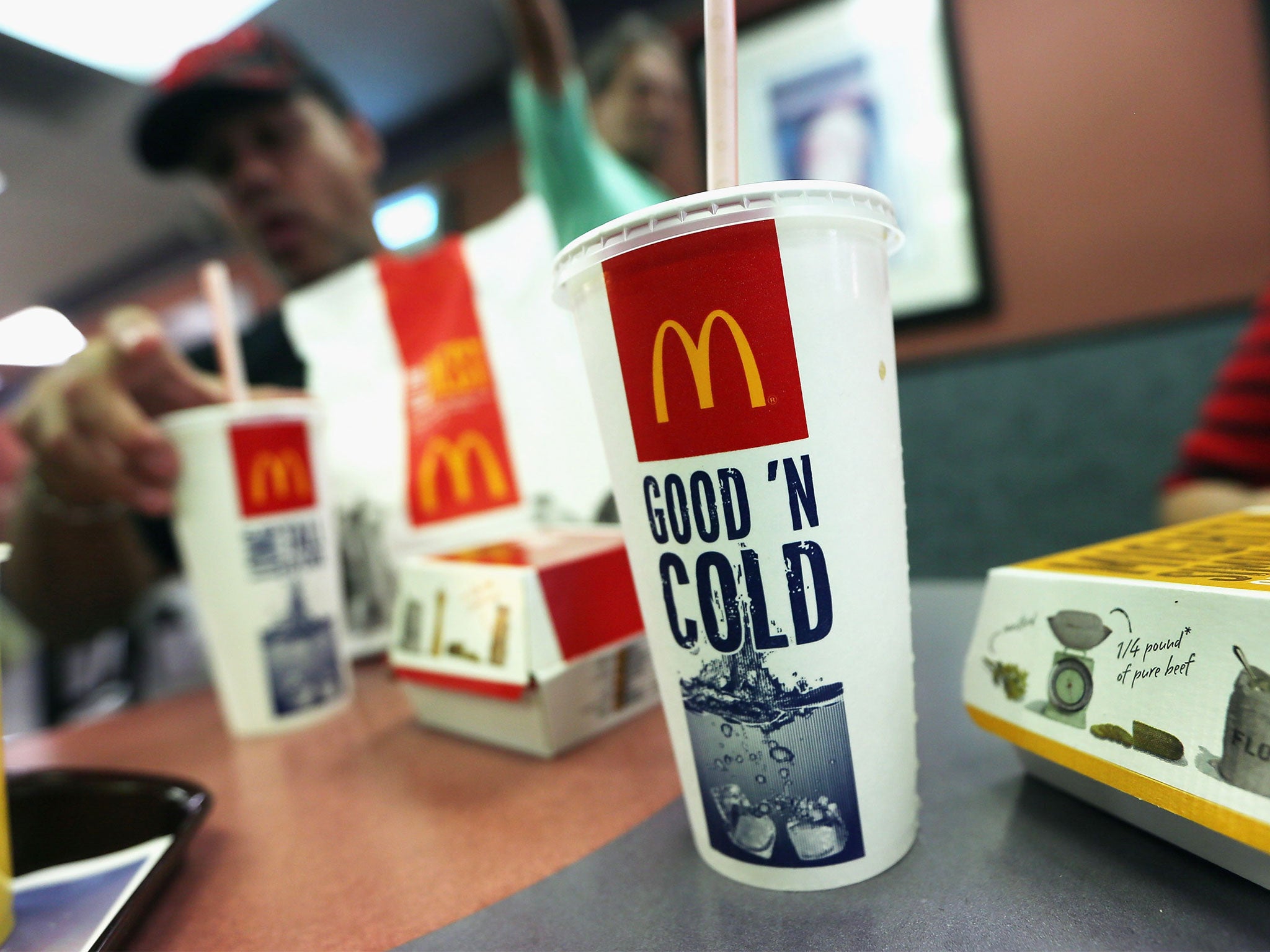 McDonald's is to ban plastic straws at all of its UK restaurants by next year as pressure grows on companies to cut waste.
The burger chain said it will start rolling out a paper alternative in all 1,361 branches from September after customers reacted positively to the change during trials.
Environment secretary Michael Gove said McDonald's decision was a "significant contribution" to helping the environment.
"We all have a responsibility to our environment and this simple yet effective initiative is a fine example to other large businesses," he said.
The minister said in February he wanted to ban plastic straws - as well as other single-use plastic products such as drinks stirrers and cotton buds - in a bid to reduce the pollution of rivers and oceans that harms wildlife.
Last month the EU also proposed a ban on throwaway plastic products.
Between eight and 12 million tonnes of waste plastic are dumped into the oceans each year. If current levels of pollution continue, there will be more plastic than fish in the seas by 2050, according to the UN.
McDonald's currently uses 1.8m straws a day in the UK.
The company said it had found two suppliers to meet its needs for paper straws, the start-up Transcend Packaging based in Wales, and Huhtamaki, a global company which will produce the straws at its plant in Belfast.
They will use paper coming from certified sustainable sources.
McDonald's has been conducting trials of paper straws at a handful of venues since April, with the majority of customers supporting the effort to protect the environment.
Other companies making the move away from plastic versions include Burger King, JD Wetherspoon, Costa Coffee, Pizza Express and Wagamama.
Ways to reduce your single-use plastic
Show all 6
Paul Pomroy, chief executive of McDonald's UK and Ireland, said: "Reflecting the broader public debate, our customers told us they wanted to see a move on straws but to do so without compromising their overall experience when visiting our restaurants.
"Over the past few months we've been working closely with supplier partners to find a solution that works both for our customers, and that the supply is there given the size of our business.
"The government's ambitious plans, combined with strong customer opinion, has helped to accelerate the move away from plastic and I'm proud that we've been able to play our part in helping to achieve this societal change."
Francesca DeBiase, executive vice president of global supply chain and sustainability, said: "McDonald's is committed to using our scale for good and working to find sustainable solutions for plastic straws globally.
"In addition to the exciting news from the UK today, we are testing straw alternatives in other countries to provide the best experience for our customers."
Press Association
Join our commenting forum
Join thought-provoking conversations, follow other Independent readers and see their replies