Next's profit warning sends shares of UK high street retailers diving as 2017 outlook turns bleak
In its trading update Next also indirectly warned on the potential consequences the UK's vote to leave the EU could have on its profits, citing 'inflationary pressures'
Zlata Rodionova
Wednesday 04 January 2017 13:28 Comments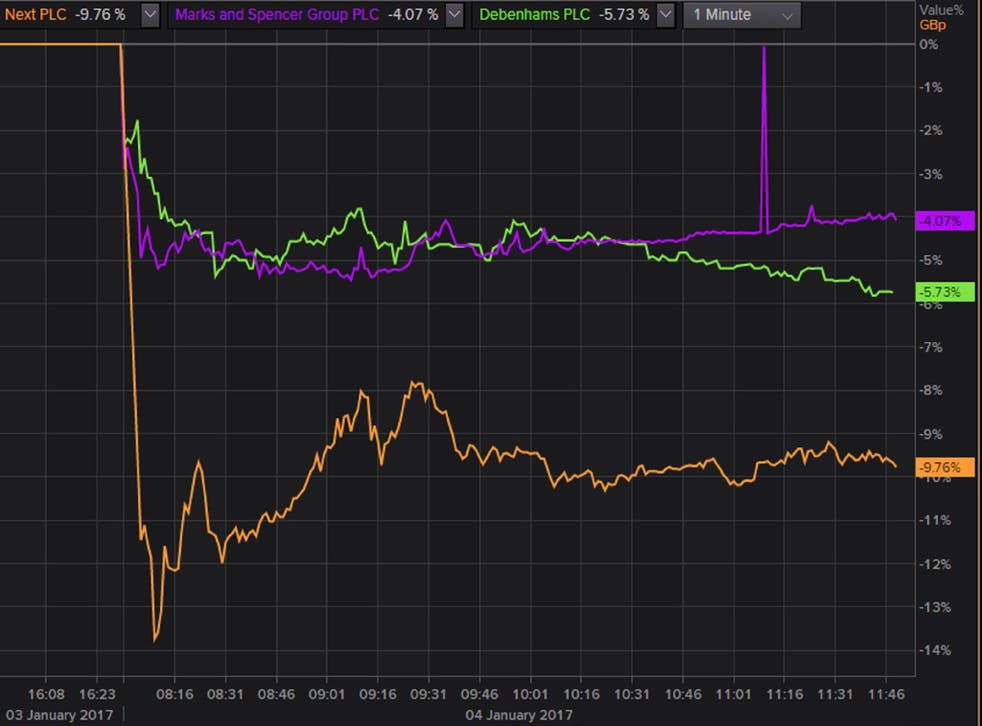 Next's share price has dived after the clothing retailer warned that profits could be as much as 14 per cent lower next financial year, signalling trouble ahead for the British high street and dragging down rivals Marks and Spencer, Debenhams and Primark.
Often billed as the bellwether of the UK fashion industry, Next has cut its profit forecast for 2016 and warned the coming year would be "challenging". The retailer said the weak pound will contribute to rising prices for clothes, eating into consumers' spending power.
The warning triggered a fall of more than 13 per cent in Next's shares during early FTSE trading. Shares fell further, closing down 14 per cent.
Meanwhile, shares in rival Marks and Spencer plunged by 6 per cent while Primark owner Associated British Foods was down 3.7 per cent at market closing time.
It was a similar story on the FTSE 250, where Debenhams closed with shares down by more than 6 per cent.
Next's performance is closely watched as it has been one of the most consistent performers in UK retail over the past two decades. When the retailer does well so does the rest of the high street.
That's why Wednesday's warning represent a big worry to many retail brands.
Neil Wilson, senior market analyst at ETX Capital, said: "Marks and Spencer and Debenhams have both tumbled 5 per cent this morning as the fallout from Next's Christmas trading statement is chewed over by investors.
"Both of these face similar problems to Next – cost pressures and a failure to stay fresh in the eyes of consumers.
"Investors are clearly wary about high street dinosaurs as we head into an uncertain 2017, with Brexit, inflation and a weak pound all a major concern."
Next said full-price sales fell by 0.4 per cent in the 54 days to 24 December, the crucial festive shopping period, compared with the previous year.
As a result the company cut its profit guidance for the year to £792m, having previously estimated earnings of as much as £825m.
The retailer said a slump in sterling is pushing up sourcing costs at a time when demand could be vulnerable due to a Brexit-induced squeeze on spending power.
What does the falling pound mean for you?
Next, whose chief executive is Lord Wolfson, a prominent Vote Leave campaigner, acknowledged the "exceptional levels of uncertainty in the clothing sector" in its trading statement.
It warned customer clothing prices could rise by up to 5 per cent in the year ahead.
"The year ahead looks set to be another challenging year; therefore we are preparing the company for tougher times," the company said.
Brexit Concerns

Show all 26
The pound is currently down about 10 per cent against the euro since the EU referendum in June, and is 17 per cent weaker against the US dollar.
A report from the British Retail Consortium (BRC) release on the same day has also pointed to rising price pressures in the sector.
Register for free to continue reading
Registration is a free and easy way to support our truly independent journalism
By registering, you will also enjoy limited access to Premium articles, exclusive newsletters, commenting, and virtual events with our leading journalists
Already have an account? sign in
Join our new commenting forum
Join thought-provoking conversations, follow other Independent readers and see their replies