Peta to buy Canada Goose shares in effort to stop firm using coyote fur
Animals used for fur can endure 'long, excruciating deaths in steel traps', director of the charity says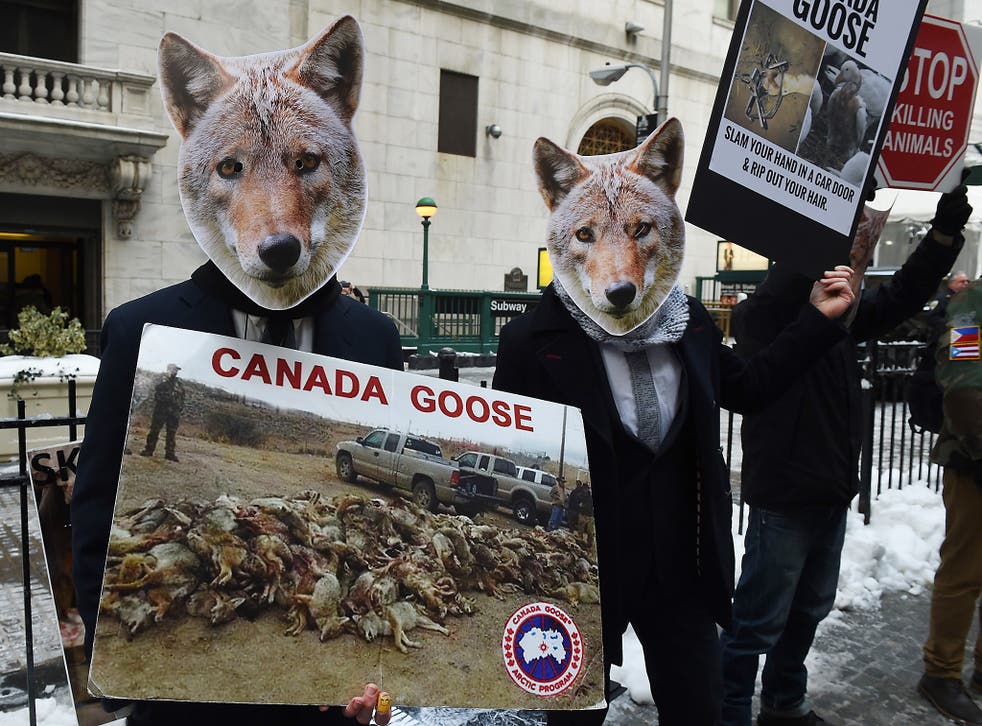 Up-market coat retailer Canada Goose is set to go public on Thursday in a $240m (£195.5m) float, but animal rights activists are determined to spoil the party.
People for the Ethical Treatment of Animals (Peta) wants to be first in line to snap up enough shares so that it can be admitted to Canada Goose's shareholder meetings.
The group will then pressure Canada Goose to stop using coyote fur on their jackets, which it says is unethical.
"The fur on Canada Goose jackets comes from coyotes, who can endure a long, excruciating death in steel traps," Peta associate director Elisa Allen said in a statement this week on the group's website.
"Anyone who buys or sells one of the company's fur-trimmed jackets is responsible for these animals' suffering."
Peta staged a protest in Knightsbridge on Tuesday where department stores Harvey Nichols and Harrods sell Canada Goose outerwear. Wearing a replica Canada Goose jacket, a Peta model stood in a "bloody" steel trap to illustrate the plight of the coyotes.
Buying stakes in companies to influence their policies is nothing new for Peta, which has a history of shareholder activism dating back to 1987.
More recently, after buying Seaworld stock when it went public in 2013, Peta brought in actress Jessica Biel to ask the company at its AGM when it would stop holding killer whales in captivity. The company has since changed its policy and is phasing out its killer whale show.
Peta has also bought shares in Hermès, Prada and, its most-recent purchase, LVMH, according to statements on its website. It has put the designer brands in the spotlight for their treatment of crocodiles and alligators, which are farmed for their skin to make expensive handbags, belts and shoes. A recent exposé showed the animals are confined to tiny pits and that they are sometimes cut into while still alive.
Business news: In pictures

Show all 13
Canada Goose claims that the use of animal products is a necessity rather than a luxury in its hard-wearing coats, which are designed to stand up to extremely tough conditions.
"We understand and respect that some people think animal products should never be used in any consumer products, but we do not share that view," a statement on the company's website says.
"We are committed to providing full transparency about how we make our products, including the ethical sourcing and responsible use of animal products."
Register for free to continue reading
Registration is a free and easy way to support our truly independent journalism
By registering, you will also enjoy limited access to Premium articles, exclusive newsletters, commenting, and virtual events with our leading journalists
Already have an account? sign in
Register for free to continue reading
Registration is a free and easy way to support our truly independent journalism
By registering, you will also enjoy limited access to Premium articles, exclusive newsletters, commenting, and virtual events with our leading journalists
Already have an account? sign in
Join our new commenting forum
Join thought-provoking conversations, follow other Independent readers and see their replies