Pound sterling beats Argentine peso to become 2016's worst performing currency
Some analysts are convinced the pound still has further to fall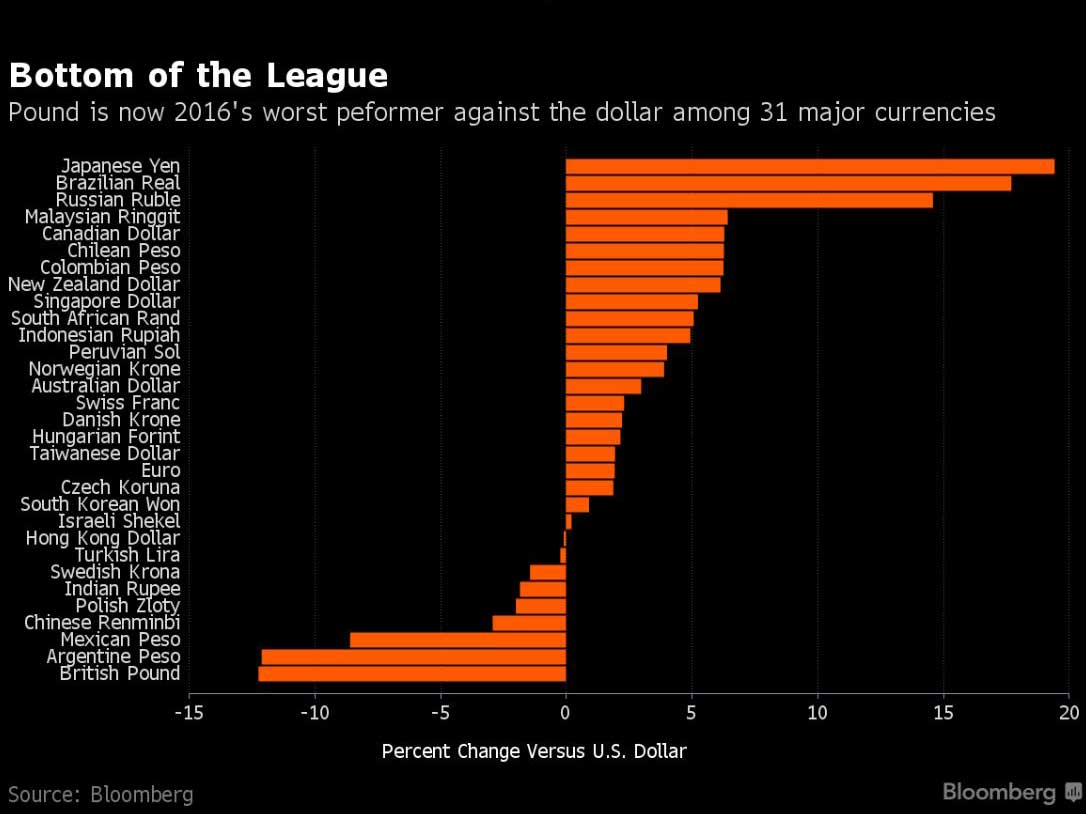 The pound has beaten the Argentine peso to become 2016's worst performing currency after it plunged to a 31-year low in the aftermath of the decision to leave the EU.
Sterling dipped below $1.30 for the first time since 1985 in the second week after the European referendum.
It had rebounded slightly to trade at $1.29 against the dollar by the end of the week.
That brutal tumble means the pound has overtaken the Argentine peso as the biggest loser against the dollar among 31 other major currencies in 2016.
Some analysts are convinced the pound still has further to fall, with some predicting lows of $1.20 against the dollar in the next three months.
Goldman Sachs has said the pound could go as low as $1.20 against the dollar in the next three months, levels not seen since the summer of 1985.
Goldman Sachs analysts said that Bank of England warnings were behind the slide below $1.30 on Tuesday and that further central bank announcements about interest rates and could see the pound weaken further.
Brexit protest: Thousands march against Leave vote in London
Credit Suisse has also revised its three-month forecast from $1.58 to $1.22.
"We believe the UK economy's well-documented fiscal and current account deficits, combined with the fact that GBP is not especially cheap, leave room for still more GBP weakness," said Shahab Jalinoos, global head of FX strategy at Credit Suisse.
The Bank of England's admission that Brexit had already affected the financial stability of the UK weighed on the pound on Tuesday.
Mark Carney, governor of the Bank of England, said markets were performing "pretty well" since June 23. He announced looser lending measures to encourage people to continuing making investments, prompting to pound to fall.
He said that the two-day fall in sterling was the sharpest in half a century, but that the lower value of the pound was "necessary" for other adjustments in the economy.
6 ways Britain leaving the EU will affect you
Show all 6
"The adjustment in sterling has been significant and was sharp initially. That adjustment has moved in the direction that is necessary to facilitate some of the economic adjustments that are needed in the economy," he said.
The Bank of England's Monetary Policy Committee may cut interest rates below their historic low of 0.5 per cent next week, though polls show economists expect a rate move in August.
"Clearly Mark Carney and George Osborne believe there are very rough times ahead for the UK economy as they begin rolling out a number of measures to cushion the potential impact," said Andy Scott of currency firm HiFX.
Join our commenting forum
Join thought-provoking conversations, follow other Independent readers and see their replies