What will happen to pound sterling if Theresa May gets a big majority
The pound will be on 'red alert' if the Conservatives was a less than 20 seat majority, traders say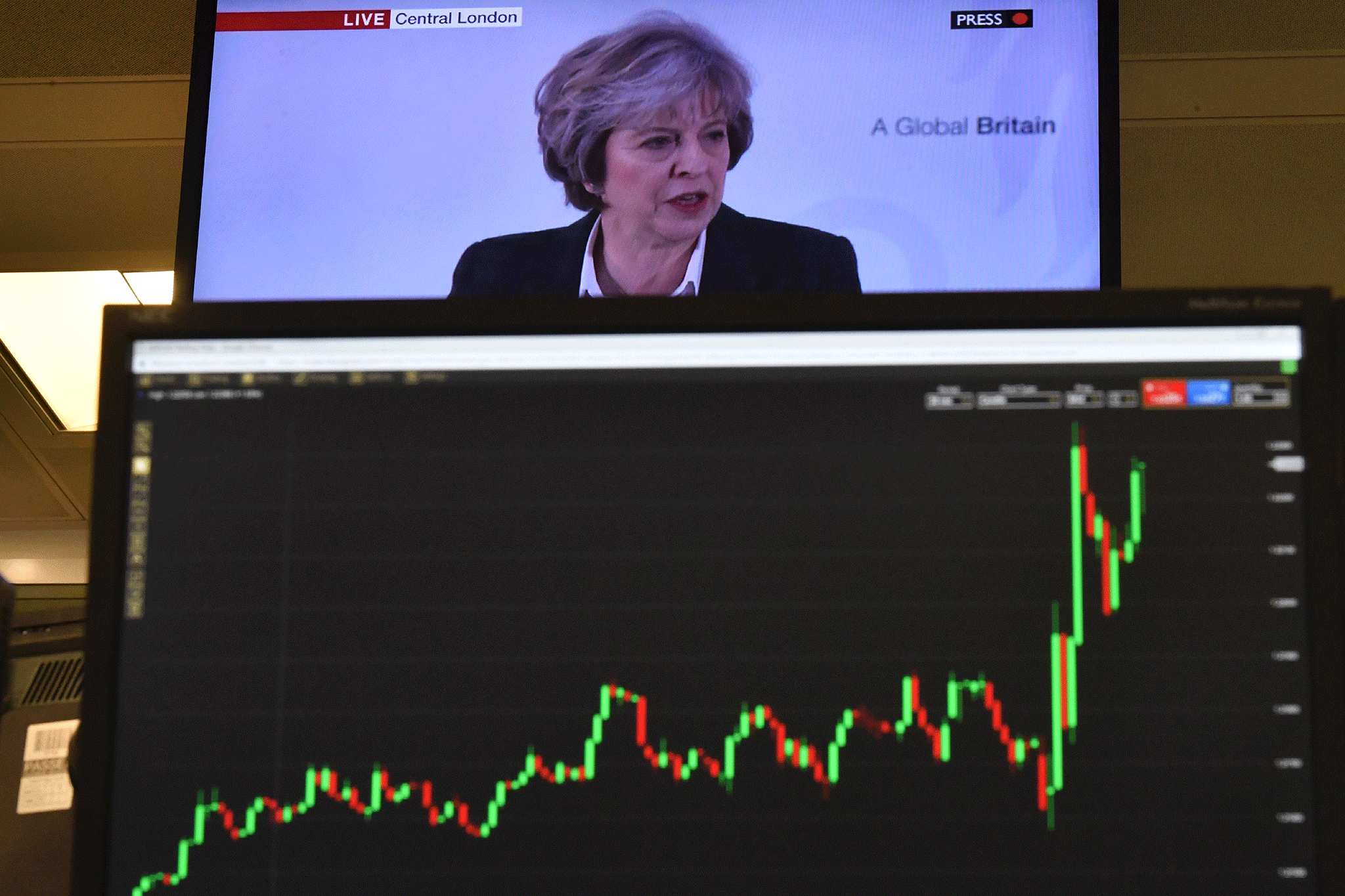 Currency traders are setting Prime Minister Theresa May a low bar on the majority her party should win at next month's election in order for the pound to emerge unscathed.
While some betting markets and models have predicted that May's Conservative Party could win as many as 180 seats more than its rivals combined on 8 June, even a 50-seat cushion may help sterling hold steady, analysts say.
For some, the barrier is even lower. The pound may be punished only if the Tories fail to improve upon the 17-seat margin set at the last parliament, according to Lee Hardman, a foreign-exchange strategist at MUFG.
Instead, investors will likely waste no time in looking past the outcome and on to how the Brexit talks unfold, he said.
The Conservatives may need a national swing in the vote of perhaps 2.5 percentage points from the Labour Party to take them close to a majority of about 50, an analysis of key seats suggests.
That would imply a Tory lead of about 11-12 points over Labour, within the range suggested by most recent polls. All parties suspended election campaigning Tuesday after Britain's worst terrorist attack in 12 years killed 22 people in Manchester.
A 125 seat majority is "a fair reflection of what the markets are priced for" says RBC's Adam Cole.
More than 100 would clearly be viewed in a successful light," says BlueRay's Mark Dowding.
Less than 100 "would probably be seen as disappointing and pound negative," says Cole.
A majority of more than 50 seats could lead the currency higher," says Nomura's Jordan Rochester.
Less than 50 will likely cause "worries over a hard Brexit to escalate," and lead to "a more palpable disappointment in the markets," says Dowding.
45 seats would likely mean a "workable majority" for May, says Santander's Stuart Bennett.
Less than 35 could trigger a serious sell-off" says Mizuho's Neil Jones.
Less than 30 could cause sterling to fall 1 per cent as "the market would lower the smooth Brexit pricing probability," says Rochester.
Less than 20 seats would be "a red alert" for sterling.
17 seats "A threshold close to the current majority or lower would be viewed as pound negative," says MUFJ's Lee Hardman, with a smaller majority heightening, "uncertainty over the Brexit outlook".
Bloomberg
Register for free to continue reading
Registration is a free and easy way to support our truly independent journalism
By registering, you will also enjoy limited access to Premium articles, exclusive newsletters, commenting, and virtual events with our leading journalists
Already have an account? sign in
Register for free to continue reading
Registration is a free and easy way to support our truly independent journalism
By registering, you will also enjoy limited access to Premium articles, exclusive newsletters, commenting, and virtual events with our leading journalists
Already have an account? sign in
Join our new commenting forum
Join thought-provoking conversations, follow other Independent readers and see their replies