Royal Mail investors bank £356 profit as shares start trading and government faces renewed accusations of selling business too cheap - but the price may be higher by December
Those who sold today made a paper profit of £356 on their original £750 outlay - a 48 per cent rise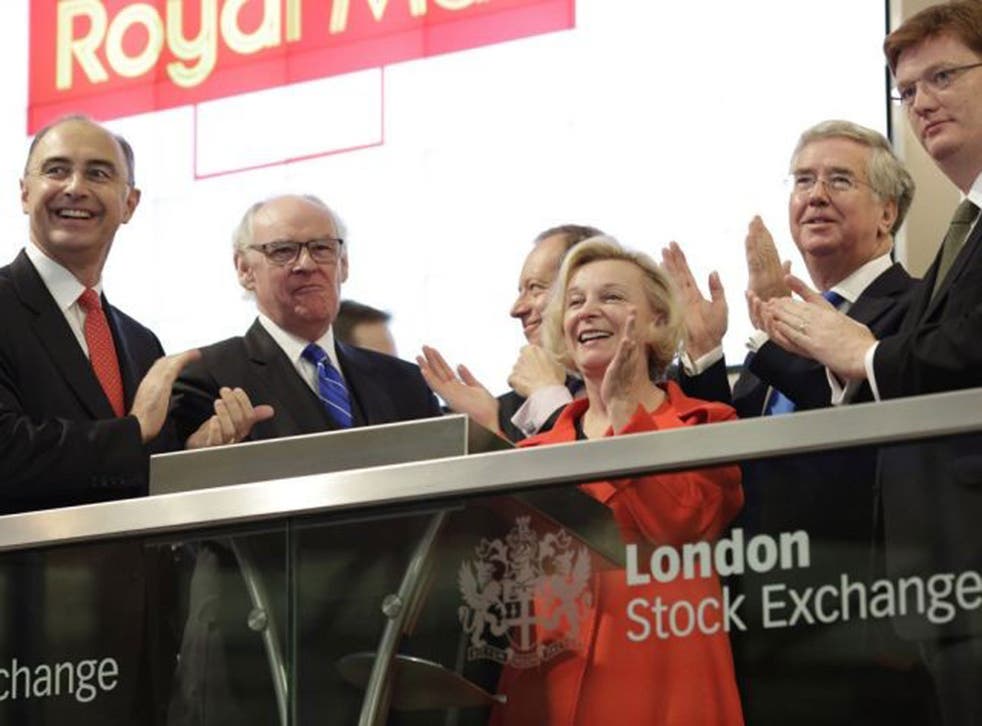 Royal Mail shares shot up in value in their first full day of trading today, despite a rush of retail investors to sell their holdings.
The Government faced renewed accusations of selling the business too cheap as the shares rocketed from their sale price of 330p to a new peak of 490p.
Although retail investors who bought shares through their brokers had been able to trade last Friday, today was the first time the thousands who bought directly from the Government's website could trade.
Thousands of trades went through in bundles of 227 shares – the precise amount that retail investors were allotted. That was seen as proof that many investors were rushing to sell their entire holdings and book their profits. Those who sold today were booking in sitting on a paper profit of £356 on their original £750 outlay - a 48 per cent rise.
Royal Mail chief executive Moya Greene who opened official trading in the shares at the London Stock Exchange today, said: "This marks the exciting next phase in our company's long and proud history. With the support of our new shareholders, we are in a strong position to move forward, to compete effectively across our markets and to grow our business."
David Buik, veteran market-watcher now at Panmure Gordon, described Royal Mail's opening as "very sprightly." Before the opening, 185,000 shares went through at 476p, thanks to strong institutional demand. "After 20 minutes the share price stood at 485p with 3.6 million shares having changed hands," Buik added. "This is hardly surprising. Forget retail operators for a minute - only 300 institutions out of 800 who applied were given any allocation."
But there were also scores of sales going through of 227 shares, which was the allocation given to any retail investors who applied for £10,000 or less of stock.
The shares are set to rise still higher if, as is expected, Royal Mail joins the FTSE 100 at the next reshuffle in December. That would see tracker funds buying up the stock.
The price surge came despite postal workers pushing ahead with plans for strikes in the run-up to Christmas. The result of a strike ballot by more than 115,000 members of the CWU union will be announced tomorrow. Union sources are demanding that Royal Mail bosses offer new terms and conditions for staff, and could strike as early as next week.
Register for free to continue reading
Registration is a free and easy way to support our truly independent journalism
By registering, you will also enjoy limited access to Premium articles, exclusive newsletters, commenting, and virtual events with our leading journalists
Already have an account? sign in
Register for free to continue reading
Registration is a free and easy way to support our truly independent journalism
By registering, you will also enjoy limited access to Premium articles, exclusive newsletters, commenting, and virtual events with our leading journalists
Already have an account? sign in
Join our new commenting forum
Join thought-provoking conversations, follow other Independent readers and see their replies