SABMiller prepares to resist AB InBev's takeover advances
London-listed brewer highlights standalone prospects as bid deadline looms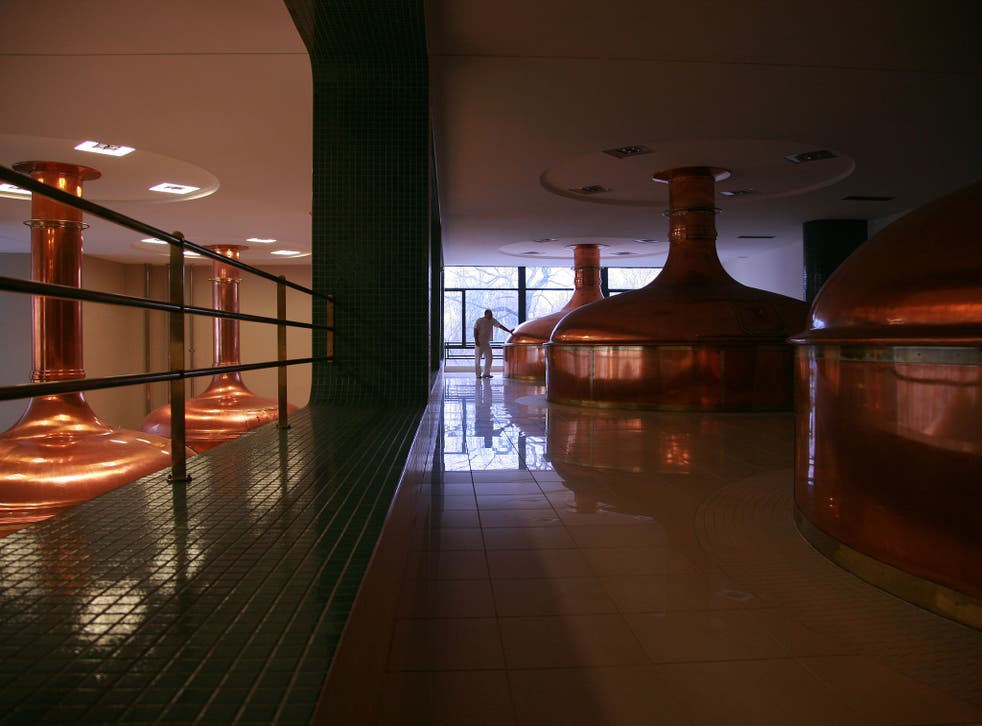 SABMiller has given the strongest indication yet that it will resist last month's bid approach from rival AB InBev to create the world's biggest brewer, accounting for one in three pints drunk around the world.
With the "put up or shut up" deadline for AB InBev, the owner of brands ranging from Budweiser to Stella Artois, looming next Wednesday, the London-listed SABMiller brought forward its regular first-half trading statement by more than a week.
A statement by Alan Clark, its chief executive – "We have a strong business with exceptional long-term prospects" – was viewed by analysts as more the language used by a company defending an unwanted takeover bid than that of a trading update. It was also seen as an attempt to push up any bid price sharply.
AB InBev's bid to create a $275bn (£181bn) brewing colossus was revealed by SABMiller in the middle of last month, with every sign that the Belgian-American suitor was keen on a friendly deal. It has already been tapping international banks for the billions of dollars worth of loans it would need to make a cash bid.
SABMiller shares fell 142p to 3,728.6p as investors calculated that an agreed deal was less likely. But they are still up 23 per cent up on where they stood the day before the approach was made public. There were unconfirmed reports that SABMiller has rejected an initial offer of just over £40 a share from AB InBev and is looking for more like £45 a share, which would value it at £73bn.
SABMiller, whose brands include Peroni and Grolsch, used Takeover Code rules to refuse to comment on the possible acquisition, even declining to say what level or amount of contact had been made between the two brewers since last month's announcement. But in the trading statement it highlighted its strength in the two big geographic areas that AB InBev is keen to get hold of. It said revenues in Latin America were up by 9 per cent in the second quarter, from 6 per cent in the first quarter, and in Africa by 11 per cent against 7 per cent previously.
"We continued to drive strong growth in Africa and Latin America, applying our deep local expertise to markets with favourable long-term structural growth dynamics," said Mr Clark. "Particular highlights were our very strong lager volume growth in these regions."
Yet the group also said it had been hit by foreign exchange swings, with some of its key operations reporting less in dollars than in local currencies.
Phil Carroll, an analyst at Shore Capital, doubted whether the growth was strong enough for it to mount a bid defence: "If SAB was growing sales organically by high single digits ahead of its peers, that would be one thing, but at present it is actually trading slightly below it historical sales run-rate."
James Edwardes Jones at RBC Capital said the trading statement would ensure a "rich price" from AB InBev to complete the takeover. But Chris Beauchamp of IG said: "This merger may go the way of the Vodafone/Liberty move and end up on the ash heap of history."
AB InBev has until 14 October to make an offer or stock market rules require it to walk away for at least six months.
Register for free to continue reading
Registration is a free and easy way to support our truly independent journalism
By registering, you will also enjoy limited access to Premium articles, exclusive newsletters, commenting, and virtual events with our leading journalists
Already have an account? sign in
Register for free to continue reading
Registration is a free and easy way to support our truly independent journalism
By registering, you will also enjoy limited access to Premium articles, exclusive newsletters, commenting, and virtual events with our leading journalists
Already have an account? sign in
Join our new commenting forum
Join thought-provoking conversations, follow other Independent readers and see their replies