Investors pull $1bn out of Saudia Arabia's stock market as fallout from Jamal Khashoggi death deepens
Sell-off is one of the biggest since the Middle Eastern kingdom opened up its markets to direct foreign investment in 2015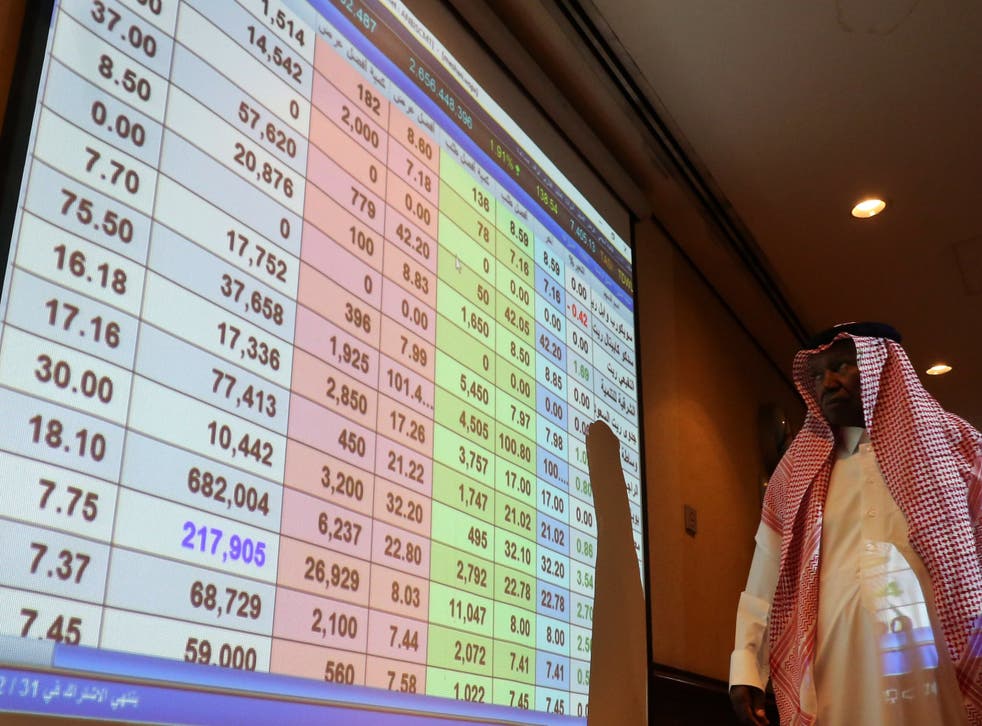 Overseas investors offloaded more than $1bn (£800m) in Saudi shares last week as pressure mounted on the kingdom to provide a plausible explanation for the death of journalist Jamal Khashoggi.
The outflow sent the country's stock market tumbling after investors sold 5 billion riyals (£1bn) worth of shares and only bought 991.3 million riyals worth.
The sell-off is one of the biggest since Saudi Arabia opened up its markets to direct foreign investment in 2015.
After more than two weeks of denials, Riyadh finally admitted on Friday that the dissident journalist had died in the Saudi consulate in Istanbul, but claimed that it had been an accident after an altercation.
Following widespread incredulity at that account, Saudi foreign minister Adel al-Jubeir then issued a new explanation to Fox News, conceding that Mr Khashoggi was murdered in a "rogue operation".
Events in Istanbul have critically damaged crown prince Mohammad bin Salman's attempts to portray himself as a moderniser, a tactic that had helped boost investment in the Gulf kingdom.
The alleged brutal murder and dismemberment of Mr Khashoggi also calls into question Saudi Arabia's long-standing close ties with the US.
Treasury secretary Steven Mnuchin said on Sunday that the explanation of the killing was a "good first step but not enough", adding it was too early to consider implementing sanctions.
According to Reuters, funds linked to the Saudi regime may have been used to support the country's stock market, which was down 3 per cent on Sunday, adding to a 4 per cent fall since Mr Khashoggi disappeared on 2 October.
Saudi Arabia also faces higher payments on its foreign debt, with yields on its 2026 bond jumping to a record high last week.
The kingdom denies its crown prince or king were involved in Mr Khashoggi's death. Mr al-Jubeir echoed Donald Trump's warnings about rushing to judgement against Saudi leaders, saying "there is the presumption of innocence until proven guilty" and that some have "turned that upside down".
But companies have been pulling out of an investment conference beginning this week in Riyadh, concerned that any association with the country's leadership might be bad for business.
World news in pictures

Show all 50
Google, HSBC, Uber and JPMorgan are among those who have said they will not attend the Future Investment Initiative (FII) summit, which has been dubbed "Davos in the desert".
The managing director of the International Monetary Fund, Christine Lagarde, has pulled out of a planned trip to the Middle East which included a stop at the event.
She said: "I have to conduct the business of the IMF in all corners of the world and with many governments. When I visit a country I always speak my mind. You know me, I always do."
Register for free to continue reading
Registration is a free and easy way to support our truly independent journalism
By registering, you will also enjoy limited access to Premium articles, exclusive newsletters, commenting, and virtual events with our leading journalists
Already have an account? sign in
Register for free to continue reading
Registration is a free and easy way to support our truly independent journalism
By registering, you will also enjoy limited access to Premium articles, exclusive newsletters, commenting, and virtual events with our leading journalists
Already have an account? sign in
Join our new commenting forum
Join thought-provoking conversations, follow other Independent readers and see their replies