Saudi Aramco becomes world's most valuable listed company as shares surge 10% after record-breaking IPO
State-owned oil company worth almost $1.9 trillion after world's largest ever stock market flotation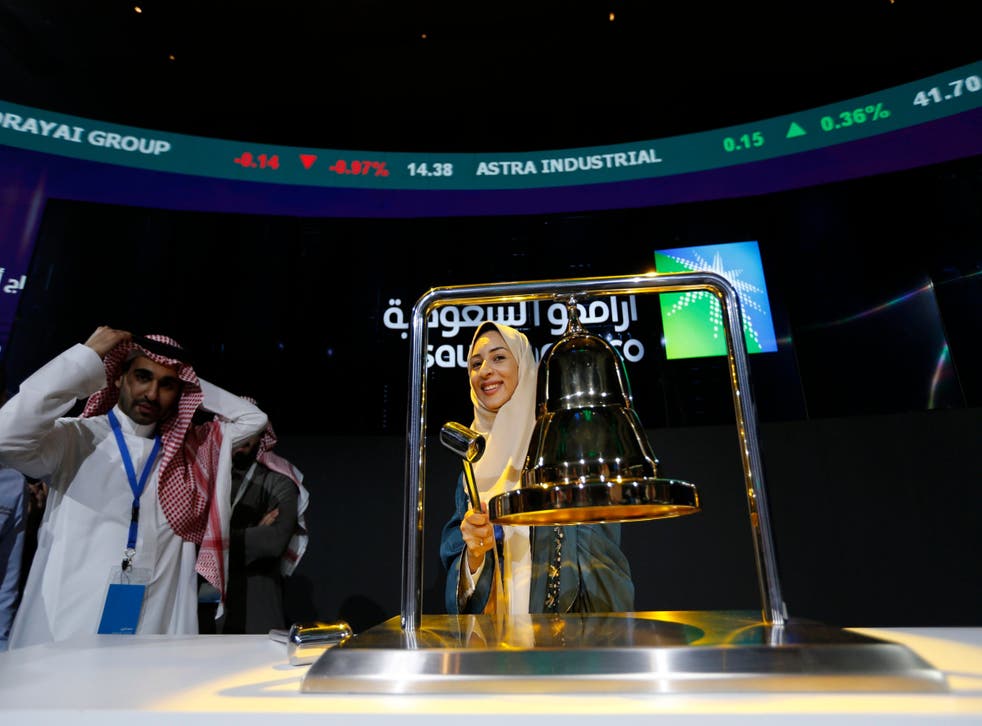 Shares in Saudi Arabia's state oil company, Aramco, have soared after a record-breaking $25.6bn (£19.5bn) stock-market debut.
Saudi Aramco saw its value jump to almost $1.9 trillion on Wednesday, cementing its position as the world's most valuable company, eclipsing Apple, Amazon and Microsoft.
However, Aramco is still short of the $2-trillion price tag initially sought by Saudi Arabia's crown prince, Mohammed bin Salman.
Aramco sold 0.5 per cent of its shares on Saudi Arabia's Tadawul stock exchange after scaling back its plans in the face of weaker-than-expected demand from international investors.
Despite the climbdown, Aramco's initial public offering (IPO) is still the biggest in history, eclipsing Alibaba's record $25bn listing in 2014.
World news in pictures

Show all 50
Aramco is now worth more than the next five largest oil companies – Exxon Mobil, Total, Royal Dutch Shell, Chevron and BP – combined.
Stock markets in London and New York had been among those fighting to attract Aramco's listing, but Saudi Arabia ended up selling shares only on the Tadawul, mainly to local investors.
Prior to the sale, concerns about climate change and a high valuation led to weak international demand for the oil giant's shares.
Environmental groups hailed that lukewarm level of interest as a potential turning point and a warning to investors about the future of fossil-fuel firms. Aramco is responsible for more carbon-dioxide emissions than any other company in the world.
The IPO had initially been expected to generate $300m of fees for banks including JPMorgan Chase, Bank of America, Goldman Sachs, Morgan Stanley, Citigroup, HSBC, and Credit Suisse, but that forecast was subsequently revised down to $90m.
Aramco has been the source of trillions of dollars in wealth for the Saudi royal family since it first struck oil in 1938.
The company, which supplies about a tenth of the world's crude, was hit by drone attacks on its facilities in September that temporarily wiped out more than half of its output.
Saudi Arabia is currently leading a move to cut oil supplies, keeping prices high and boosting Aramco's profits. The Saudi energy minister, Prince Abdulaziz bin Salman, told Reuters last week that he believed Aramco's true value was higher than the IPO price.
"I cannot wait to see the faces of people who missed that opportunity and how they will be chewing their thumbs," the minister said.
Register for free to continue reading
Registration is a free and easy way to support our truly independent journalism
By registering, you will also enjoy limited access to Premium articles, exclusive newsletters, commenting, and virtual events with our leading journalists
Already have an account? sign in
Register for free to continue reading
Registration is a free and easy way to support our truly independent journalism
By registering, you will also enjoy limited access to Premium articles, exclusive newsletters, commenting, and virtual events with our leading journalists
Already have an account? sign in
Join our new commenting forum
Join thought-provoking conversations, follow other Independent readers and see their replies