Nearly half of supermarket workers earn below real living wage, report says
Retail giants condemned for failing to pay staff 'that bit extra'
Adam Forrest
Wednesday 13 January 2021 10:15 Comments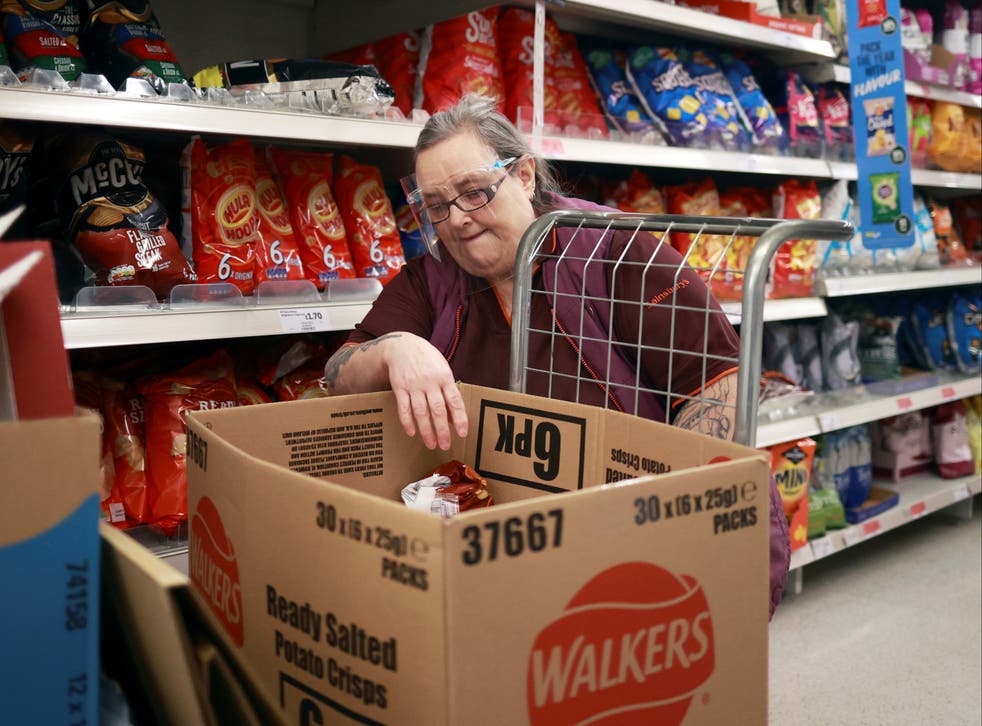 Britain's supermarkets have been urged to boost wages for their lowest-paid workers following a new report showing 45 per cent of staff still earn below the real living wage.
Despite the vital role supermarket workers have played during the coronavirus pandemic, Citizens UK said almost half of employees earned less than the amount deemed enough to live on – currently £9.50 per hour outside of London and £10.85 per hour in the capital.
The campaign group claimed 410,000 underpaid staff working behind the tills, stacking shelves and keeping the food supply chain should be given "that bit extra".
Matthew Bolton, executive director at Citizens UK, said: "Even with the economic carnage caused by the pandemic, over 1,000 new employers have managed to find the money to become real living wage employers and pay the lowest waged staff that bit extra."
He added: "Whilst some employers are really struggling, supermarkets are experiencing bumper sales ... It is unacceptable."
The government's statutory living wage – a rebranded version of what used to be known as the minimum wage – remains at £8.72 an hour for employees over the age of 25 and £8.20 for those under 25. However, some 7,000 employers in the UK have voluntarily signed up with the Living Wage Foundation to pay higher, real living wage rates.
Campaigners also expressed concerned supermarket workers continue to struggle to get regular full-time hours to help them pay their bills.
Supermarket employees work 28 hours per week, on average, in comparison to 37 hours across all sectors, according to the most recent data from the Office for National Statistics (ONS).
One Sainsbury's employee of almost 25 years, who has recently had to get a second job to cover their bills, said: "Two and a half years ago we stopped getting paid for our breaks so now when I work a six-hour shift I only get paid for five hours and 40 minutes – the system they use automatically deducts a 20-minute break from your clocking in card.
"In effect for a six-hour shift I'm only getting £8.78 an hour. I've had to get a second job because I was struggling to pay the bills on this job alone. We're the backbone of the company at the moment and deserve better."
Supermarkets also have some of the country's largest pay gaps, with Tesco, Morrisons and Ocado among the top 10 companies on the FTSE 350 with the biggest gaps in earnings between CEOs and low-paid staff, according to recent research by the High Pay Centre.
December was a record month for British supermarkets, with shoppers spending nearly £12bn – the highest Christmas trading result on record.
Morrisons announced a new pay deal on Wednesday – guaranteeing staff will get paid at least £10 an hour. CEO David Potts said: "It's a symbolic and important milestone that represents another step in rewarding the incredibly important work that our colleagues do up and down the country."
A spokesperson for Ocado said all staff "receive the real living wage, including premiums, across all sites". An Asda spokesperson said: "Asda pays well above the national living wage as set out by the government and continues its commitment never to employ 'zero hours' contracts."
The Independent has also contacted Sainsbury's and Tesco for comment on low pay, and also asked Sainsbury's for comment on unpaid staff breaks.
Register for free to continue reading
Registration is a free and easy way to support our truly independent journalism
By registering, you will also enjoy limited access to Premium articles, exclusive newsletters, commenting, and virtual events with our leading journalists
Already have an account? sign in
Join our new commenting forum
Join thought-provoking conversations, follow other Independent readers and see their replies