Tesco accused of using electronic armbands to monitor its staff
Supermarket grades employees on efficiency and can reprimand them for breaks, says ex-worker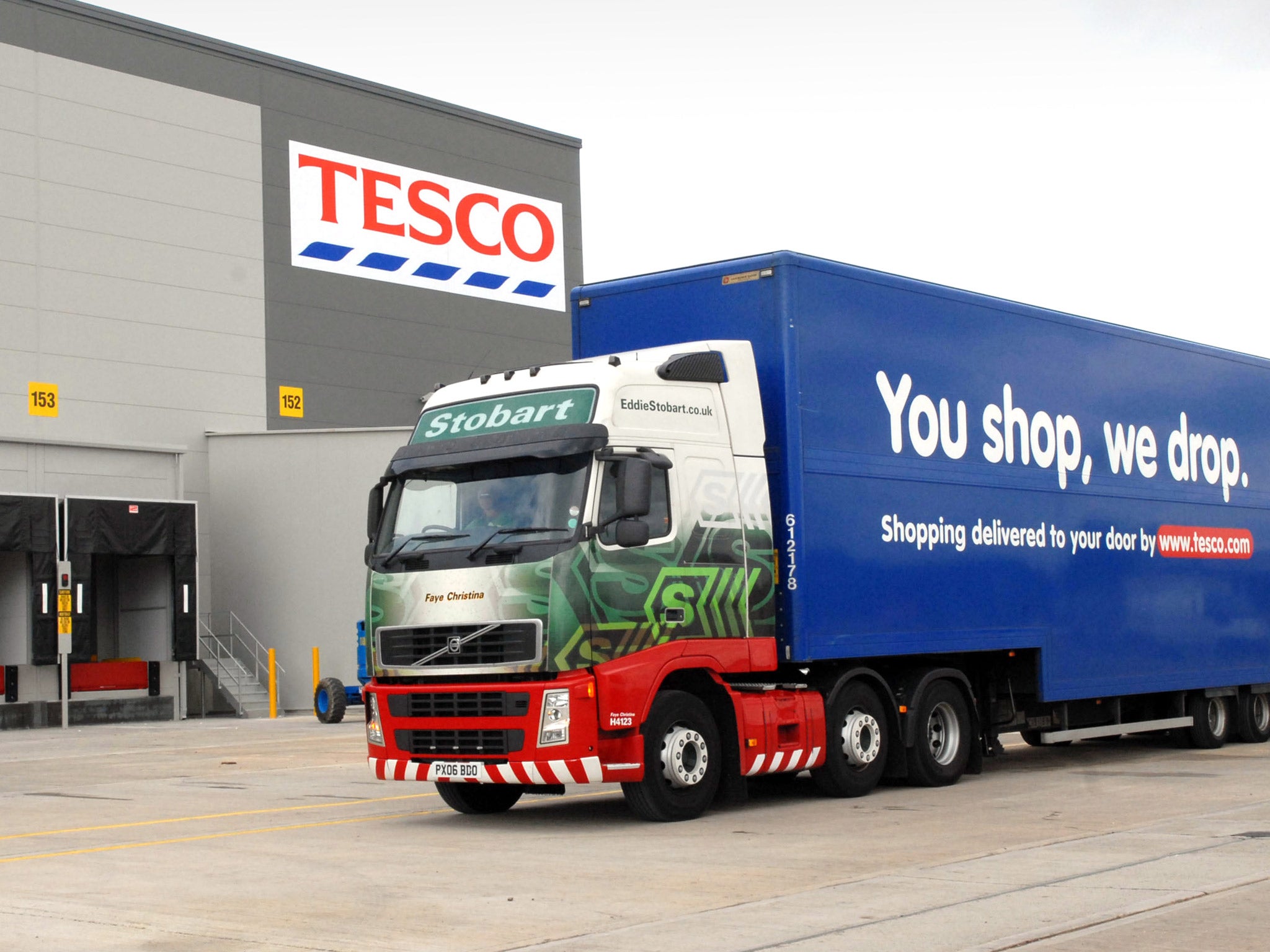 Tesco workers are being made to wear electronic armbands that managers can use to grade how hard they are working.
A former staff member has claimed employees are given marks based on how efficiently they work in a bid to improve productivity and can be called in front of management if they take unscheduled toilet breaks.
The armbands are worn by warehouse staff and forklift drivers, who use them to scan the stock they collect from supermarket distribution points and send it out for delivery. Tesco said the armbands are used to improve efficiency and save its staff from having to carry around pens and paper to keep track of deliveries. But the device is also being used to keep an eye on employees' work rates, the ex-staff member said.
The former employee said the device provided an order to collect from the warehouse and a set amount of time to complete it. If workers met that target, they were awarded a 100 per cent score, but that would rise to 200 per cent if they worked twice as quickly. The score would fall if they did not meet the target.
If, however, workers did not log a break when they went to the toilet, the score would be "surprisingly lower", according to the former staff member, who did not want to be named but worked in an Irish branch of Tesco. He said that some would be called before management if they were not deemed to be working hard enough. "The guys who made the scores were sweating buckets and throwing stuff around the place," he said. He said the devices put staff under huge pressure and many of his colleagues using them in Ireland were eastern Europeans, with limited English. He said lunch breaks did not result in staff being marked down. Tesco confirmed that the devices were also in use across its UK stores.
Tesco in Ireland told the Irish Independent that a "break" function could be used to register genuine stoppages and around 25 minutes had been allowed per day for that. But any other time would be monitored. A Tesco spokesman told The Independent: "Arm-mounted terminals are a working aid and at no time are they used to monitor colleagues while on their breaks. They make it easier for our colleagues to carry out their role as they don't need to carry paperwork around the distribution centre."
According to one expert, the laws surrounding surveillance at work give employers a lot of liberty. But Peter Daly, a solicitor at Bindmans LLP, added that firms risked possible lawsuits if employees felt they were being discriminated against.
He said: "There is not a huge problem with surveillance itself as far as the law is concerned, the issue is the data that is taken from it. In principle, there is nothing stopping you watching what your members of staff do; huge numbers of workplaces keep their CCTV footage for a long time, for example.
"With this information, there is a question about how it is stored, what it is stored for and whether people can understand it. If this is personal information, then the subjects are entitled to receive it under the Data Protection Act. Employers should be careful... because it could potentially be disclosed in a discrimination claim."
Big Brother: Devices for keeping tabs on workers
Driven away
Delivery firms have long used GPS tracking systems to keep track of where their drivers whereabouts in order to help predict delivery times. It is also helpful for making sure the drivers are working as hard as their managers desire, of course. But the drivers have now begun fighting back by jamming the signals.
One report, published yesterday, said that the high rate of GPS jamming incidents during rush hour suggested many of the drivers were finding a way to moonlight away from the electronic eye of their bosses.
A 12-volt jamming device can be bought for as little as £30, according to Techworld – but worryingly, there are concerns that the devices could also block devices used by air traffic.
Heartbroken
When Sam Allardyce took over as manager of an under-performing Newcastle United in 2007, he was viewed as one of football's most scientifically minded bosses. He soon rigged all of his players up to heart-rate monitors for a pre-season friendly to see who was working hard and who was not. The motivational technique did not appear to work, however. Allardyce was sacked soon afterwards.
Clocking it
An older method for keeping tabs on staff came when the time clock was invented in 1888. The operation is simple: cards bearing employees' names are inserted into a clocking machine, which timestamps them.
They allow managers to keep an eye on when staff "clock in" and "clock out" and provide one of the most enduring sources of motivation for staff to turn up on time.
Quality control
Staff working in many call centres are constantly monitored for that well-known recorded telephone phrase: "quality and training purposes". Knowing that a manager may be listening in or checking up on how many calls workers have made may be the motivational push they need.
Join our commenting forum
Join thought-provoking conversations, follow other Independent readers and see their replies