Tesco mocked by Living Wage campaign group in doctored supermarket price tags
Campaign calls on Tesco to pay the Living Wage to all staff in doctored price tags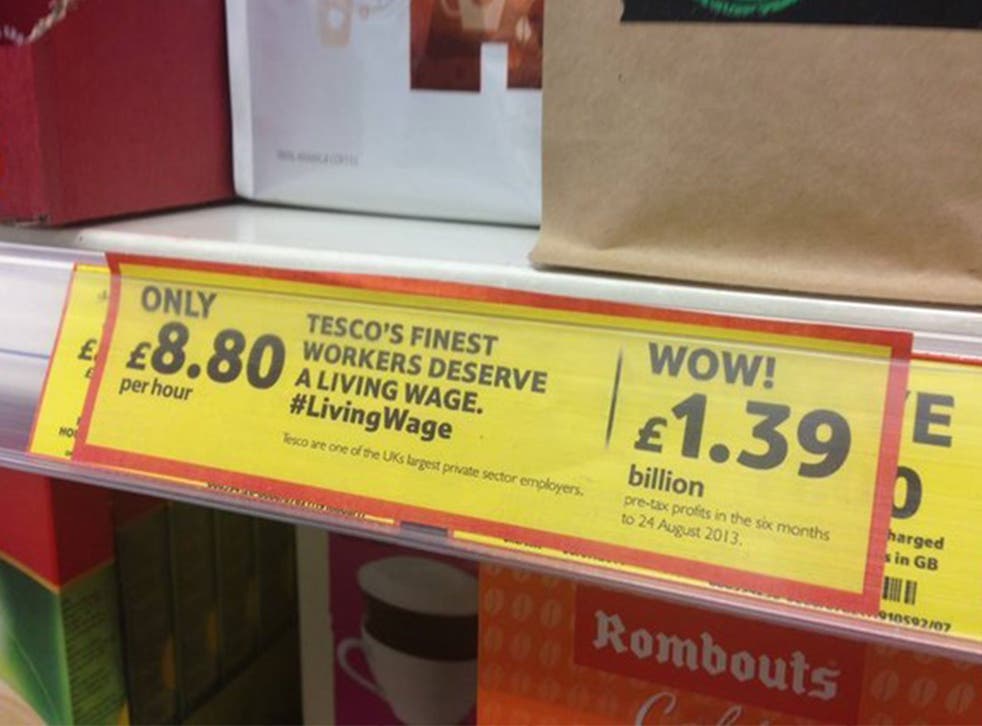 A campaign group calling on Tesco to adopt the Living Wage has sabotaged its price tags ahead of the supermarket's annual general meeting on Friday.
Citizens UK and ShareAction, a non profit organisation, have launched an online petition demanding Britain's largest supermarket chain commits to paying staff a Living Wage.
As part of the campaign, the group has altered some of Tesco's price tags to show £8.80, followed by "Tesco's finest workers deserve a Living Wage".
Citizens UK organiser, Stefan Baskerville, said. "Working with ShareAction we are calling on Tesco to consider how implementation of the Living Wage could help tackle in-work poverty for their lowest paid staff.
"The Living Wage is a robust calculation that reflects the real cost of living, rewarding a hard day's work with a fair day's pay."
The petition echoes remarks made by the Living Wage Commission, which today urged the Government to increase the number workers on the Living Wage to one million by the end of 2020 in an effort to end the "national scandal" of poverty in the UK.
Its chairman, the Archbishop of York, Dr John Sentamu, hailed the campaign for a Living Wage as a "beacon of hope for millions of workers on low wages struggling to make ends meet".
He also called on the Government, as the largest employers of low-paid workers, according to the report, to "end the strain on all of our consciences" by taking up a higher rate.
The Living Wage is currently set at £8.80 an hour in London and £7.65 elsewhere, compared to the national minimum wage of £6.31
The ShareAction/ Citizens UK online petition has received more than 23,000 signatures so far and will be delivered to the Tesco board at its AGM in London by a former supermarket employee on Friday.
Under fire chief executive Philip Clarke can also expect some tough questions from shareholders o about how he plans to turn the supermarket around as it battles discount grocers Lidl and Aldi.
A Tesco spokesperson added:"We pay one of the highest hourly rates in the industry, on average between five and eight per cent more than our major competitors.
"The Living Wage only recognises basic pay, but our reward package is much broader than that. When our colleague discount, Shares in Success scheme and employer pension contributions are taken into account, all our staff receive above the living wage, both in London and in the rest of the UK."
Join our new commenting forum
Join thought-provoking conversations, follow other Independent readers and see their replies