TGI Fridays workers strike over tips policy and low wages
Unite union warns that restaurant chain it will face a 'summer of disruption' unless dispute is resolved
Ben Chapman Comments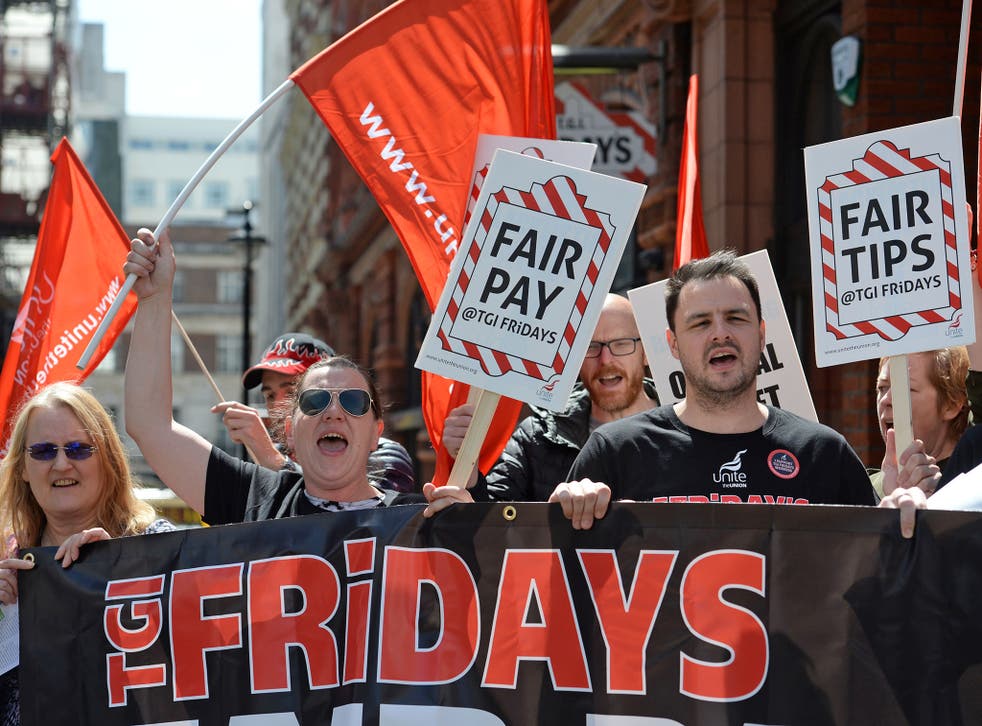 Workers at two branches of TGI Fridays took strike action on Friday over changes to the company's tips policy that they say will cost them hundreds of pounds.
Workers also allege that the company has paid people less than the minimum wage in some instances.
Members of the Unite union at restaurants in Milton Keynes and London's Covent Garden walked out on Friday in protest at a policy to give 40 per cent of card tips earned by waiting staff to kitchen workers.
Unite said staff will lose up to £250 per month under the new system, adding that it believed TGI Fridays' motivation for changing its policy was to slow down the turnover of low-paid kitchen staff without having to give them a pay rise, the union said.
One employee striking at the TGI Fridays in Covent Garden who has worked at the chain for more than a decade said she is taking a 15 to 20 per cent pay cut as a result of the change announced in February.
"I think the kitchen should have an enormous pay rise, I just don't understand why I'm funding it," she said.
"We are on the minimum wage. I don't have money to spare at the end of the week. Why am I paying for the kitchen?"
"Our cleaners are the lowest-paid people in the building but they're not sharing tips amongst the cleaners. We couldn't open the restaurant if they hadn't cleaned it. They're not sharing it with the door hosts.
"In no sense is this about fair pay," she said.
Kitchen workers at the restaurant chain have historically been paid more than staff waiting tables. As the minimum wage has risen for staff who serve customers, the company has kept down pay rates for those in the kitchen, eroding some of the differential between the two groups.
This has made it harder to recruit staff with the required skills, Unite said.
Workers at two further TGI Fridays restaurants – in the Trafford Centre, Greater Manchester, and Haymarket in London – also plan to strike, with the first walkout to take place on 25 May.
Unite warned that the restaurant chain would face a "summer of disruption" unless the dispute is resolved.
Unite regional officer Dave Turnbull said: "Our members have sent a very clear message that they will not roll over and be bullied into having their tips taken, without any consultation and with just two days' notice – a move that will leave waiting staff up to £250 a month worse off.
"This isn't about minimum wage servers not wanting to share with their kitchen colleagues. It's about a company whose shareholders have gotten so greedy that they no longer want to pay their hardworking staff anything above the bare minimum."
Mr Turnbull also alleged that the restaurant chain had made a number of breaches of minimum wage laws. Managers have told staff working on the minimum wage to take extended, unpaid breaks and unpaid overtime, he alleged.
TGI Fridays was fined in March for failing to pay staff the National Minimum Wage. The company was ordered to repay £25 each to 2,300 staff for the purchase of black work shoes.
A TGI Fridays spokesperson said: "Our team members are a part of our Fridays family, and we care about them. We believe all our team members should be – and are – treated and paid fairly.
"Despite this, a small number at Milton Keynes Stadium and Covent Garden have voted to strike. We are listening to them and are collectively working to find a resolution.
"In the meantime, we will be doing all we can to ensure our guests receive the usual great dining experience and that the restaurant remains open as normal."
Register for free to continue reading
Registration is a free and easy way to support our truly independent journalism
By registering, you will also enjoy limited access to Premium articles, exclusive newsletters, commenting, and virtual events with our leading journalists
Already have an account? sign in
Join our new commenting forum
Join thought-provoking conversations, follow other Independent readers and see their replies