Trump tariffs are threat to both global trade and US economy, say IMF
'It would be serious, not only if the United States took action, but especially if other countries were to retaliate,' says IMF director Christine Lagarde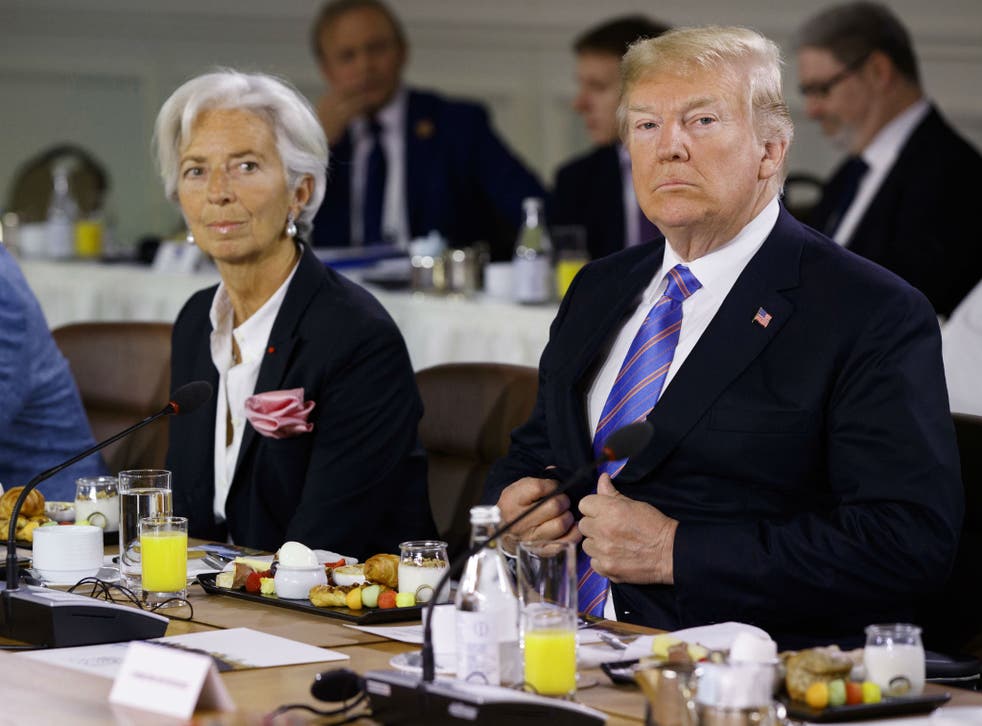 The International Monetary Fund (IMF) has warned that Donald Trump's controversial new import tariffs pose a stark threat to the global trading system and will ultimately damage the US economy.
Christine Lagarde, the IMF's managing director, said President Trump's new tariffs could have a "macroeconomic impact" should other trading partners retaliate.
Since Mr Trump and his administration announced plans to impose tariffs on aluminium and steel imports, staunch US allies the European Union, Mexico and Canada have already threatened to retaliate against Washington.
"Let us not understate the macroeconomic impact," Ms Lagarde said. "It would be serious, not only if the United States took action, but especially if other countries were to retaliate, notably those who would be most affected, such as Canada, Europe, and Germany."
In a new report, the IMF said: "These measures ... are likely to move the globe further away from an open, fair and rules-based trade system, with adverse effects for both the US economy and for trading partners,".
The IMF's warning comes ahead of the anticipated release of the Trump administration's decision to impose tariffs on $50 billion worth of Chinese products. The administration announced plans to publish a list of Chinese products subject to tariffs by 15 June.
Mr Trump already shocked global leaders when he backed out of signing the joint G7 communiqué calling for free, fair and mutually beneficial trade last week. He notably called Justin Trudeau "dishonest" and "weak" in a Twitter tirade after Mr Trudeau said Canada would defend itself against the now tariffs.
Canadian PM Trudeau says new tariffs announced Trump are unacceptable
"Based on Justin's false statements at his news conference, and the fact that Canada is charging massive Tariffs to our US farmers, workers and companies, I have instructed our U.S. Reps not to endorse the Communique as we look at [tariffs] on automobiles flooding the U.S. Market!" Mr Trump wrote in a tweet.
IMF also noted that recent spending and tax measures could threaten US economic growth by 2020 and beyond. While the organisation's analysis predicts the US economy will grow by 2.9 per cent in 2018, it predicts it will slow significantly in coming years – likely to 1.7 per cent in the long-term.
US Treasury Secretary Steven Mnuchin said in a statement that Washington and the IMF "differ significantly on the medium and long term projections."
World news in pictures

Show all 50
Ms Lagarde previously said the global economy was "getting darker by the day" in a press conference in Berlin following the G-7 summit – and Mr. Trump's decision to back out from the statement over trade.
"The clouds on the horizon ... are getting darker by the day," she said. "The biggest and darkest cloud that we see is the deterioration in confidence that is prompted by [the] attempt to challenge the way in which trade has been conducted, in which relationships have been handled and the way in which multilateral organisations have been operating," she added.
Register for free to continue reading
Registration is a free and easy way to support our truly independent journalism
By registering, you will also enjoy limited access to Premium articles, exclusive newsletters, commenting, and virtual events with our leading journalists
Already have an account? sign in
Register for free to continue reading
Registration is a free and easy way to support our truly independent journalism
By registering, you will also enjoy limited access to Premium articles, exclusive newsletters, commenting, and virtual events with our leading journalists
Already have an account? sign in
Join our new commenting forum
Join thought-provoking conversations, follow other Independent readers and see their replies