Uber Eats and Deliveroo riders to strike alongside McDonald's, Wetherspoons and TGI Fridays employees
Industrial action dubbed 'McStrike', aims to highlight 'poverty pay' and insecure working in UK hospitality industry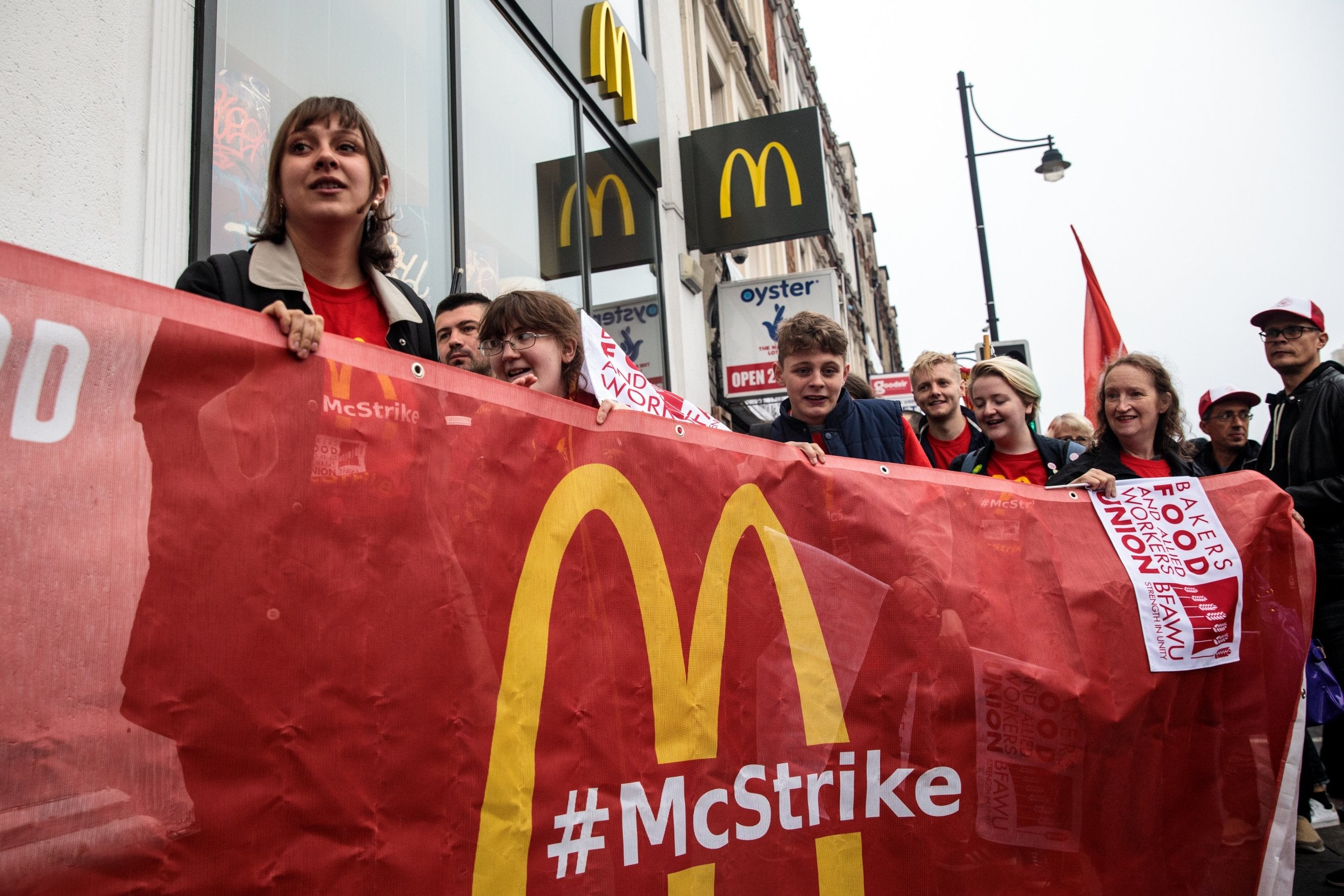 Riders for Deliveroo and Uber Eats are joining forces with staff at McDonald's, Wetherspoon's and TGI Fridays to stage coordinated strikes on Thursday.
The industrial action, which has been dubbed "McStrike", aims to highlight the issue of "poverty pay" and insecure working in the UK hospitality industry.
Workers in two Wetherspoon's pubs will walk out on 4 October alongside staff from four McDonald's chains and three TGI Fridays restaurants.
Some Uber Eats couriers have said they will not log-on to the app, in protest over a cut in the rates for deliveries. They are demanding £5 per drop & £1 per mile as a minimum rate.
Matt Rouse, a striking kitchen worker at Wetherspoon's Bright Helm pub in Brighton said he had been inspired by his co-workers to "call out injustice in our workplaces".
He added: "We are determined to stand together and make our demands for £10 an hour for all, and union recognition heard.
"This is only the beginning, we will keep fighting for everyone, for better wages and rights for hospitality workers across the country"
The hospitality sector employs around 4.5 million people – ten per cent of the UK's working population. But its workers have not traditionally organised to demand better pay and conditions, making the current strike significant, despite its small scale.
Shadow chancellor John McDonnell backed the action and reiterated Labour's plan to give all workers a living wage of £10 an hour.
"I am giving my support to the striking workers in Wetherspoons, TGI Fridays and McDonald's today," he said.
"These are workers that have been ignored by their employers and are simply asking for a wage they can live on and the same basic rights at work we should all be entitled to."
Boni Adeliyi, a TGI Fridays waitress in Milton Keynes said: "We're striking on 4 October to show the strength we have when workers come together. The movement is growing and change is coming. All young workers should join a union – it's important to know your rights and how to fight for them when they're being ignored. Together we are stronger."
Striking McDonald's worker Lauren McCourt said the industrial action could transform the sector for the better.
"The days of poverty pay, insecure contracts and lack of respect for workers are numbered. A living wage of £10 an hour for all ages, security of hours, and our right to a union are the basic rights we are fighting for," she said.
The strikers plan to convene a rally in Leicester Square on the day of the industrial action. They say they will be joined by hospitality workers from across the UK as well as from four continents.
A growing movement of low-paid workers, particularly in the fast-food industry, has come together over recent years, catalysed by the Fight for $15 campaign in the US.
A McDonald's spokesperson said the company was "disappointed" to hear about planned UK strikes and said the numbers of people involved represented an "extremely small proportion" of its 120,000 workforce.
"This is against a backdrop of more people choosing to join our business, with more than 1,000 new managers recruited in the past year."
Wetherspoon spokesperson Eddie Gershon said rates of pay at the pub chain were increasing as they are in the economy generally.
"We are also moving to the same rate for 18-21s as we already have for over 21s from 5 November 2018," he said.
"In addition, we are putting up the rate of pay. In the last financial year we paid record monthly bonuses and free shares of £43 million, equivalent to about 50 per cent of our net profits."
UberEats also defended its rates of pay. "Last week couriers using our app in cities across the UK took home an average of £9-10 per hour during mealtimes, with many also using other delivery apps," the company said in a statement.
Join our commenting forum
Join thought-provoking conversations, follow other Independent readers and see their replies