Bank of England downgrades GDP growth forecasts as Brexit looms
The Bank said it saw GDP growth of 1.7 per cent this year, down from 1.9 per cent it projected in May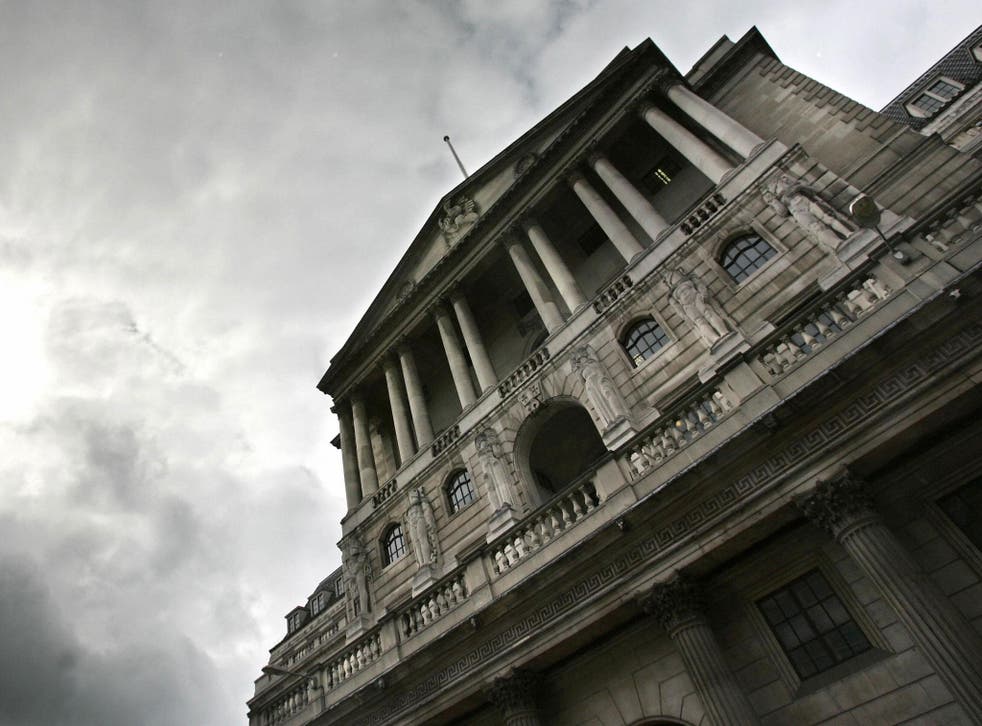 The Bank of England has downgraded its UK GDP growth forecasts for both this year and next, as it expects the economy to continue to struggle in the run-up to Brexit.
The rate-setting Monetary Policy Committee also voted, as expected, by six votes to two to keep interest rates on hold at 0.25 per cent.
However, the central bank also sought to send a hawkish message that a rate rise could still be coming sooner than markets currently expect.
The Bank said it saw GDP growth of 1.7 per cent this year, down from 1.9 per cent it projected in May. For 2018 it expects growth of 1.6 per cent, down from 1.7 per cent previously.
This comes after the Office for National Statistics last week reported disappointing quarterly GDP growth of just 0.3 per cent in the second quarter of 2017. The Bank expects a similarly "sluggish" quarterly outturn in the third quarter.
Growth has slumped since the end of 2016 as rising inflation, stemming from the plummet in sterling in the wake of the Brexit referendum vote, has hit households' real incomes. Business investment has also been suppressed by uncertainty over the post-Brexit trade arrangements for UK firms.
Financial markets are currently pricing in the first rate rise from the MPC in the third quarter of 2018, significantly sooner than they were expecting in May.
But the minutes of the MPC's meeting this week suggest that members still think that might not be soon enough, saying that if the economy develops as it currently expects "monetary policy could need to be tightened by a somewhat greater extent".
Despite the majority vote for a rate hold this week that warning could be taken a hawkish signal from the MPC by markets.
The Bank's inflation forecast was largely unchanged from May. It expects inflation, currently at 2.6 per cent, to peak at 2.7 per cent in the final quarter of this year and to gradually fall to 2.2 per cent over the next three years, slightly above the Bank's official 2 per cent target.
The Bank reiterated that its forecast were predicated on the assumption of a "smooth" Brexit in 2019, implying that a no deal "cliff-edge" in two years would do severe damage.
Several Cabinet ministers, led by the Chancellor Philip Hammond, have been pushing for a transition deal for the UK with the European Union after March 2019, meaning Britain could remain in the single market and customs unions for a period. However, others, such as the International Trade Secretary Liam Fox, have cast doubt on such an outcome.
Average wage growth has been weak since May, falling below the rate of inflation, and the Bank has now downgraded its nominal wage growth forecast for 2018 to 3 per cent, down from 3.5 per cent previously. The 2019 forecast is 3.25 per cent, down from 3.75 per cent previously.
Business news: In pictures

Show all 13
Speculation had risen of a possible rate hike by the Bank in June and July after three MPC members unexpectedly voted to put up the cost of borrowing to curb rising prices in June. The Bank's chief economist, Andy Haldane, also, surprisingly, said that he was also minded to vote to increase rates in the second half of the year.
However, most of the economic data released over the past month has disappointed and Mr Haldane ultimately voted to keep rates on hold this month. The two members who continued to vote for a rate rise were external members Michael Saunders and Ian McCafferty. The third hawk, Kristin Forbes, has now left the committee, replaced by Silvana Tenreyro, who voted to keep rates on hold at their current record low.
Surveys have suggested that investment intentions of firms are relatively strong. But the Bank nevertheless downgraded its investment growth forecasts for this year to 1 per cent, down from 1.75 per cent previously. It also slashed its 2018 forecast to 2.75 per cent, down from 3.25 per cent in May. "The anticipation of Brexit and related uncertainties are likely to dampen investment growth somewhat," it said.
Over 2016 business investment fell for the first time in a calendar year since the financial crisis a decade ago.
In May the markets were pricing in just a single rate rise over the next three years and it would not occur until the end of 2019. Now they are pricing in two rises of the Bank's forecast horizon, with the second to occur in the first half of 2020.
Register for free to continue reading
Registration is a free and easy way to support our truly independent journalism
By registering, you will also enjoy limited access to Premium articles, exclusive newsletters, commenting, and virtual events with our leading journalists
Already have an account? sign in
Register for free to continue reading
Registration is a free and easy way to support our truly independent journalism
By registering, you will also enjoy limited access to Premium articles, exclusive newsletters, commenting, and virtual events with our leading journalists
Already have an account? sign in
Join our new commenting forum
Join thought-provoking conversations, follow other Independent readers and see their replies