UK manufacturing sector given a boost in January - but expansion remains 'muted'
Firms were aided by the slump in oil prices
Antonia Molloy
Monday 02 February 2015 13:25 Comments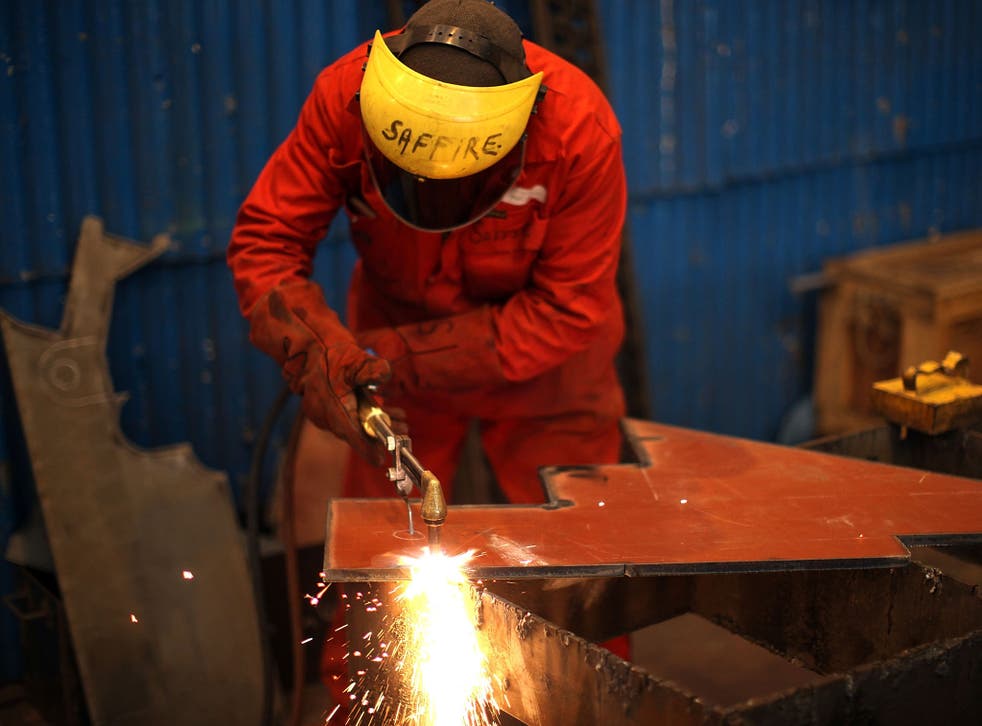 The UK's manufacturing sector was given a boost at the start of the year by sliding oil prices – but remains "stuck in a low gear", according to figures released today.
The seasonally adjusted Markit/CIPS Purchasing Manager's Index (PMI) rose to a better-than-expected 53.0 in January - a figure above 50 represents growth. It was up from 52.7 in December.
Firms were aided by the slump in oil prices which fed through to the steepest drop in input costs for nearly six years and they also cut their selling prices for only the second time during the past five years.
Rob Dobson, senior economist at Markit, said this could soon change following European Central Bank President Mario Draghi's €1.1 trillion (£827 million) quantitative easing boost for the eurozone.
Dobson said: "UK factories reported a welcome upturn in growth of output and order books at the start of the year, but producers clearly remain stuck in a low gear.
"The rate of expansion remains muted, however, with output rising at a quarterly pace of around 0.2 per cent in January, barely improving on the 0.1 per cent registered in the final quarter of last year. At this rate, the sector will provide little meaningful boost to the economy in the first quarter."
Staffing numbers rose at their lowest level for three months, though jobs are still being added at a rate of around 5,000 a month.
Official figures show the manufacturing sector grew by just 0.1 per cent in the final quarter of 2014, its slowest pace since the start of 2013, knocking hopes from a rebalancing of the economy.
The wider UK recovery from the downturn has been driven by the dominant services sector and consumer demand while manufacturing remains well off the levels it had reached before the recession struck in 2008.
David Noble, group chief executive officer at the Chartered Institute of Procurement & Supply, said: "Manufacturers were picking up the pace a little as the sector reported a marginal increase in activity driven by domestic demand which continued to show signs of life. Though the overall index showed a modest increase, it may be enough to allay fears of an overall slowdown in the UK economy as the eurozone continues to experience problems."
He added: "The world's eyes will be focused on reactions to eurozone deflation and a response to the UK's disinflationary pressures and how all this will be played out for manufacturing in the months ahead."
Additional reporting by Press Association
Register for free to continue reading
Registration is a free and easy way to support our truly independent journalism
By registering, you will also enjoy limited access to Premium articles, exclusive newsletters, commenting, and virtual events with our leading journalists
Already have an account? sign in
Join our new commenting forum
Join thought-provoking conversations, follow other Independent readers and see their replies