US Federal Reserve raises interest rates and flags quicker pace of tightening in 2017
The American central bank's Federal Open Market Committee (FOMC) voted 10-0 to increase rates and signalled three further hikes in 2017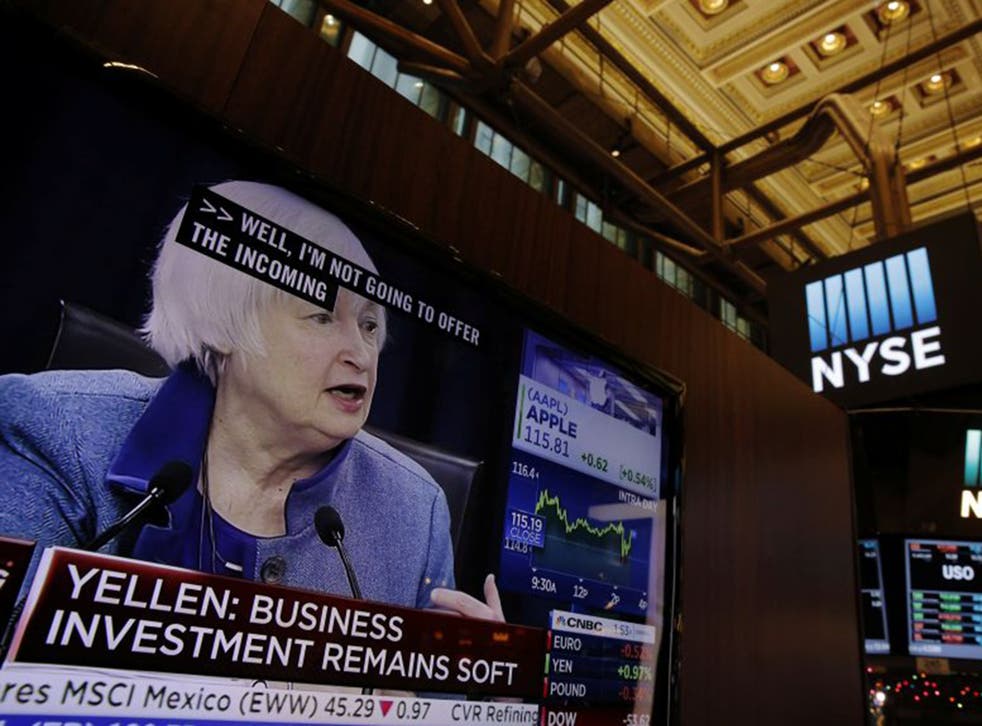 America's central bank has voted to increase interest rates, as universally expected, to between 0.5 and 0.75 per cent, but has also signalled three further rate hikes in 2017.
The Federal Reserve's Federal Open Market Committee (FOMC), chaired by Janet Yellen, voted 10-0 to increase rates.
It was the first increase in rates since December 2015, when they were lifted by 25 basis points from a corridor of 0-0.25 per cent to 0.25-0.5 per cent.
That had been the first increase since the global financial crisis of 2008-09.
The Fed's latest "dot plot" forecasts also suggest three increases in the rate of borrowing in 2017, up from the two foreseen in September.
The President-elect Donald Trump has promised a major boost to infrastructure spending and also tax cuts when he takes office in January – a fiscal stimulus that is expected to push up domestic inflation in America.
The US dollar index, which measures the value of the greenback against a basket of currencies, jumped to 101.7 from 101 in the wake the news of the Fed's apparently more hawkish orientation.
Two-year US Treasury bond yields rose to 1.231 per cent, the highest since August 2009, while the benchmark 10 year rate lifted 7 basis points to 2.547 per cent, the highest since September 2014.
In its statement, the Fed said that risks to the economy remain "roughly balanced" between factors that could slow or increase growth, which was no change from the language in its November assessment.
In her press conference, Ms Yellen stressed the change in the forecast was a "very modest adjustment".
But she did add that some members of the FOMC had factored in the possibility of a shift in US government fiscal policy.
"I would say that fiscal stimulus is not obviously needed to get us back to full employment. We have a strong labour market and a resilient economy," she said.
David Joy of Ameriprise Financial said the Fed had confounded the suggestion that it would stick rigidly to its previous forecast in order to "stay out of the way" of the incoming Trump administration.
"They chose to talk about and do exactly what they say the data is telling them," he said.
He added: "I applaud them for moving in this direction."
Aaron Kohli, of BMO Capital Markets, said: "They didn't mention the fiscal stimulus but typically their aggressiveness does indicate that there's a little more confidence that they can get away with three hikes next year."
But Jeremy Cook of World First said the Fed seemed "supremely uncertain" of the path of the US economy under Mr Trump.
"They've noted the strength in inflation and the jobs market but this is a central bank eager to know what kind of administration they will have to work with," he said.
"We are operating under a cloud of uncertainty at the moment," Ms Yellen conceded in her press conference
In the past Mr Trump has criticised the Fed's monetary stimulus and also Ms Yellen, whose term as chair expires in February 2018.
When asked about Mr Trump's criticism on Twitter of US corporations such as Boeing and Lockheed Martin, Ms Yellen ducked the question.
"I'm not going to offer the incoming president advice on how to conduct himself in policy," she said.
Join our new commenting forum
Join thought-provoking conversations, follow other Independent readers and see their replies