WeWork shelves £37.6bn IPO plans in latest sign new tech bubble may be deflating
Flexible office firm receives cool response from Wall Street investors even after slashing its valuation by more than half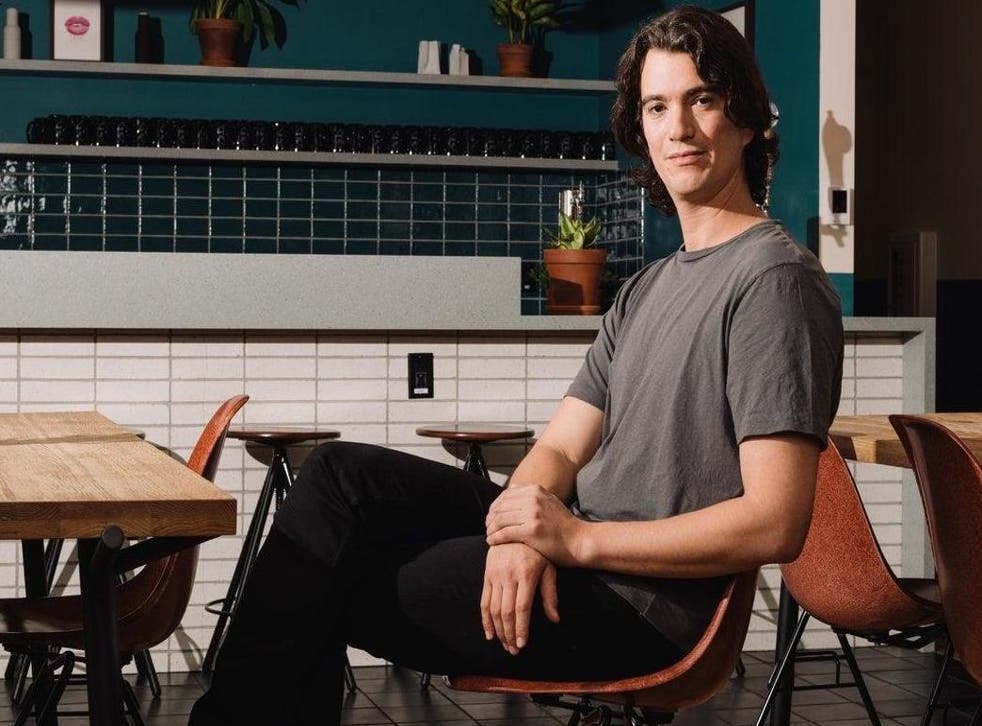 Flexible office provider WeWork has been forced to shelve its much-hyped stock market listing after receiving a cool reception from investors.
Once said to be chasing a $47bn (£37.6bn) valuation, WeWork has struggled to drum up interest at $15bn (£12bn) to $20bn (£16bn), which many analysts believe is still too high for a company that loses two dollars for every one it brings in in revenue.
Timing has also been a problem for WeWork, which is seeking to raise $3bn to $4bn through a listing after a string of loss-making tech firms have seen their shares tank following high profile initial public offerings (IPOs).
"The We Co. is looking forward to our upcoming IPO, which we expect to be completed by the end of the year," WeWork's parent, the We Company, said in a statement on Monday evening in New York.
"We want to thank all of our employees, members and partners for their ongoing commitment."
UK news in pictures

Show all 50
The value of WeWork's bonds dropped sharply after the news, suggesting that investors have less faith that the company will be able to service its debts.
WeWork's biggest backer, Japanese conglomerate SoftBank, recently called on the company to postpone its listing plans.
A listing at below a $47bn valuation would have exposed the full extent to which SoftBank overpaid when it purchased a stake at that price in January.
SoftBank and its $100bn (£80bn) Vision Fund, which is backed by Saudi Arabia's sovereign wealth fund, have so far invested or committed to invest $10.7bn (£8.5bn) in WeWork.
Yet on Friday, Reuters reported that WeWork insiders were now considering valuing the whole company at $10bn (£8bn).
The dramatic price cut indicates how desperate founder Adam Neumann is to get the sale moving and bring in some cash.
It will do little to inspire confidence among Wall Street investors who have become wary about overpriced technology firms this year.
Anyone who bought Uber shares when they listed in May will have lost about a fifth of their investment if they sold them today. Rival taxi app Lyft, which floated in March, is about 40 per cent down.
Beyond tech stocks, SmileDirectClub, which sells alternatives to orthodontic braces, managed to raise $1.35bn (£1bn) from investors before its shares plummeted 28 per cent in their first day's trading last week.
WeWork has been criticised in some quarters as an extreme example of hype over substance, having already racked up losses in excess of $3bn (£2.4bn) while spending freely on expansion. The firm leases offices on long-term contracts before renting them out on short-term contracts to companies and freelancers.
That leaves it potentially vulnerable in a downturn when its customers seek to cut costs by ending their tenancy. Despite the simple business model, WeWork markets itself as a technology company that is changing the way people work and has attempted to value itself accordingly.
Michael Hewson, chief market analyst at CMC Markets, summed up a widely held view: "It would appear that WeWork has missed the boat when it comes to getting investors to buy into an idea that has yet to prove profitable.
"With the company losing $2 for every $1 it makes, even a valuation as low as $15bn (£12bn) and $18bn (£14.4bn) hasn't been enough to whet investor appetite, particularly since a number of this year's unicorns are now languishing below their IPO launch prices.
"As Uber can attest, a popular business model doesn't always translate into a realistic valuation and looking at WeWork's numbers it is hard to make a case for the type of valuation being asked for now, let alone the one we saw at the beginning of the year."
Register for free to continue reading
Registration is a free and easy way to support our truly independent journalism
By registering, you will also enjoy limited access to Premium articles, exclusive newsletters, commenting, and virtual events with our leading journalists
Already have an account? sign in
Register for free to continue reading
Registration is a free and easy way to support our truly independent journalism
By registering, you will also enjoy limited access to Premium articles, exclusive newsletters, commenting, and virtual events with our leading journalists
Already have an account? sign in
Join our new commenting forum
Join thought-provoking conversations, follow other Independent readers and see their replies