Which is the fairest firm of all?
The 25 most ethical businesses have been named ahead of the UK Social Enterprise Awards 2013, sponsored by The Independent on Sunday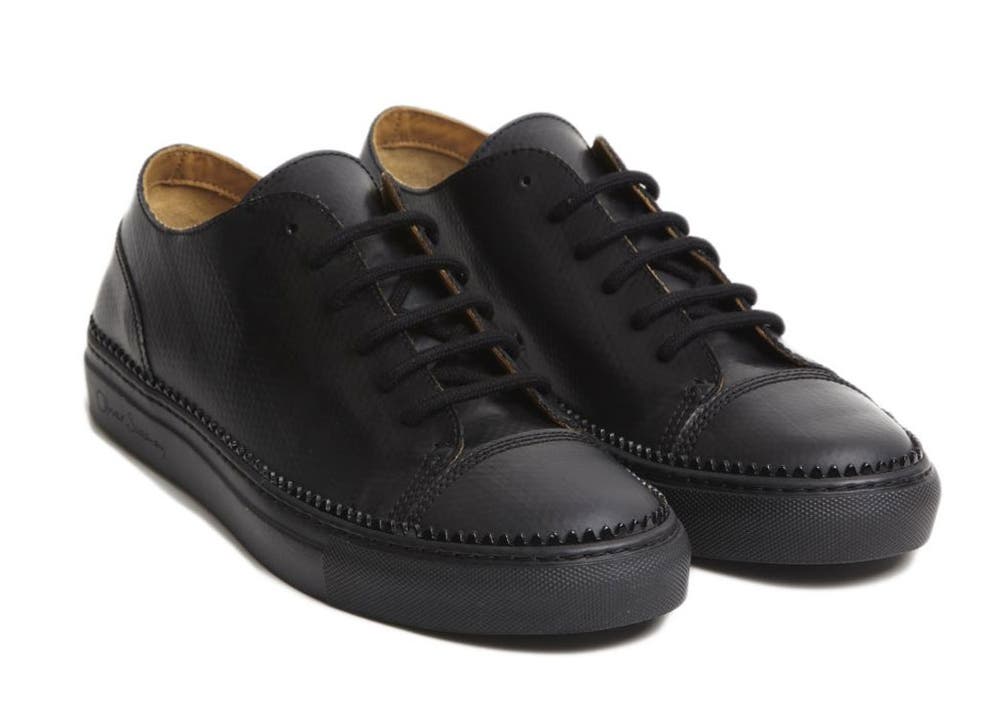 An accessories firm which is launching eco-friendly shoes made from used fire hoses has been named among the 25 most ethical companies in Britain.
The ethical luxury brand Elvis & Kresse has teamed up with men's shoe designer Oliver Sweeney to create the first "fire hose trainer". The decomissioned hoses would have been destined for landfill. The shoes go on sale this week, costing £195. Half the profits will go to the Fire Fighters Charity, which helps serving and retired fire fighters.
To celebrate businesses such as Elvis & Kresse, The Independent on Sunday is sponsoring the UK Social Enterprise Awards 2013. You can vote for your social enterprise "champion" and help recognise an outstanding individual who works, supports, or volunteers for a firm that is regenerating communities and changing lives. Nominations close on Friday. Ahead of the awards, Social Enterprise UK has compiled this list of the nation's 25 most ethical firms – from companies that sell Fair Trade pants, to those making iPad cases from recycled cement bags.
1. Elvis & Kresse elvisandkresse.com
Accessories made from reclaimed materials that would otherwise go to landfill.
2. From Babies With Love frombabieswithlove.org
Sells organic baby clothes and donates all profits to orphaned and abandoned children around the world.
3. Pants to Poverty pantstopoverty.com
Ethically made pants aim to raise "under-awareness" for Fair Trade clothing and help farmers in developing countries get a fair deal for their cotton.
4. Belu belu.org
The world's most ethical bottled water donates all its profits to the charity WaterAid.
5. Bikeworks bikeworks.org.uk
The award-winning bike-shop chain runs classes for those wanting to ride safely and confidently on London's roads and repair their own wheels. Staff includes the previously homeless.
6. Who Made Your Pants? whomadeyourpants.co.uk
Helps women from refugee communities learn language and business skills, while making lingerie from surplus materials.
7. The Lexi Cinema thelexicinema.co.uk
All of this north London cinema's profits go towards improving the quality of life for the people of Lynedoch Village in Stellenbosch, South Africa.
8. Dalston Roof Park dalstonroofpark.co.uk
This east London venue serves drinks, food, and even boasts bright green astroturf and an open-air cinema. Brad and Angelina were spotted here on one of their trips to London.
9. Rubies in the Rubble rubiesintherubble.com
Makes jams and chutneys from surplus fruit and vegetables taken from markets, and the workforce is made up of people struggling to find work.
10. Divine Chocolate divinechocolate.com
The hugely successful Fair Trade chocolate company which is 45 per cent owned by cocoa farmers. Farmers get a slice of the profits to invest in their communities.
11. Brigade thebrigade.co.uk
London Bridge restaurant that trains and supports homeless people to get qualifications in catering.
12. The Big Issue bigissue.org.uk
Many famous faces have graced the cover of The Big Issue, set up to give homeless people a chance to earn a legal income.
13. House of St Barnabas Hosb.org.uk
A private members' club in a listed building in Greek Street, Soho with fabulous interiors. Membership here supports those who have fallen on hard times to gain skills, experience and confidence ready for work.
14. Cafédirect cafedirect.co.uk
Works directly with smallholders to create Fair Trade tea, coffee and hot chocolate. There are no middlemen, and 75 per cent of their growers are shareholders. They also invest more than half their profits in growers.
15. Circus Space circusspace.co.uk
This social enterprise organises team-building workshops as well as hen, stag and birthday parties.
16. Elephant Branded elephantbranded.com
Ethical accessories made from cement bags. For each bag, iPad case or wallet bought, a school bag and kit is donated to a child in a developing country.
17. Fairphone fairphone.com
Smartphone made from conflict-free materials in a factory that treats its workers well. More than 13,000 have been ordered and, due to high demand, an additional batch is in production.
18. Galeri Caernarfon galericaernarfon.com
This complex is home to film, music, theatre, art, dance, comedy, workshops and more. The company was set up over two decades ago with the aim of improving Caernarfon town centre by buying derelict buildings.
19. Wilton's Music Hall wiltons.org.uk
The world's oldest surviving music hall near the Tower of London is part museum, part theatre, part bar. The charity receives no public funding.
20. Auto22 auto22.co.uk
A car servicing and repair business with four branches. Part of the national charity Catch22, it offers young people the chance to gain work experience.
21. Popup Bikes popupbikes.co.uk
Manchester's cycle café provides indoor cycle parking, changing facilities, bike repairs on demand and a coffee house.
22. Growing Concerns growingconcerns.org
Garden centre that improves public spaces in east London and runs free gardening classes.
23. Hoxton Street Monster Supplies monstersupplies.org
Sells everything an "urban monster" might need. The east London store funds creative writing and mentoring programmes for young people.
24. Better better.org.uk/
Leisure centres in which any surplus money is spent on improving services, either by training staff or upgrading facilities.
25. Ebico ebico.org.uk
A not-for-profit gas and electricity supplier aiming to offer a fairer deal for domestic energy.
Help choose a worthy winner
How to vote:
The Independent on Sunday is sponsoring the UK Social Enterprise Awards 2013 and we have our very own award to give away: the Social Enterprise Champion Award. If you know an exceedingly talented individual working to improve society – either in a social enterprise or in a public or corporate organisation – please send a nomination to socialenterprise@independent.co.uk or fill in a form at socialenterprise.org.uk/social-enterprise-awards-2013 before Friday 6 September. Your nominee could have created positive change in communities by demonstrating socially entrepreneurial skills or they may have simply shone a light on the sector and the work that it does. The awards will be presented by the comedian and broadcaster Sue Perkins on Wednesday 27 November.
Join our new commenting forum
Join thought-provoking conversations, follow other Independent readers and see their replies