Russia launches construction of gas pipeline to China in $400 billion deal
President Putin and Chinese vice-president Gaoli were present at ceremony in eastern Russia
Rose Troup Buchanan
Monday 01 September 2014 17:28 Comments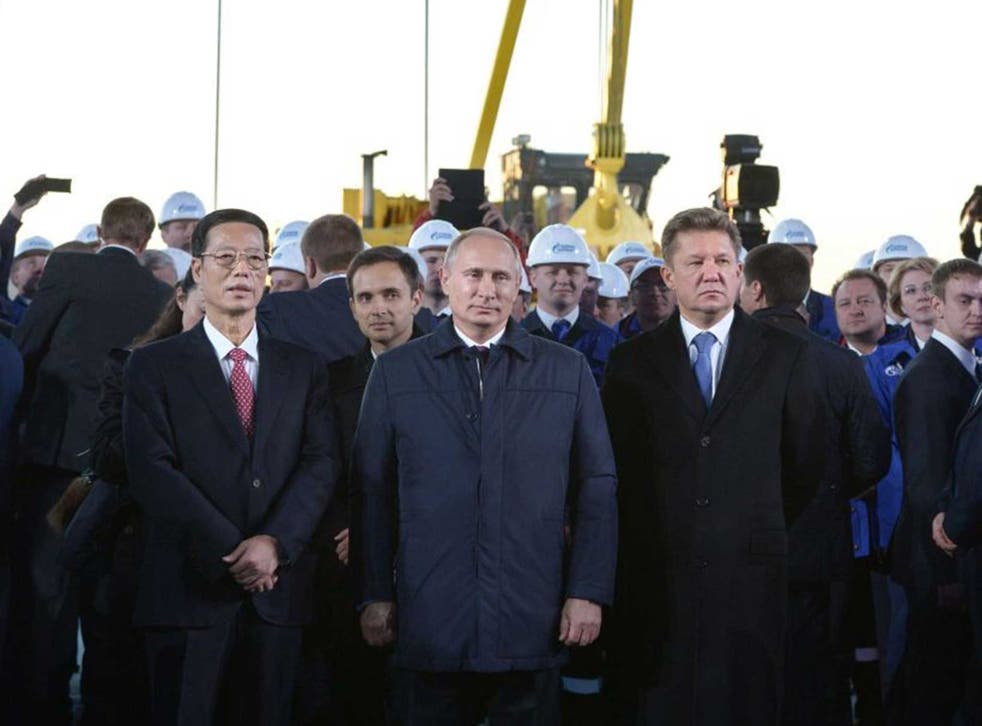 Russian president Vladimir Putin today launched the construction of what will be one of the largest gas pipelines in the world, stretching from China to the Russian Far East, in the village of Us Khatyn in Yakutia.
China's CNPC (China National Petroleum Corporation) agreed to a huge $400 billion (£237 billion) contract with Gazprom in May.
Russia will deliver 38 billion cubic meters of natural gas to China for a period of 30 years, through the 2,485 mile long pipeline.
Putin said today: "There will be no other larger project in this sphere in the near future".
The Power of Siberia gas pipeline's first stage is scheduled to be commissioned at the end of 2017. The pipeline will have an annual capacity of 61 billion cubic meters of natural gas.
The deal will lessen Russia's reliance on European buyers, who have imposed economic sanctions because of the situation in Ukraine.
"After we create a network of gas pipelines here, in the Far East and Siberia, we'll have a possibility to unite the European part of the gas pipeline system with its eastern part and, from the standpoint of export possibilities and expanding the geography of the country's gas infrastructure development, this will give us big advantages in rechanneling gas flows, depending on the world market situation - either to send more gas to the west and achieve greater effect or to the east," the Russian president said.
After the deal was first approved some British energy experts warned the move could drive up prices for European gas consumers - who are becoming increasingly dependent on Russian gas.
The Chinese vice-premier Zhang Gaoli also attended the ceremony, saying China will start construction of its side of the pipeline in 2015.
The first gas will be pumped from Siberia to China in early 2019.
China is Russia's largest single trading partner, with bilateral trade flows of $90 billion (£53 billion) in 2013 - and the two countries plan to double the volume to $200 billion in 10 years.
Register for free to continue reading
Registration is a free and easy way to support our truly independent journalism
By registering, you will also enjoy limited access to Premium articles, exclusive newsletters, commenting, and virtual events with our leading journalists
Already have an account? sign in
Join our new commenting forum
Join thought-provoking conversations, follow other Independent readers and see their replies