Markets live: FTSE 100 volatile amid US election uncertainty
With results trickling in from key swing states and Donald Trump vowing to contest the election in the courts if he loses, markets face a volatile time
Ben Chapman
Wednesday 04 November 2020 14:53 Comments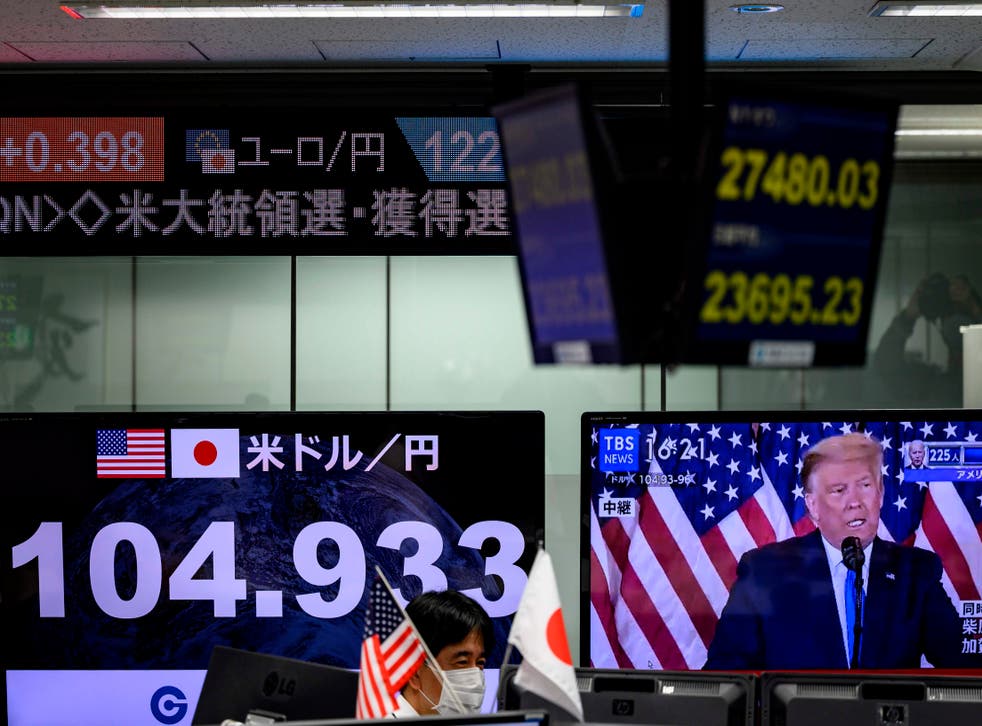 European stock markets are volatile on Wednesday as the result of the US election remains uncertain.
As traders digested Donald Trump's unexpectedly strong early showing and the prospect of votes continuing to trickle in from key battleground states, the FTSE 100 fell sharply before quickly regaining ground.
Asian-focused banks HSBC and Standard Chartered are among the biggest fallers. Both could take a hit from four more years of President Trump's trade war with China.
1604501606
It could still be days until the US election result is certain…
Ben Chapman
4 November 2020 14:53
1604498555
The pound at 2pm was 1.2978 dollars compared to 1.3049 dollars at the previous close.
The euro at 2pm was 0.9024 pounds compared to 0.8985 pounds at the previous close.
Ben Chapman
4 November 2020 14:02
1604496938
European stock markets are now making stable gains:
FTSE 100 up 1.4 per cent to 5,868.02
CAC 40 up 1.4 per cent to 4,873.18
Dax up 1.15 per cent to 12,228.05
Euro Stoxx 50 up 1.1 per cent to 3,132.24
The opening bell in New York is less than an hour away.
Ben Chapman
4 November 2020 13:35
1604496531
John Lewis cuts up to 1,500 jobs
The John Lewis Partnership (JLP) has announced plans to cut up to 1,500 head office jobs as part of a major cost-cutting plan.
The retailer, which owns John Lewis department stores and Waitrose supermarkets, has said it will make redundancies by April next year. It expects the cuts to save £50m.
In September, the group also told staff they would not receive a bonus for the first time since 1953 after it dived to a £635 million pre-tax loss for the six months to July, following a £470 million writedown on its stores
Ben Chapman
4 November 2020 13:28
1604495260
Betting markets point to Biden victory
Betting markets indicate that Joe Biden's chances of victory are improving - in the eyes of punters at least. On the Betfair exchange, his odds have come in from 4.9 last night when it became clear that Florida's vote was much more favourable to Mr Trump than polls had suggested, to 1.27 as more postal votes come in.
Ben Chapman
4 November 2020 13:07
1604494375
England lockdown will end on 2 December, Boris Johnson tells businesses
Boris Johnson has apologised to businesses for the "nightmare" Covid situation and vowed that England's second national lockdown will last no longer than a month.
In a pre-recorded speech to the Confederation of British Industry (CBI) conference, the Prime Minister said the new restrictions due to be voted on by MPs will "expire" on December 2 following speculation that the shutdown could be extended.
"I want to apologise to all of you who are experiencing the frustrations and the nightmare of the Covid world," he said.
"I know how tough it has been for you and I'm full of admiration for the determination you've shown in persevering through this crisis.
"I want to thank you for the heroic efforts you've made to look after your employees, to make your premises Covid-secure, putting in Perspex screens, all the trouble you've gone to in complying with the kinds of diktats that I never believed we would have to impose which, I assure you, go completely against every free market instinct I possess.
"And, believe me, we will end these autumn measures on December 2 when they expire."
Ben Chapman
4 November 2020 12:52
1604491572
Major job losses announced at Lloyds Banking Group
Lloyds Banking Group has said 1,070 UK jobs will go as part of a long-term plan to slim down the company.
Most of the redundancies are in its group transformation and retail banking teams. No branches will close under this round of job cuts, Lloyds said.
The bank estimates the move will result in a net reduction of around 730 roles, as 340 positions will also be created.
A Lloyds Banking Group spokeswoman said: "This morning we shared changes to some of our teams and we can confirm a net reduction of around 730 roles.
"These changes reflect our ongoing plans to continue to meet our customers' changing needs and make parts of our business simpler.
"The majority of colleagues briefed today will not leave until January at the earliest.
Ben Chapman
4 November 2020 12:06
1604488822
Technology firms gain
Shares of big technology firms including Apple, Amazon and Nvidia rose more than 3 per cent in premarket trading with some analysts saying this was down to a reduced threat of antitrust scrutiny under Trump than under a Biden presidency.
Ben Chapman
4 November 2020 11:20
1604487777
Senate race could scupper economic stimulus plans
One reason for pessimism in the markets is that the Democrats now look unlikely to take the Senate. That would make it harder for Joe Biden to get his planned $2.4 trillion stimulus package through Congress, if he were to win the presidency.
Donald Trump has proposed a $1 trillion stimulus.
David Zahn, head of European fixed income at Franklin Templeton, explains: "As things stand, the senate will probably not go to Democrats and this has repercussions, regardless of who wins, on what fiscal stimulus can be agreed.
"If the Democrats control the House and the Republicans end up controlling the Senate, it's quite likely that any big spending programmes will be difficult to go ahead. "This could go on for several days, creating continued uncertainty, and as we know markets hate uncertainty."
Ben Chapman
4 November 2020 11:02
1604487487
A contested election is the worst outcome for businesses in both the UK and the US, according to Christian Stadler, professor of strategic leadership at Warwick Business School.
He adds that the US under Biden would be more likely to favour a close relationship between the UK and the EU and a fairly comprehensive deal.
Ben Chapman
4 November 2020 10:58
Register for free to continue reading
Registration is a free and easy way to support our truly independent journalism
By registering, you will also enjoy limited access to Premium articles, exclusive newsletters, commenting, and virtual events with our leading journalists
Already have an account? sign in
Join our new commenting forum
Join thought-provoking conversations, follow other Independent readers and see their replies